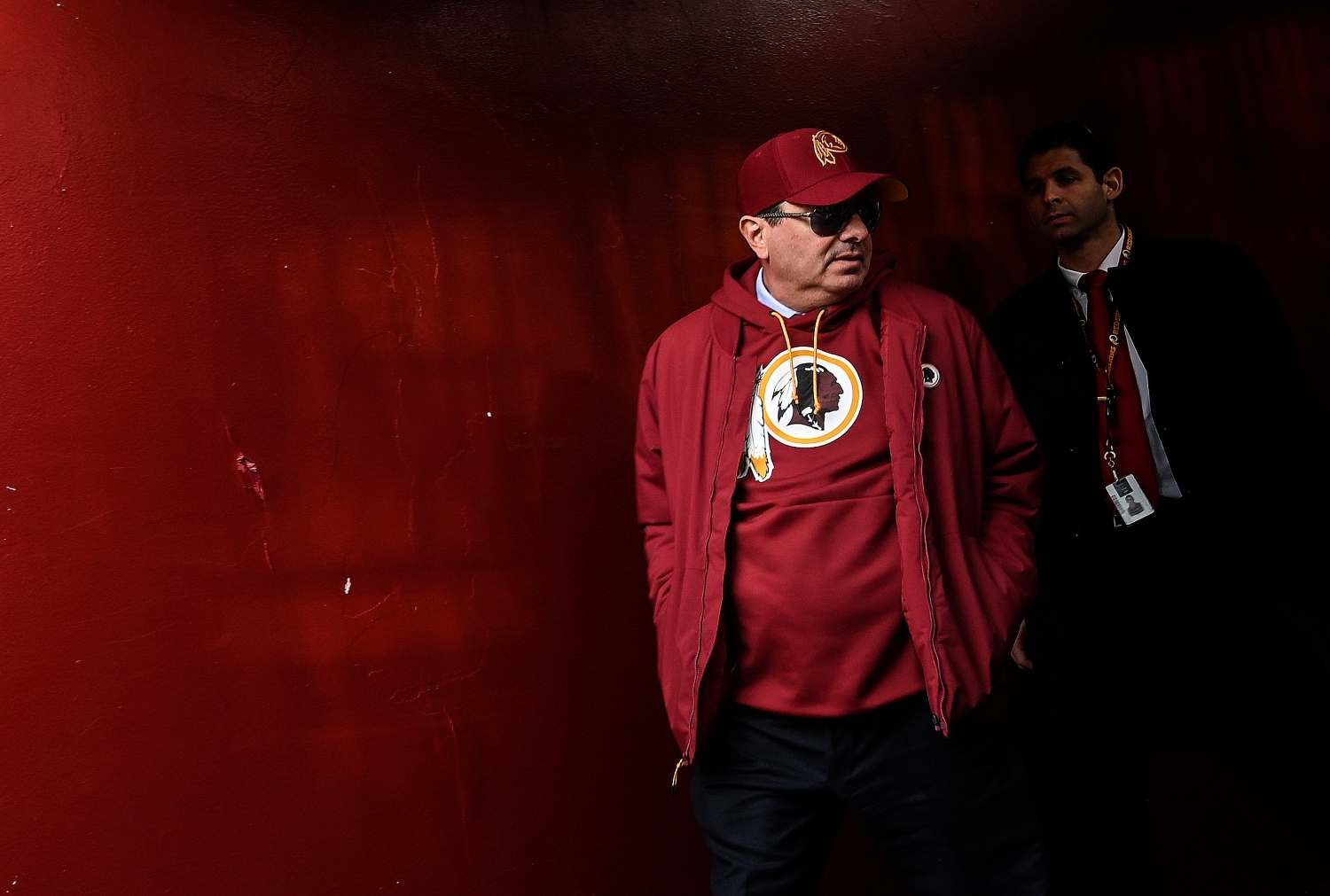 Dan Snyder Has Officially Made Washington Football Team Fans' Worst Nightmare Come True With an $875 Million Power Move
Dan Snyder has officially made Washington Football Team fans' worst nightmare come true for the price of $875 million.
Washington Football Team fans have endured two decades of disappointment during the Dan Snyder era. And that doesn't just have to do with how his team performs on Sundays.
The 56-year-old owner ranks as one of the least popular owners in all of pro sports. When you consider Snyder once sued one of his own fans, it's not difficult to understand why.
Even though he's come under fire recently for issues including a sexual harassment scandal and changing the team's name, Snyder has still maintained the head seat at the table in Washington. And with the future of the franchise hanging in the balance, he has managed to make Washington fans' worst nightmare come true.
Dan Snyder has been feeling the heat for more than a year
Dan Snyder had quite the year in 2020.
It all began with the NFL owner facing significant pressure from sponsors and investors to change the team's name. After refusing to do so for years, Snyder finally acquiesced.
He also had to contend with a much darker situation last summer.
The Washington Post delivered an in-depth investigative report revealing a toxic culture of sexual harassment that allegedly existed for years. Although Snyder himself did not get accused of any such acts, the scandal raised many questions about what exactly has gone on in Washington during his ownership tenure.
Although minority partners put the heat on him to sell his stake in the franchise, Snyder refused to do so. As a result, Fred Smith, Robert Rothman, and Dwight Schar hired an investment firm to sell their own stakes in the team.
But for more than six months, the ownership group has remained exactly the same. Meanwhile, the Washington Football Team "earned" a playoff berth by winning the NFC East with a 7-9 record.
Washington Football Team fans' worst nightmare has officially come true
With the 2021 NFL draft rapidly approaching, Dan Snyder decided to make a big investment with massive ramifications. Unfortunately for Washington Football Team fans, their worst nightmare has officially come true.
According to ESPN, Snyder's family has gained complete control of the franchise for the first time since 1999. Although it once looked like he would be forced to sell his stake in the team, Snyder purchased the remaining 40.5% from Smith, Schar, and Rothman for $875 million.
The NFL approved a $450 million debt waiver as part of the transaction, which Snyder must repay by 2028.
For Washington fans hoping for a change in ownership, this outcome represents a true worst-case scenario. Instead of moving in a completely different direction, the franchise will remain firmly in the grasp of the same person. In fact, by gaining full control, Snyder now has more power than ever before.
However, he still has a cloud hanging over his head in the form of the ongoing investigation into the sexual harassment allegations made by previous employees.
But now that his family owns 100% of the Washington Football Team, fans have no choice but to hope that mistakes of the past will not persist in the future. And now that Snyder has taken care of an expensive piece of business, the focus should shift back to the football field.
Will there be brighter days ahead for Ron Rivera's team?
Even diehard Washington Football Team fans would have to admit the team's surprising playoff berth had a lot to do with playing in a bad division. After all, Ron Rivera's squad went to the playoffs despite having a losing record.
Still, fans do have a few reasons to look forward to the future. After finishing the year with the fourth-ranked scoring defense, Washington has a chance to be even better in 2021. The return of Landon Collins should provide a big boost to a secondary that just added William Jackson to the cornerback room.
On the other side of the ball, Washington signed a potential star in Curtis Samuel. Capable of playing multiple positions on offense, the explosive wideout has a chance to put up big numbers alongside former Ohio State Buckeyes teammate Terry McLaurin.
And while Ryan Fitzpatrick may not be around for long, he gives Rivera a trustworthy veteran presence at the most important position in sports.
Of course, until Washington finds a true franchise quarterback, Dan Snyder will continue to watch other NFL owners hoist the Lombardi Trophy.
Like Sportscasting on Facebook. Follow us on Twitter @sportscasting19.