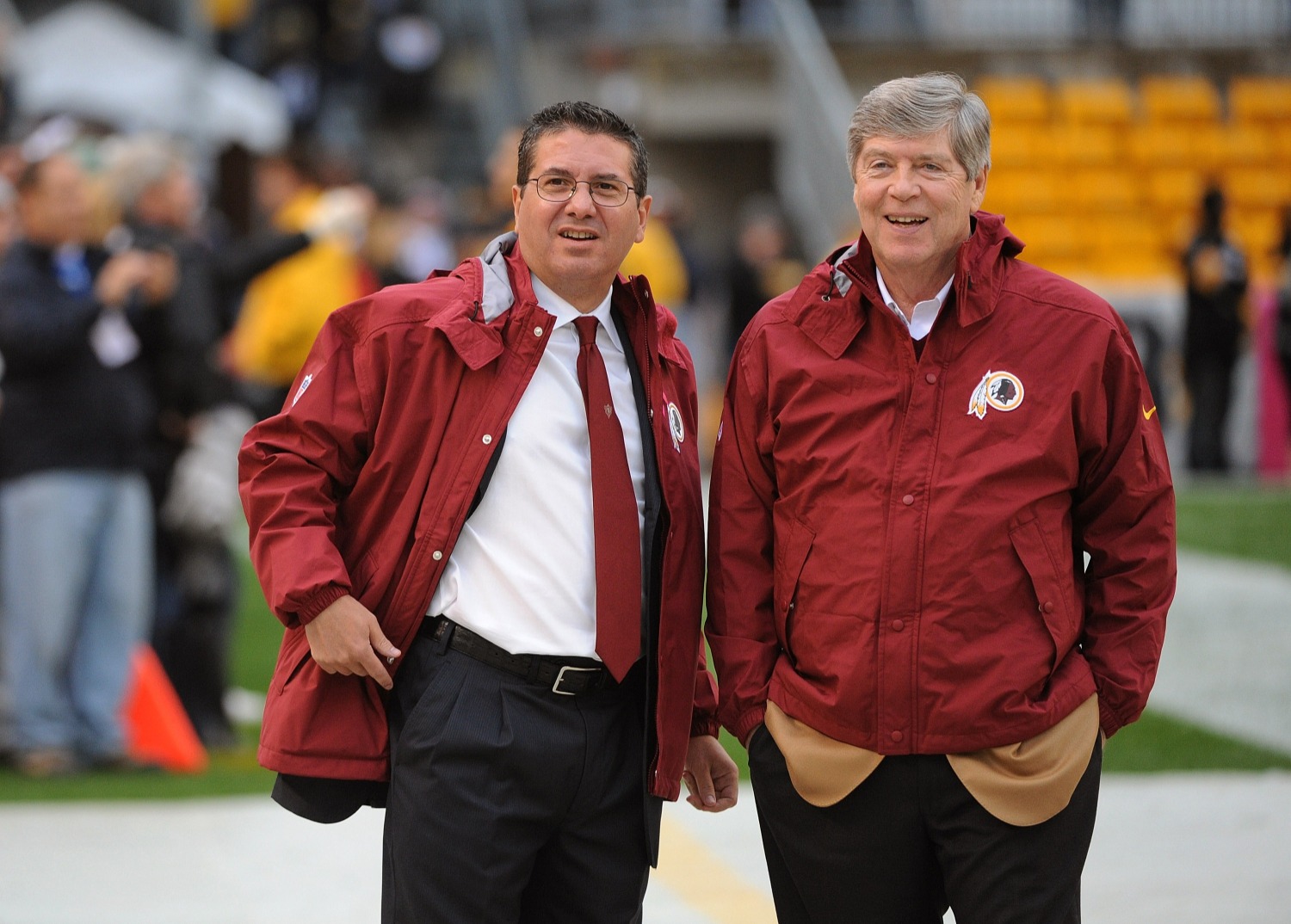 Dan Snyder Refuses to Grant Washington Football Team Fans Their Ultimate Wish
Washington Football Team minority owners are turning up the heat on Dan Snyder to make a massive change that he fiercely resists.
Dan Snyder has had a busy offseason, to say the least. From changing his team's name to dealing with a sexual harassment scandal, the Washington Football Team owner seems to have a new issue to address on a weekly basis. But if the team's minority owners succeed in pressuring Snyder to make a massive change, they will give fans of the historic NFL franchise what they have wanted for years.
Dan Snyder has had quite the offseason
Following an ugly 3-13 campaign, Dan Snyder knew changes had to occur in Washington. He made a smart hire by bringing in Ron Rivera to lead a new era of football in the nation's capital. However, Snyder ended up changing much more than his head coach.
First, the vilified NFL owner faced pressure to change the team's name. While the "Washington Redskins" existed for decades, some viewed the nickname as offensive to Native Americans. Snyder had shot down requests to change the name in the past. Yet, once sponsors and investors got involved, it forced Snyder to finally give in.
And so, the offensive name got replaced with the Washington Football Team. But that represented just the tip of the iceberg for Snyder.
A toxic culture of sexual harassment got exposed in an investigative story by the Washington Post. The story revealed a workplace that put its female employees in highly compromising situations. Even longtime play-by-play announcer Larry Michael got mentioned in the story. Ironically, he abruptly retired one day before it went public.
Dan Snyder did make a strong move by hiring Julie Donaldson to lead the team's radio broadcast crew. However, he may not make another hire again if Washington Football Team minority owners and fans see their wish come true.
Snyder refuses to sell Washington Football Team
For years, fans of the historic NFL franchise have clamored for Dan Snyder to sell the team. After all, when you make the playoffs just twice since 2008, it does not speak highly of your ability to put together a valuable product.
But now, Snyder faces pressure to sell from another unsatisfied group. According to the Wall Street Journal, minority partners are putting the heat on the 55-year-old billionaire to sell the franchise. However, Snyder reportedly has no intention of granting fans their ultimate wish of seeing him gone.
In fact, minority owners Fred Smith, Robert Rothman, and Dwight Schar hired an investment firm to sell their own stakes in the team. Together, the three businessmen own about 40% of the Washington Football Team.
Yet, potential buyers walked away because Snyder has been reluctant to give them the option to one day buy control of the team. Will he eventually cave to the pressure from the team's minority owners? That remains to be seen, especially given Dan Snyder's history of sticking to his guns.
Regardless of who owns the team, the Washington NFL franchise must make changes on the field.
Change also needs to occur on the football field
You cannot deny that the Washington Football Team has flopped under Dan Snyder's watch. Since he purchased the franchise in 1999, the team has made the playoffs just five times. Washington has cycled through countless head coaches and starting quarterbacks with little to show for it.
By hiring Rivera, Snyder at least has a coach who commands respect from his players. Plus, Rivera made four playoff trips in nine years at the helm in Carolina.
Ultimately, the biggest change has to occur at the quarterback position. Last season, Dwayne Haskins failed to impress after Washington selected him with the 15th overall pick. Though he possesses intriguing arm talent, the former Ohio State standout did little to cement his status as a franchise quarterback.
Haskins has no choice but to elevate his game now that Alex Smith has been cleared to return to football activities. The veteran quarterback suffered a gruesome leg injury in 2018 that nearly cost him his life. Thanks to a relentless work ethic and the support of his family, Smith somehow stands a shot at not only playing football again but also competing for a starting job.
Getting improved play at the quarterback spot will certainly help Rivera turn around a franchise that has not posted a winning record since 2017. Plus, the team drafted Chase Young to add to a stacked defensive line full of former first-round picks. If the defense lives up to its potential, Washington can get by with an average offense.
At the end of the day, whether Dan Snyder owns the franchise or not, the Washington Football Team needs to continue making changes both on and off the field. Let's just see if this dramatic offseason leads to better results in the standings.