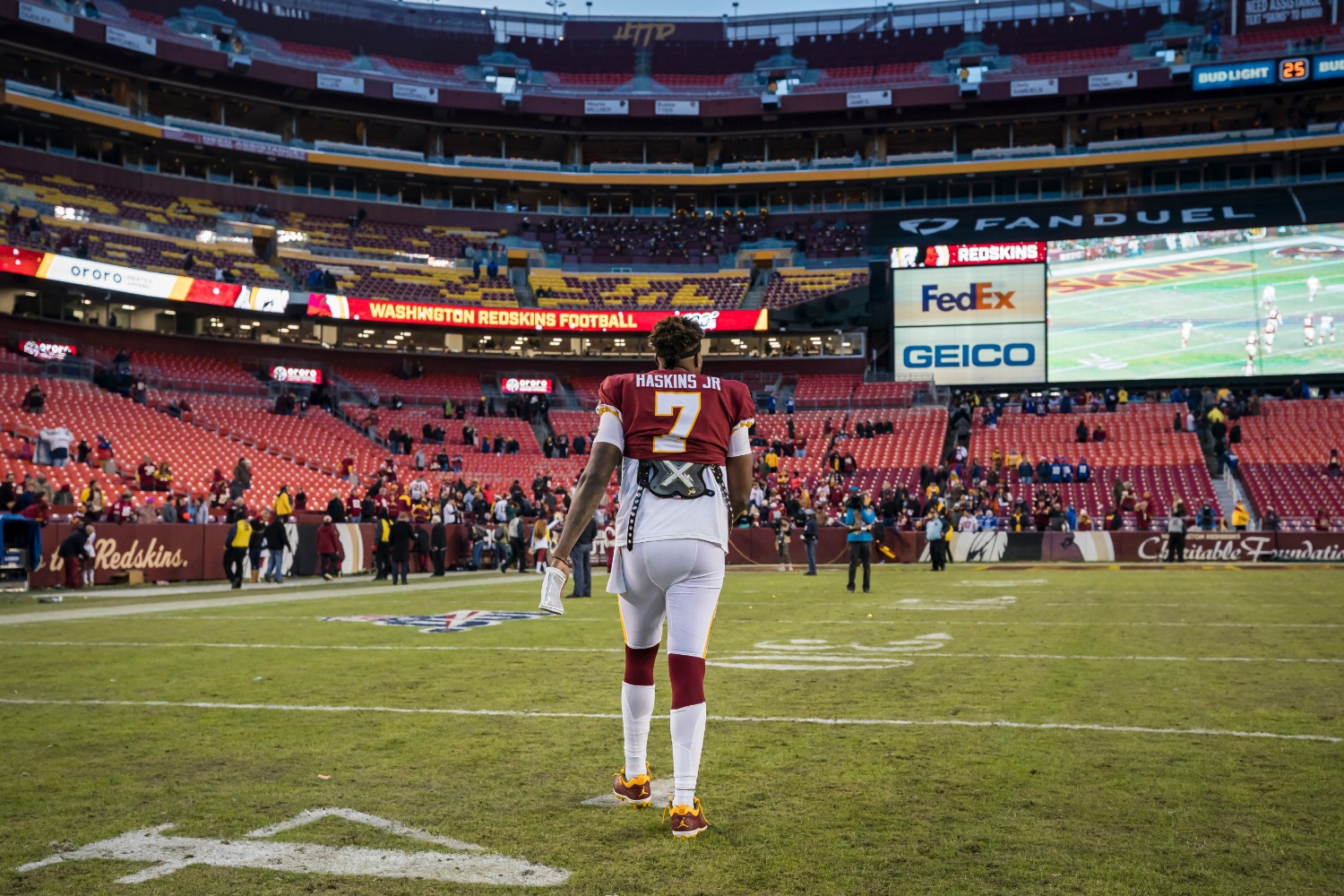 Dwayne Haskins Just Suffered an Unexpected Career Setback
Dwayne Haskins just suffered a potential career setback with veteran QB Alex Smith getting cleared to return to football activities.
Dwayne Haskins certainly didn't live up to expectations as a rookie. Of course, the team formerly known as the Washington Redskins didn't exactly surround the former Ohio State star with quality weapons or protection. Haskins hasn't reached bust territory yet, but the Washington Football Team QB just suffered a potential career setback thanks to Alex Smith.
Dwayne Haskins failed to impress as a rookie
Dwayne Haskins certainly made the most of his only year as a starting quarterback at Ohio State. A true one-year wonder, the New Jersey native threw for 4,831 yards and 50 touchdowns while leading the Buckeyes to a 13-1 record. Despite concerns about his sole year of production, NFL teams still viewed the strong-armed signal-caller as a first-round lock.
The Washington Football Team selected Haskins with the 15th overall pick. With only Kyler Murray and Daniel Jones going in the first round, that put even more pressure on Haskins to step up. Unfortunately for fans of the Washington NFL franchise, the rookie struggled mightily in limited action.
Haskins went just 2-5 as a starter. After completing 70 percent of his passes in college, he connected on just 58.6 percent of his 203 attempts. He stunningly threw the same number of touchdowns (seven) as interceptions. And his 76.1 quarterback rating certainly did little to prove his critics wrong.
Of course, the young quarterback didn't have a great supporting cast. Fellow rookie and former Buckeyes teammate Terry McLaurin turned in an excellent rookie campaign with 58 catches, 919 yards, and seven touchdowns. However, Washington's offense lacked dynamic playmakers and finished dead-last in scoring.
Haskins suffers potential career setback
For Dwayne Haskins, the 2020 season represents a chance for redemption. After all, his first year in Washington left many more questions than answers. However, he just suffered a potential career setback thanks to his predecessor.
On Friday, ESPN reported that Alex Smith received clearance to return to full football activity. The veteran quarterback suffered a devastating leg injury in 2018 that nearly cost him both his leg and his life. Following his injury, many predicted that Smith would never play football again. But thanks to his perseverance and a skilled team of surgeons, he just might.
"Everyone was in agreement that my bone was in a really good place," Smith told ESPN on Friday. "I had healed a lot. They said that given the combination of the rod and where I was with the healing process, I had zero limitations and could even resume some football activities.
While Smith has to prove his body can withstand the rigors of playing in the NFL again, his return represents a roadblock for Haskins. And that could put the Washington Football Team in a precarious situation.
Can Alex Smith win the starting quarterback job back?
On one hand, Alex Smith getting cleared represents a monumental milestone and a reason to celebrate in Washington. On the other hand, it represents a potential setback to Dwayne Haskins' NFL career.
Before suffering his catastrophic leg injury, Smith looked like the answer at quarterback in Washington. The team went 6-4 in his first year under center. Though he didn't wow anyone with big plays, his consistent, efficient play positioned the franchise to contend for a playoff spot.
Though he hasn't thrown a pass since November 2018, Smith still possesses a leg up on Haskins in many respects. He obviously boasts a wealth of starting experience and a track record of winning. Plus, Smith's contract doesn't expire until after the 2022 season.
The Washington Football Team could move on from Smith after this season by absorbing a $10.8 million cap hit. However, his $32 million dead cap hit in 2020 makes him a virtual roster lock. Considering Ron Rivera's background, it would make sense for the recently-hired head coach to go with the veteran and try to win with a defensive-oriented approach.
We have no idea just how ready Smith is for game action. But by receiving medical clearance, that means Haskins will likely enter into a quarterback competition. Based on his 2019 film, that doesn't exactly bode well for his chances of winning the job. Plus, it's not like Rivera has any allegiances to the 23-year-old since a different regime drafted him.
Ultimately, Dwayne Haskins has a ton to prove no matter who sits with him in the quarterback room. But a healthy Alex Smith will make it difficult for the second-year pro to win the starting job. There's still a long way to go, but for now, it looks like Haskins just suffered a potential career setback with his predecessor getting cleared for football activity.