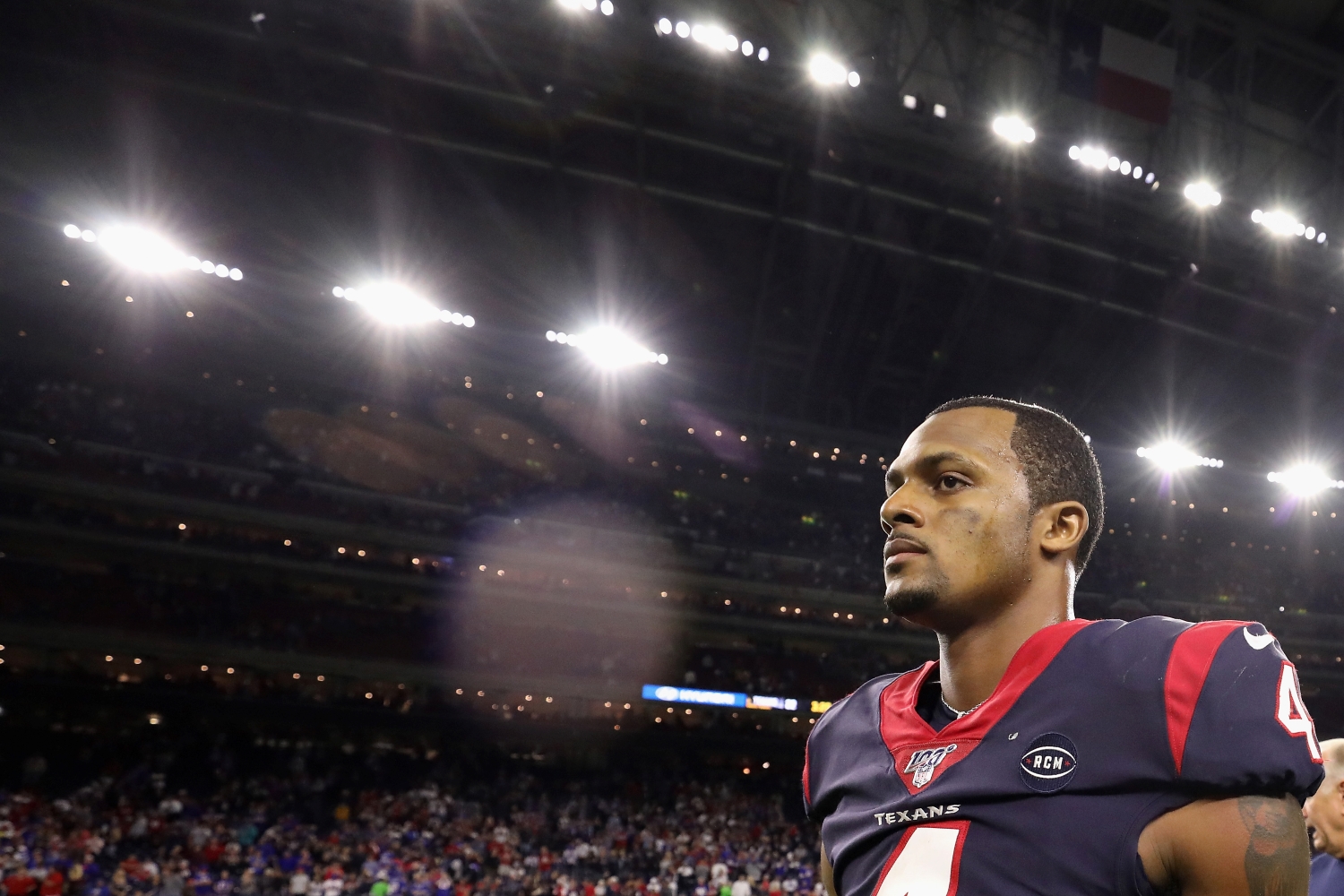 The Houston Texans Have Officially Started to Cut Ties With Deshaun Watson Without Saying a Word
The Houston Texans have started to cut ties with Deshaun Watson without saying a single word. What's next for one of the NFL's biggest stars?
The Houston Texans seemingly secured the most important piece of a championship puzzle last September by signing Deshaun Watson to a lucrative contract extension. But given everything that has transpired this offseason, it looks more and more likely that the star quarterback will throw his next pass as a member of another NFL team.
With their most important player facing multiple allegations of sexual harassment, the Texans have officially started to cut ties with Watson without saying a single word.
Deshaun Watson's legal situation has forced sponsors to take action
Deshaun Watson has suddenly gone from being the most coveted commodity in the NFL to essentially being untouchable. Even teams with a major need at quarterback have had no choice but to hit the pause button on any potential plans to trade for the three-time Pro Bowler.
Watson has watched his reputation take a tumble over the last few weeks. That shouldn't be a surprise given the nature of the allegations made against him. Watson currently faces 22 civil lawsuits that accuse of him various degrees of sexual harassment. Plus, the Houston Police Department recently began investigating a criminal complaint filed against him.
Watson's ongoing legal situation has forced several big-name sponsors to take action.
"We are deeply concerned by the disturbing allegations and have suspended Deshaun Watson. We will continue to closely monitor the situation," Nike said in a statement released on April 7.
Apple's Beats by Dre terminated its endorsement deal with Watson. Reliant Energy—the company that holds the naming rights to the Texans' stadium—also ended its relationship with the 25-year-old quarterback.
Houston has started to cut ties with Watson without saying a word
With multiple sponsors cutting ties with Deshaun Watson, the Texans have begun to do the same. While he remains on the roster, it sure doesn't look like Houston plans on having him on the field again.
As pointed out by Rivers McCown on Twitter, the intro video to Texans 360, the team's in-house show, no longer features Watson front and center. In fact, other than a brief flash of him in the distance on one play, he doesn't appear at all in the 22-second clip.
Considering he has served as the face of the franchise since 2017, the fact he's basically absent from the latest video should raise eyebrows around the league. Houston clearly has taken a visible step to distance themselves from Watson. After all, if the franchise planned on him being part of the future, why purposefully edit him out of the video?
Whether the Texans eventually trade Watson remains a mystery. But at this point, it seems like the team will move forward with a different starting quarterback this season.
Texans fans better prepare to see plenty of Tyrod Taylor
Barring a complete 180, the Texans should feature a new man under center in 2021. Unfortunately for Houston fans, Tyrod Taylor represents a massive downgrade from Deshaun Watson.
Though he garners respect for his professional approach, Taylor has spent most of his career on the sidelines. Since entering the NFL as a sixth-round pick in 2011, the 6-foot-1, 217-pound signal-caller has appeared in just 72 games. All but three of his 47 career starts came during his three-year stint with the Buffalo Bills.
The 31-year-old journeyman will be tasked with leading an offense that finished 18th in scoring in 2020. Houston's receivers certainly don't rank anywhere near what Taylor had in LA. And the Texans' three-headed backfield of David Johnson, Mark Ingram, and Phillip Lindsay doesn't exactly instill fear in defenses, either.
Needless to say, Taylor faces an uphill battle to find some semblancy of success in his newest NFL home.
All statistics courtesy of Pro Football Reference.