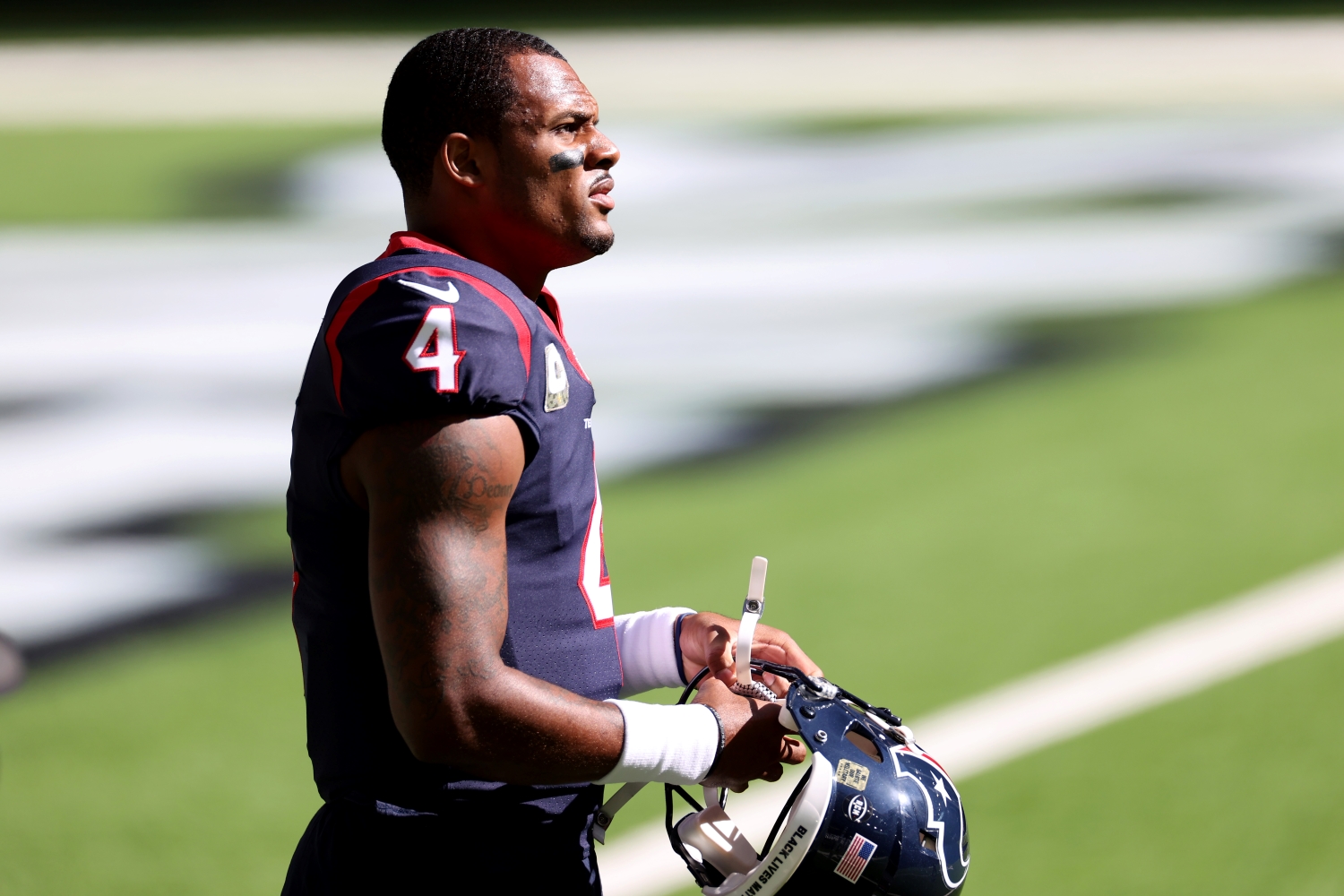 The Houston Texans' Latest Move Suggests Deshaun Watson Won't Be Playing For Them This Season
With Deshaun Watson facing more allegations of sexual assault, the Houston Texans have made another move at quarterback that suggests he won't take the field for them this season.
Deshaun Watson desperately wants the Houston Texans to trade him to another NFL team. And based on their latest move, it sure seems like the AFC South franchise doesn't plan on having the 25-year-old superstar under center this season.
But that may not necessarily mean Watson will get his wish of finding a new home.
The Texans added Tyrod Taylor to their quarterback room this week
Deshaun Watson has made it abundantly clear that he wants a change of scenery. However, the Texans have yet to trade one of the NFL's most electrifying stars.
And this week, general manager Nick Caserio went to work fortifying Houston's quarterback room.
On Tuesday, ESPN's Adam Schefter reported Tyrod Taylor and the Texans agreed to terms on a one-year deal worth up to $12.5 million. The 31-year-old spent the last two seasons with the LA Chargers.
According to the NFL Network's James Palmer, Taylor's contract carries a base salary of $5.5 million and just $2.5 million guaranteed. That represents solid backup money, but the incentives tied into his deal offer significant financial upside for the 11th-year pro.
Given his skill set, it certainly made sense for the Texans to add Taylor to their roster. Capable of making plays with his legs, the former Buffalo Bills starter won't wow anyone as a passer, but he rarely turns the ball over.
By bringing the experienced signal-caller aboard, Houston secured a top-level backup who can also fill in as a starter in the short term.
Houston's latest move suggests Deshaun Watson won't be playing for them this season
The Tyrod Taylor signing certainly raised a few eyebrows around the NFL. But the Texans' latest move only casts further doubt about Deshaun Watson's future with the franchise.
In fact, you could argue their most recent acquisition suggests he won't be playing for them this season at all.
On Friday, Ian Rapoport reported via Twitter that Houston traded for Cincinnati Bengals quarterback Ryan Finley. The 26-year-old entered the league as a fourth-round pick back in 2019. A former three-year starter at North Carolina State, the 6-foot-4, 207-pound signal-caller has only appeared in eight NFL games.
However, based on his college production and draft pedigree, he still has a shot to develop into at least a capable backup.
What makes the Finley particularly interesting is that the Texans have now added two quarterbacks to their roster during a week in which allegations of sexual assault have emerged against Deshaun Watson.
As longtime NFL writer Lance Zierlein pointed out on Twitter, adding a third quarterback this early in the offseason seems to indicate Houston doesn't plan on having Watson under center this year.
Of course, his ongoing legal situation adds another layer to a very complicated situation. Coupled with his request for a trade, it looks more and more likely that Watson has indeed played his final snap as a member of the Texans.
What does the future hold for the NFL star?
At this point, it's difficult to tell exactly what will happen between Deshaun Watson and his current team.
On one hand, the two sides would do well to part ways. The Texans could recoup draft capital and talented players for their disgruntled star. Watson would get his wish of escaping from a team that appears headed for a rebuild.
However, with more lawsuits and accusations emerging, it might be impossible for Houston to trade a highly-coveted asset. Other NFL owners may be leery of acquiring a player who now finds himself in the middle of a potentially life-changing legal situation.
And with the league conducting its own investigation into the allegations made against him, Wastson could face punishment from the NFL itself.
Ultimately, it seems far too early to tell how the situation will get resolved.
But by bringing in two quarterbacks in the span of a few days, it sure seems like the Texans are preparing to start someone else under center in Week 1 of the 2021 NFL season.
Like Sportscasting on Facebook. Follow us on Twitter @sportscasting19.