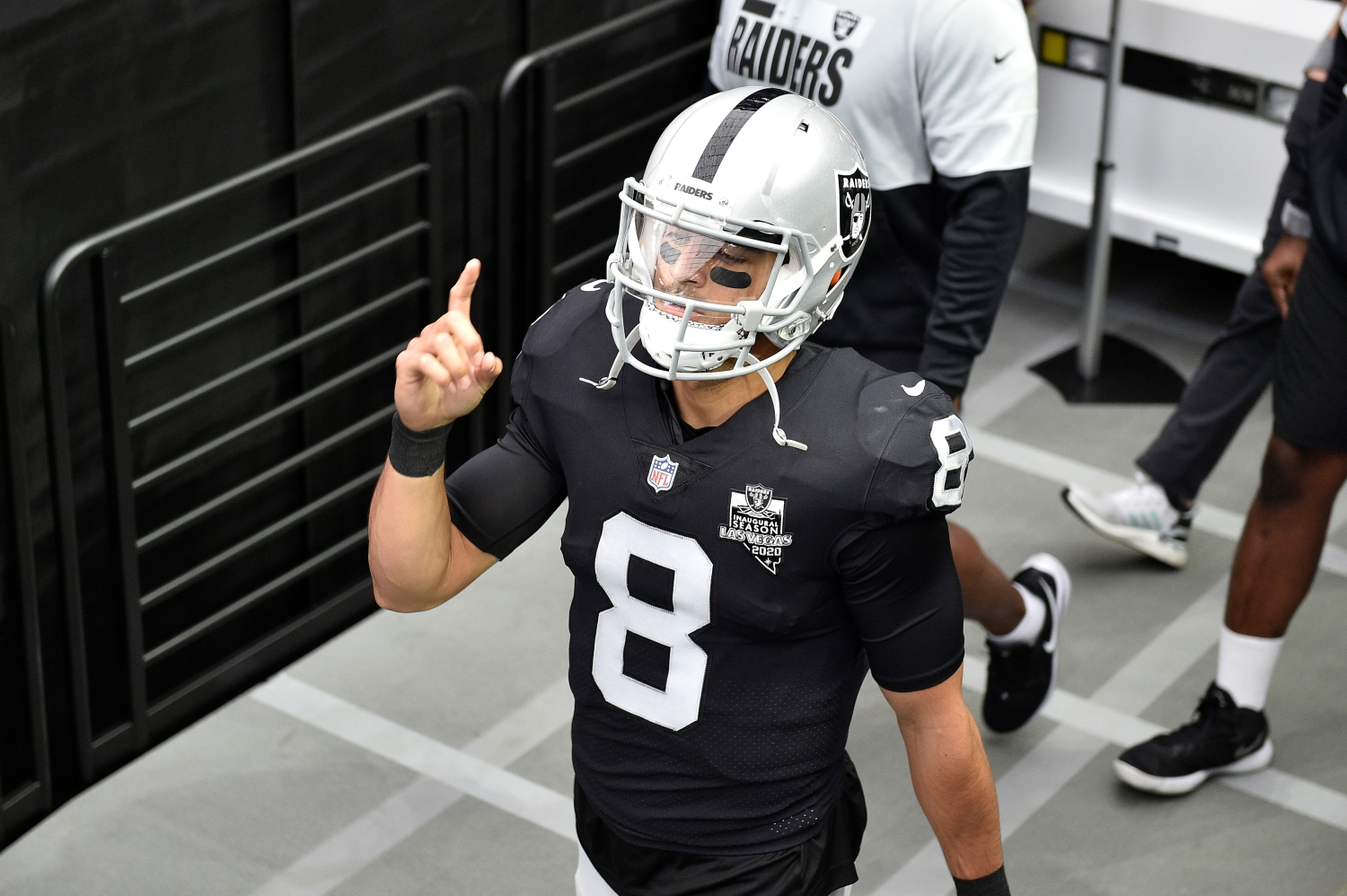 The Las Vegas Raiders Have Officially Backed Marcus Mariota Into a $3 Million Corner
Marcus Mariota and the Las Vegas Raiders appear headed for a divorce. Which NFL team will take a chance on the former Heisman Trophy winner?
The Las Vegas Raiders have been busy reshaping a roster that went 8-8 in the third year of the Jon Gruden era. However, it's hard to say whether the AFC West franchise actually improved this week.
After all, general manager Mike Mayock just got rid of several prominent players to get the team's salary cap in better shape. And by backing Marcus Mariota into a $3 million corner, the Raiders certainly seem prepared to part ways with yet another member of last year's squad.
Las Vegas has already made a number of cost-cutting moves to start the offseason
Coming off yet another season that ended without a playoff berth, the Raiders have wasted no time turning over their roster.
Interestingly, despite jumping from 24th to 10th in scoring, Las Vegas has already moved on from several prominent offensive players.
Rodney Hudson, the team's star center, will now snap the ball to Kyler Murray. The Raiders received a third-round pick (and much-needed cap space) for sending the three-time Pro Bowler to the Arizona Cardinals.
The team also traded another longtime starting offensive lineman on the first day of the new league year. Gabe Jackson, who started 100 games since arriving as a third-round pick in 2014, got shipped to the Seattle Seahawks for a fifth-round pick.
And after agreeing to a deal with the New England Patriots earlier this month, the Raiders officially reunited Trent Brown with Bill Belichick in a deal that essentially amounted to a swap of late-round picks.
Those transactions opened major holes along an offensive line that had to protect both Derek Carr and Marcus Mariota in 2020. At the same time, the Raiders' recent string of moves helped trim more than $30 million off their books.
The Raiders have officially backed Marcus Mariota into a $3 million corner
After making a series of cost-cutting moves, it looks like the Raiders plan on opening up even more cap space very soon. In fact, Las Vegas has officially backed Marcus Mariota into a $3 million corner.
On Thursday, March 18, Ian Rapoport reported via Twitter that the Raiders asked the 27-year-old quarterback to cut his pay from $10.725 million to just $3 million. Las Vegas reportedly plans to move on from Mariota (via trade or release) if he refuses to reduce his salary.
Of course, he signed a two-year contract with the Raiders last offseason after the Tennessee Titans officially made Ryan Tannehill the new face of the franchise.
Mariota completed 17-of-28 passes for 226 yards with one touchdown and one interception in Week 15 against the LA Chargers. He also ran for 88 yards and a touchdown in his first (and likely only) appearance in a Las Vegas uniform.
Even though he has not lived up to expectations since getting selected second overall in the 2015 NFL draft, Mariota has little reason to agree to such a significant pay decrease. Given his first-round pedigree, age, and skill set, he should at least command top-tier backup money.
So even though the Raiders have backed him into a $3 million corner, he should stand his ground and simply start a new chapter of his career with another franchise.
Which NFL teams should be in the mix if Mariota becomes a free agent?
Assuming Marcus Mariota doesn't agree to cut his salary, the Raiders will either trade or release him in short order.
And there should be at least a few NFL teams interested in giving the athletic signal-caller another shot at becoming a starting quarterback.
The Patriots just re-signed Cam Newton to a one-year, incentive-laden deal, but that won't preclude them from looking for an upgrade. Mariota at least has more theoretical upside than the 31-year-old former NFL MVP. Perhaps the two could battle it out for bridge quarterback duties to whoever New England deems worthy of a draft pick next month.
Seattle also seems like a logical landing spot. Mariota certainly profiles as a solid backup option in the event Russell Wilson suffers an injury.
With the Raiders already planning for his departure, can they convince a team to part with a draft pick to secure the former Titans quarterback's services? Or will they have to outright release him to get rid of his salary?
If he does get cut, it certainly will be interesting to see if Marcus Mariota makes a wise decision with what could be his final opportunity to prove he deserves to be a starting NFL quarterback.
All statistics courtesy of Pro Football Reference.