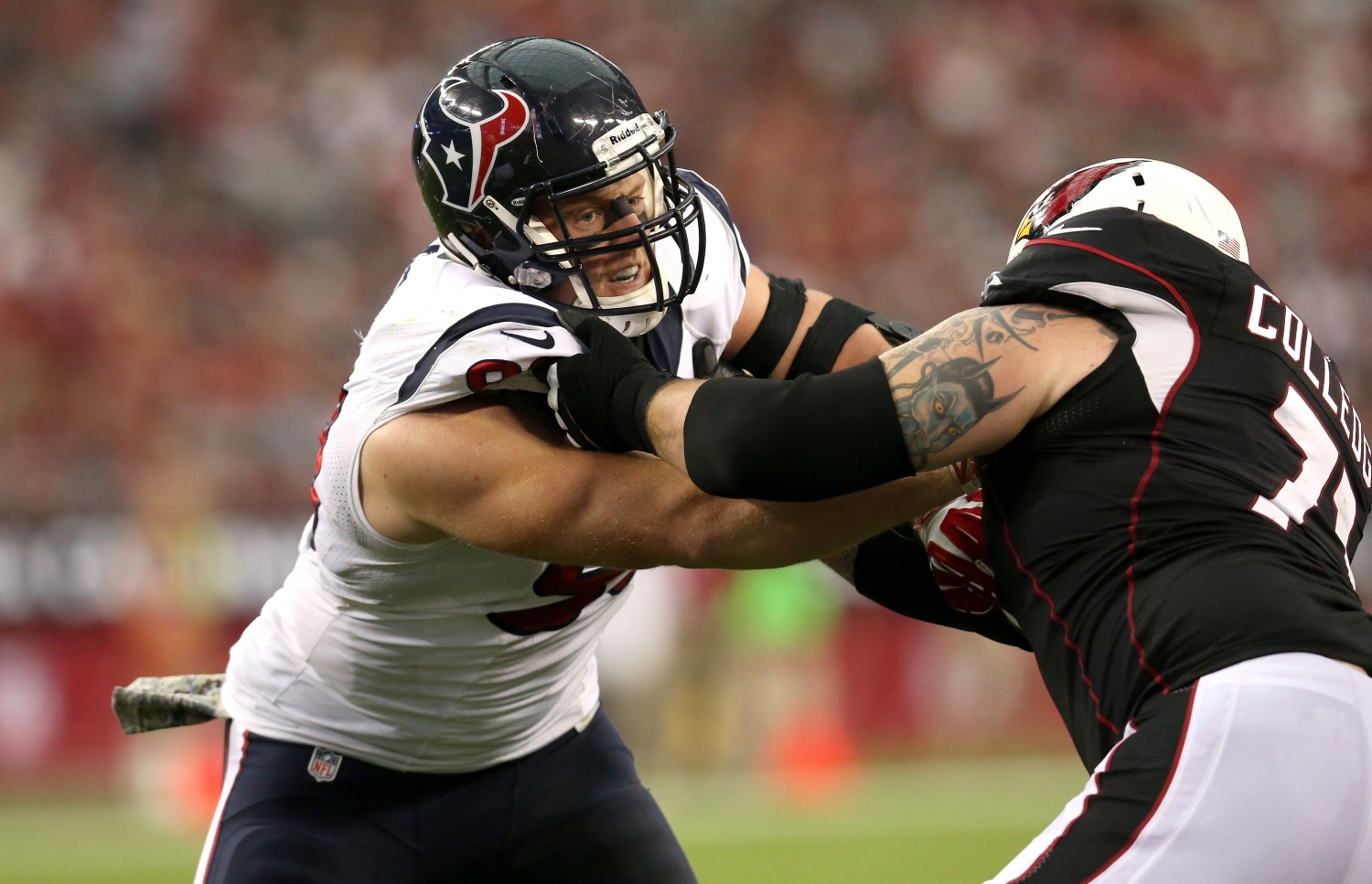 The Arizona Cardinals Just Made a $31 Million Mistake on J.J. Watt That Proves NFL Teams Still Don't Understand a Basic Economic Principle
The Arizona Cardinals are clearly making a basic economic mistake by committing $23 million in guaranteed money on oft-injured former Houston Texans star J.J. Watt.
The Arizona Cardinals haven't made the playoffs since 2015. But after going 8-8 in the second year of the Kliff Kingsbury era, the NFC West franchise has some semblance of hope about a brighter future on the horizon.
However, the Cardinals just made a $31 million mistake that proves NFL teams focus far too much on the past when it comes to paying veteran players. Because based on all the factors involved, the J.J. Watt signing will likely go down as yet another disappointing free-agent experience for an NFL fanbase.
J.J. Watt will start a new chapter of his football career with the Cardinals
J.J. Watt earned a reputation as one of the most dominant defensive players of all time during his decade-long run with the Houston Texans. However, the three-time NFL Defensive Player of the Year struggled to stay on the field during the back half of his career with the AFC South franchise.
Watt only played eight games from 2016-17. He suited up in all 16 games in 2018 and earned first-team All-Pro honors. However, Watt missed eight games in 2019 due to a torn pectoral muscle.
The future Hall of Famer played all 16 games in 2020 in what amounted to his final season in Houston. On Feb. 12, the Texans released the beloved franchise icon after the two sides mutually agreed to part ways.
Since then, speculation has swirled about Watt's future. Given his age and lengthy injury history, it certainly seems like his next stop will be he last.
Although the Green Bay Packers and the Pittsburgh Steelers looked like logical landing spots, the longtime Texans star surprisingly selected the Cardinals from his list of potential suitors. While the signing will rightfully rile up Cardinals fans, the contract Watt received already looks like a massive mistake.
Arizona just made a $31 million mistake that proves NFL teams still don't understand a basic economic principle
ESPN's Adam Schefter reported that the Cardinals will sign J.J. Watt to a two-year, $31 million contract that includes $23 million guaranteed.
That deal may have seemed reasonable three years ago, but it looks like a huge overpay in 2021.
The 2018 version of Watt definitely deserved every penny of the $11 million he earned. In fact, he got vastly underpaid relative to what he contributed on the field.
But last season, the longtime Texans star's production did not match his $13 million salary. Although Watt didn't miss a single game, he recorded just five sacks and 17 quarterback hits.
He averaged roughly 17 sacks and 30 quarterback knockdowns from 2012-15.
Oh, he never missed a game during that stretch, either.
Meanwhile, Watt has missed an average of six games per season since 2016.
So even though he stayed on the field, the soon-to-be 32-year-old did not make nearly the same impact as he did during his 16-game 2018 campaign that included 16 sacks, 25 quarterback hits, and a league-leading seven forced fumbles.
Arizona has committed the cardinal sin of forgetting a basic economic principle that Bill Belichick certainly seems to abide by: Past results are no guarantee of future performance.
The longtime Texans star faces long odds of living up to his lucrative contract
J.J. Watt deserves credit for playing all 16 games last year.
And he might stay healthy for the 2021 season, too.
But the odds don't fall in his favor.
After all, Watt hasn't accomplished back-to-back, wall-to-wall seasons since 2014-15. Guaranteeing $23 million on a player who has struggled to stay on the field on a consistent basis does not seem live a sound investment. Plus, Watt's production has quickly dropped from that of an All-Pro to an average starter in a matter of a few years.
While a fresh start may rejuvenate him, the likelihood that Chandler Jones' new pass-rush partner stays healthy and delivers at a level that coincides with his $15.5 million salary seems awfully low based on the latter half of his Texans career.
Obviously, Arizona views the past in a different (and more expensive) light.
Let's see if Watt achieves his goal of winning a Super Bowl ring before he retires. Because if he doesn't, it will only raise more questions about why he chose Arizona over other NFL teams.
For the Cardinals' sake, hopefully that $23 million guaranteed figure (or the entire $31 million) doesn't prove to be a waste of resources. Because if Watt doesn't make an impact on the field that measures up to his contract, Arizona will serve as a prime example of why NFL teams need to remind themselves that past results are no guarantee of future performance.
All contract data courtesy of Spotrac. All statistics courtesy of Pro Football Reference.