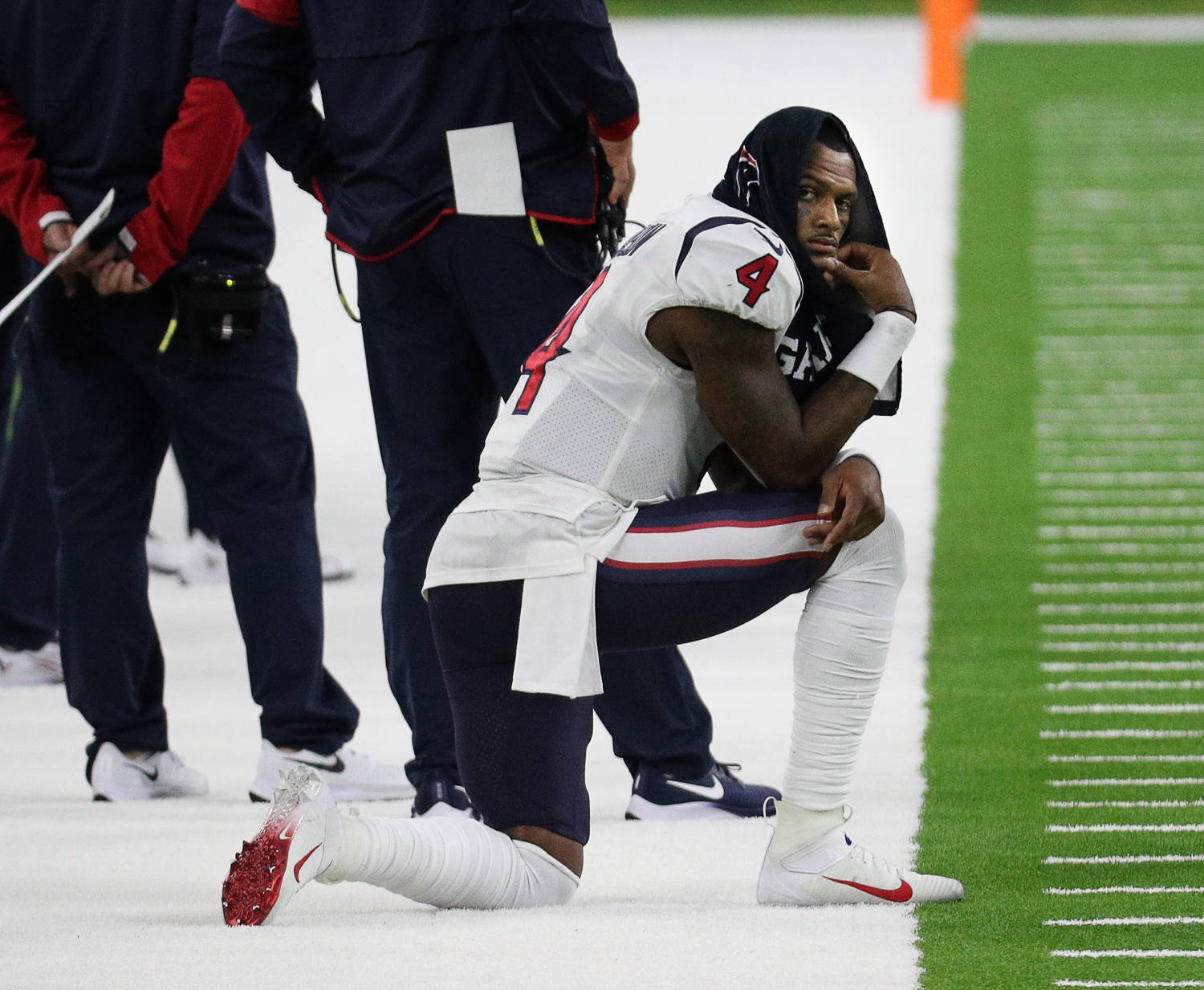 The Texans Just Sent Deshaun Watson a $6.2 Million Message That They Don't Care About Hurting His Feelings
The Texans just proved they don't care about hurting Deshaun Watson's feelings with a cost-cutting move that saves the team $6.2 million.
Deshaun Watson wants nothing more than to play for another NFL team. But so far, the Houston Texans have refused to pick up the phone and entertain offers for one of the most talented quarterbacks in the league.
By sticking to their guns, the Texans have only widened the gap between themselves and their most important player. And on Friday, the team made a cost-cutting move that proves hurting Watson's feelings won't stop general manager Nick Caserio from conducting business with a cold, calculated approach.
And considering his roots, that shouldn't surprise anyone.
Deshaun Watson desperately wants a change of scenery
In September, the Texans seemingly secured the future of their franchise by signing Deshaun Watson to a four-year contract extension. But between Bill O'Brien's disastrous tenure and the franchise refusing to truly listen to his input this offseason, the 25-year-old has made it clear that he no longer wants to play in Houston.
Of course, part of that has to do with the Texans hiring yet another former New England Patriots employee: Nick Caserio.
Although he already sent a clear message that Houston has no interest in trading Watson, the newly-minted GM may have no choice but to do exactly that.
After all, the three-time Pro Bowler reportedly told new head coach David Culley that he has no intention of ever playing for the Texans again.
So as much as Houston wants to hold on to a valuable asset, it sounds like Watson will stand firm about wanting a change of scenery.
The Texans just sent a $6.2 million message that they don't care about hurting their star quarterback's feelings
On Friday, Houston officially cut ties with Duke Johnson. That move didn't exactly stand out as a surprise given his 3.1 yards-per-carry average in 2020.
However, the Texans released another player who has played a much more prominent role for the team over the years. And in doing so, they showed they don't care about hurting Deshaun Watson's feelings when it comes to personnel decisions.
In addition to releasing Johnson, the Texans also announced that Nick Martin will no longer call Houston his home.
A second-round pick in 2016, the former Notre Dame standout has started 62 games at center during his NFL career. In September 2019, he signed a three-year, $33 million contract extension that included nearly $19 million guaranteed.
Three months later, Watson discussed his close relationship with Martin.
"Nick is like a brother to me," he told the Houston Chronicle in December 2019. "We have a great relationship. If the quarterback and center don't have that great relationship, there can be a lot of bad things happen for sure, because he controls everybody up front and as he goes, I go. We're the only two guys that touch the ball every single play."
However, with Caserio now in charge, Watson's longtime battery mate will play pro football elsewhere.
Cutting Martin saves the Texans $6.2 million. At the same time, it also represents another step away from the O'Brien era.
For Watson, though, it has to sting to see a close teammate get cut in the midst of his own issues with the franchise. At the same time, he ultimately wants the same thing Martin just received: a chance to play for a new team.
Will the NFL star ultimately get his wish and become the face of another franchise?
Deshaun Watson and the Texans remain in a standoff. But will the two sides finally come to an agreement that it's best to move on?
If that occurs, Houston should have a long list of suitors ready to make an offer for the uber-talented signal-caller.
The Miami Dolphins stand out as a top contender for several reasons. First, Caserio knows Brian Flores well from their time in New England. More importantly, Miami possesses the draft capital and a young quarterback to put together a compelling package. If the Texans view Tua Tagovailoa as a future star, they can at least give their fans a new face to root for.
On the other hand, the New York Jets can also make a similar offer centered around multiple first-round picks and a quarterback who went high in the draft. But if Houston does not believe Sam Darnold can turn his career around, that might make it difficult for New York to beat out its AFC East rival.
Could another team enter the mix?
At this point, based on how the situation seems to escalate on a near-daily basis, anything is possible.
Because at the end of the day, the NFL is a business.
And in the business world, feelings take a back seat to profit margins.
Only time will tell if the Texans realize that their major investment truly is no longer invested in them.
All contract data courtesy of Spotrac. All statistics courtesy of Pro Football Reference.