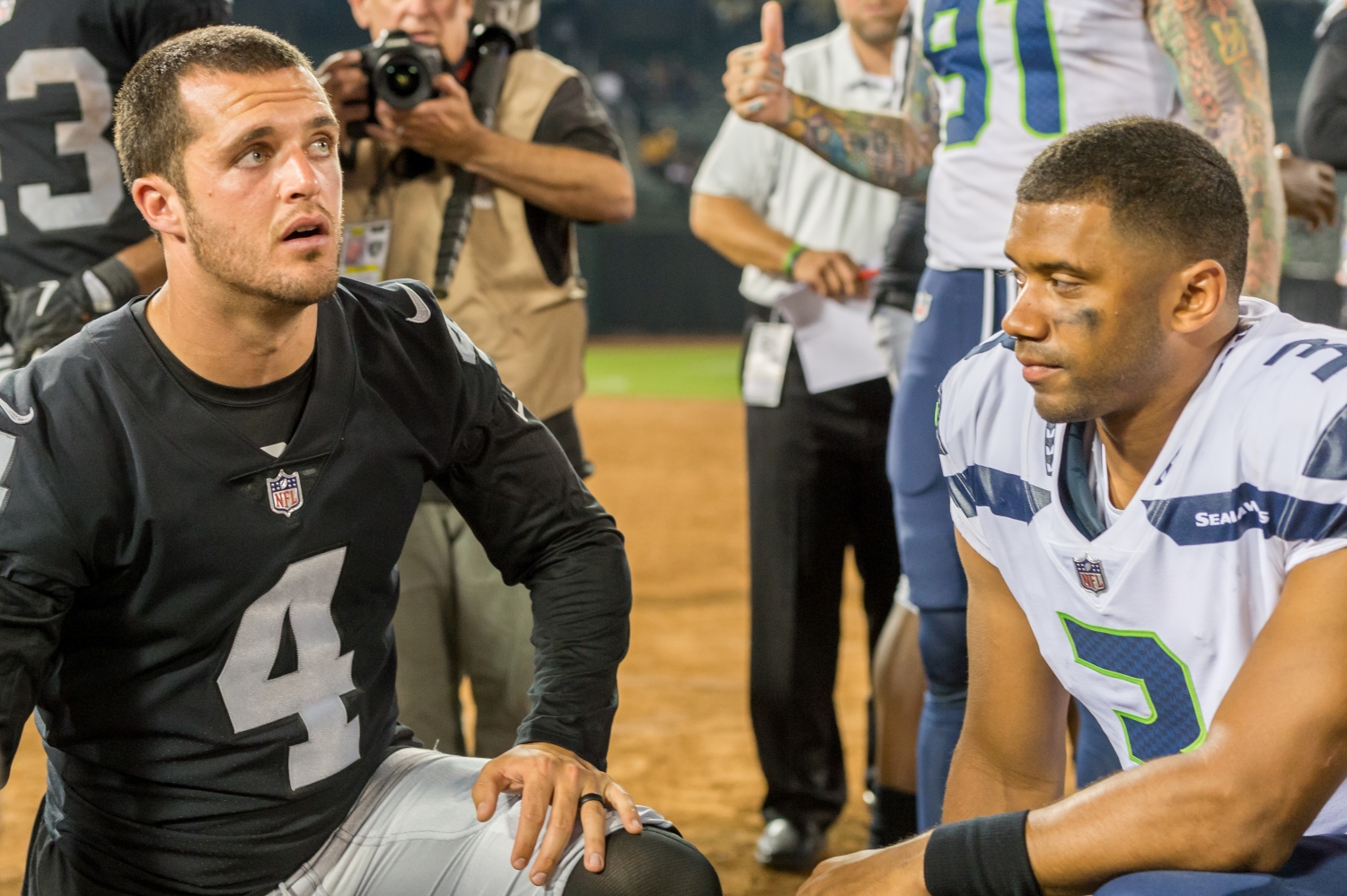 Russell Wilson Has Forced Derek Carr's Brother to Turn His Back on His Own Flesh and Blood
Russell Wilson has forced former Texans QB David Carr to turn his back on his own brother. Will the Raiders finally move on from Derek Carr?
Russell Wilson has earned widespread respect for his leadership, toughness, and production as the starting quarterback for the Seattle Seahawks. Of course, the possibility now exists that the eight-time Pro Bowler's next pass will come as the leader of another NFL team.
Unfortunately for Derek Carr, Wilson's recent conversation with the Seahawks has forced his brother to turn his back on his own flesh and blood. Let's just say that the siblings' next conversation might get a little awkward.
Derek Carr faces an uncertain future with the only NFL franchise he's ever played for
Although he went 35 picks later than his older brother, Derek Carr has experienced far more success since entering the NFL in 2016.
While David Carr failed to live up to expectations playing for a horrible Houston Texans team, his younger brother has earned three Pro Bowl selections in seven seasons as the Raiders' starting quarterback.
However, the former Fresno State standout owns a disappointing 47-63 career record. He has never appeared in a playoff game.
Last season, Carr posted career-highs in passing yards (4,103), quarterback rating (101.4), and yards per completion (11.8). However, both he and the Raiders stumbled down the stretch.
Las Vegas dropped five of its last seven games to finish with an 8-8 record. In those five losses, Carr threw four interceptions. He also lost three fumbles in brutal 43-6 road defeat against the Atlanta Falcons.
Jon Gruden certainly needs to start winning more games in order to live up to his $100 million contract. So it should be no surprise that Derek Carr's name has been connected to trade rumors during the early stages of the NFL offseason.
Of course, Russell Wilson's name has been in the headlines, too.
Russell Wilson has forced David Carr to turn his back on his own brother
Like the Texans, the Seahawks remain firm (to this point) about not wanting to trade their franchise quarterback. Still, that has done little to quiet chatter about Russell Wilson potentially leaving Seattle.
The dual-threat star recently added more fuel to the fire by informing his current team of the other four NFL franchises he's willing to play for.
And by making that information public knowledge—with an assist from his agent and Adam Schefter—Wilson has forced David Carr to turn his back on his own flesh and blood. Because if the former NFL quarterback sat in Mike Mayock's GM chair, he apparently would have no problem telling his brother his time in Las Vegas is up.
In a recent post published on the official NFL website, Derek Carr's older brother didn't hold back in his praise for the Seahawks QB.
"If I'm a QB-needy team, I'm picking up the phone yesterday. He is everything you want in a quarterback, with endless talent, arm strength, poise and intelligence," he wrote. "Plus, he has the kind of ice in his veins that gives his team a chance to win late in games, no matter how great the deficit. He'll cost a GREAT deal, but the on-field production and leadership you'd get in return would be worth it."
Of course, the Raiders happen to be on Wilson's trade destination list. And considering they've been stuck in neutral with Derek Carr for years, they need to make an upgrade at the most important position in sports.
Ironically, David Carr ranked Wilson as only the fifth-best quarterback in the league prior to the 2018 season in a piece for NFL.com. But based on his recent comments, it's clear he values the Seahawks star much higher than he did just a few years ago.
Raiders fans shouldn't get their hopes up about the Seahawks star relocating to Las Vegas
If the Raiders listen to David Carr's advice, they will have an offer ready for the Seahawks if Russell Wilson becomes available.

But even if Las Vegas wants to swap out Derek Carr for the future Hall of Famer, that dream does not seem close to becoming a reality.
A Wilson trade will likely cost at least three first-round picks. The Raiders do not have multiple first-rounders in any of the upcoming drafts. And they do not possess many attractive trade chips other than Darren Waller, Josh Jacobs, and Maxx Crosby.
Ultimately, it looks like Las Vegas doesn't have the assets required to pry Wilson from Seattle's clutches.
Unfortunately for the longtime Raiders captain, his own brother seems on board with any plan that involves trading for one of the most talented quarterbacks in NFL history. And considering he has two years remaining on his contract, Derek Carr would literally lose his job (at least with the Raiders) if his team makes a move for Wilson.
Then again, David Carr can't objectively deny that he made a massive mistake ranking his brother as the fourth-best quarterback in the NFL in 2018…one spot ahead of Russell Wilson.
At this point, not even the former No. 1 pick can side with his own flesh and blood in an argument over who would be a better fit for the Raiders.
The numbers (and game film) speak for themselves.
All contract data courtesy of Spotrac. All statistics courtesy of Pro Football Reference.