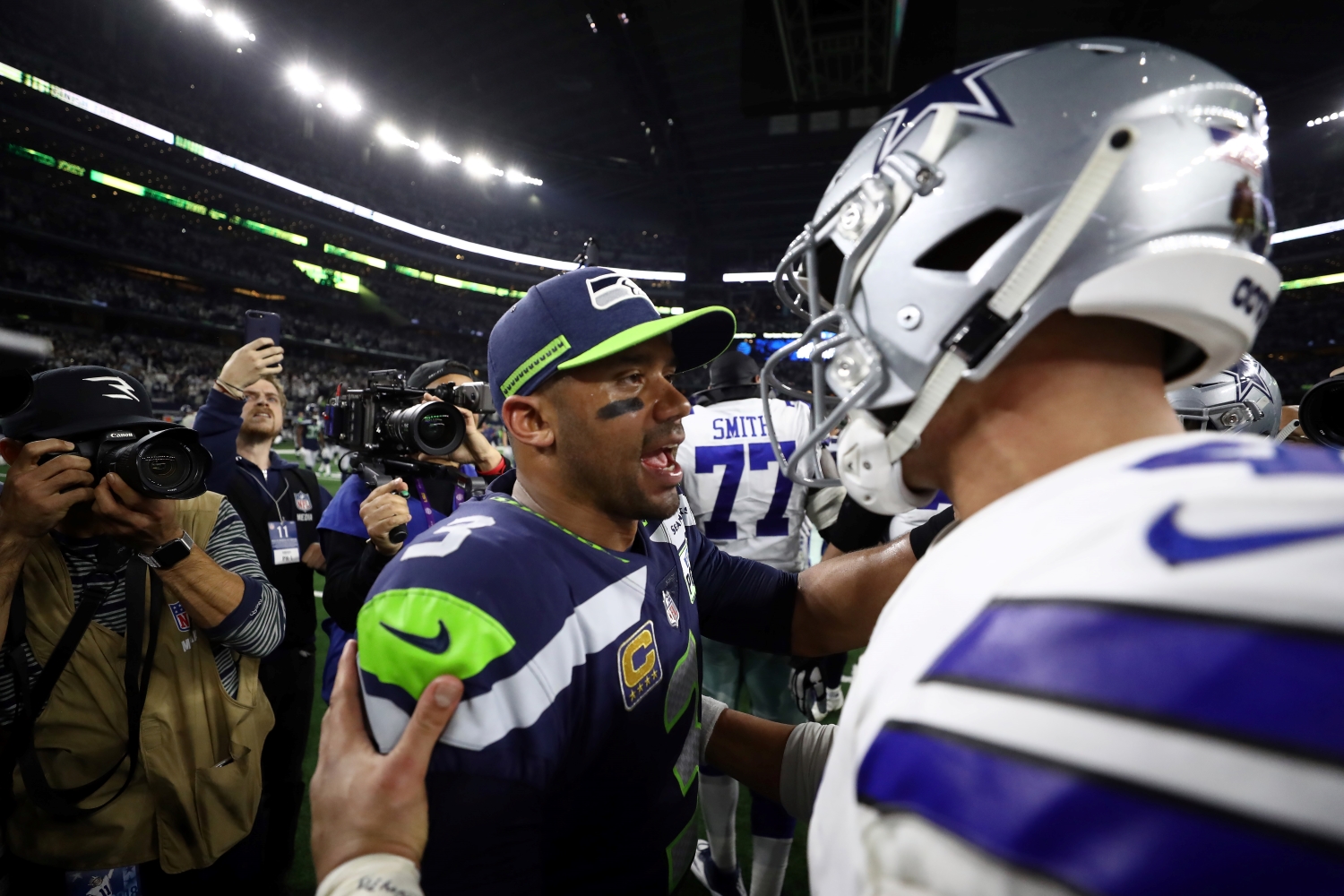 Russell Wilson Has Officially Given the Seahawks an Intriguing List of 4 NFL Teams He's Willing to Play For
Thanks to his agent confirming his trade destination list, we now know exactly where Seattle Seahawks QB Russell Wilson is willing to play.
With speculation swirling about whether Russell Wilson will remain a member of the Seattle Seahawks, a number of NFL teams have been loosely connected to the superstar quarterback.
After all, rarely does a player of his caliber ever become available.
While the Seahawks surely would rather hold on to one of the most talented signal-callers to ever step foot on an NFL field, we now know exactly where the 32-year-old is willing to play. And while Seattle does remain his preferred location, Wilson also has four intriguing teams on his wish list.
Russell Wilson trade rumors remain a story to follow
Russell Wilson continued to play at a high level in 2020. However, he also suffered through another season in which the Seahawks got eliminated from the playoffs.
Seattle's offense may have ranked eighth in scoring, but the offensive line once again did not do an adequate job protecting the franchise's most important player.
Recently, Wilson raised a few eyebrows with his comments about getting hit and sacked so often.
"You never want to be sacked that many times. Four-hundred times basically is way too many — 400 too many," he told reporters during a Zoom call two weeks ago. "So I think that's a big thing that we've got to fix. That's got to be fixed and has to be at the end of the day, because my goal is to play 10 to 15 more years."
Wilson has also expressed a desire to be more involved with the player personnel process. Perhaps seeing Tom Brady get every item on his wish list gave the Seahawks star some motivation to take a strong stand this offseason.
Although it would certainly rank as one of the most shocking moves in NFL history, a trade involving the eight-time Pro Bowler remains a possibility.
The Seahawks star's agent silences any doubt about where his client is willing to play
Although there had been speculation that the Miami Dolphins and the New York Jets could be on Russell Wilson's trade destination list, that isn't the case.
In fact, only four teams made the cut.
On Thursday, ESPN's Adam Schefter reported via Twitter that Wilson has told the Seahawks that he wants to play in Seattle. However, according to his agent, Mark Rodgers, if a trade does occur, the only teams Wilson would play for are the Dallas Cowboys, the New Orleans Saints, the Las Vegas Raiders, or the Chicago Bears.
Unfortunately for the rest of the league, the Seahawks star clearly has a small list of places he wants to go.
Given his status as one of the top quarterbacks in the NFL, Wilson surely would command a high price in a trade. But can any of those four teams come up with an offer to sway Seattle to send its biggest star to a new city?
Can one of Wilson's preferred suitors make a fair offer to pry the NFL star from Seattle?
Assuming the Seahawks want multiple first-round picks, it will be interesting to see if the Cowboys, Saints, Raiders, or Bears can come up with a package strong enough to sway Seattle to trade Russell Wilson.
Dallas, of course, has a quarterback dilemma of its own to deal with. Dak Prescott still doesn't have a long-term deal. And the Cowboys must soon decide whether to put the franchise tag on him for the second straight year.
But if Jerry Jones manages to swap Prescott for Wilson, that would certainly give Cowboys fans hope about finally capturing a Super Bowl title.
Sending Wilson to the Saints doesn't seem like a sound strategy for the Seahawks. So barring a thoroughly ridiculous offer, don't expect him to move to New Orleans.
However, the Raiders play in the AFC, which instantly makes them a more attractive trade partner. And with Jon Gruden in desperate need of a true franchise quarterback, it wouldn't be surprising to see Las Vegas go all-in on trying to land a proven superstar.
So for now, Russell Wilson remains a Seahawk.
But for fans of four NFL franchises, the possibility officially exists that the future Hall of Famer could be on the way sooner or later.
Like Sportscasting on Facebook. Follow us on Twitter @sportscasting19.