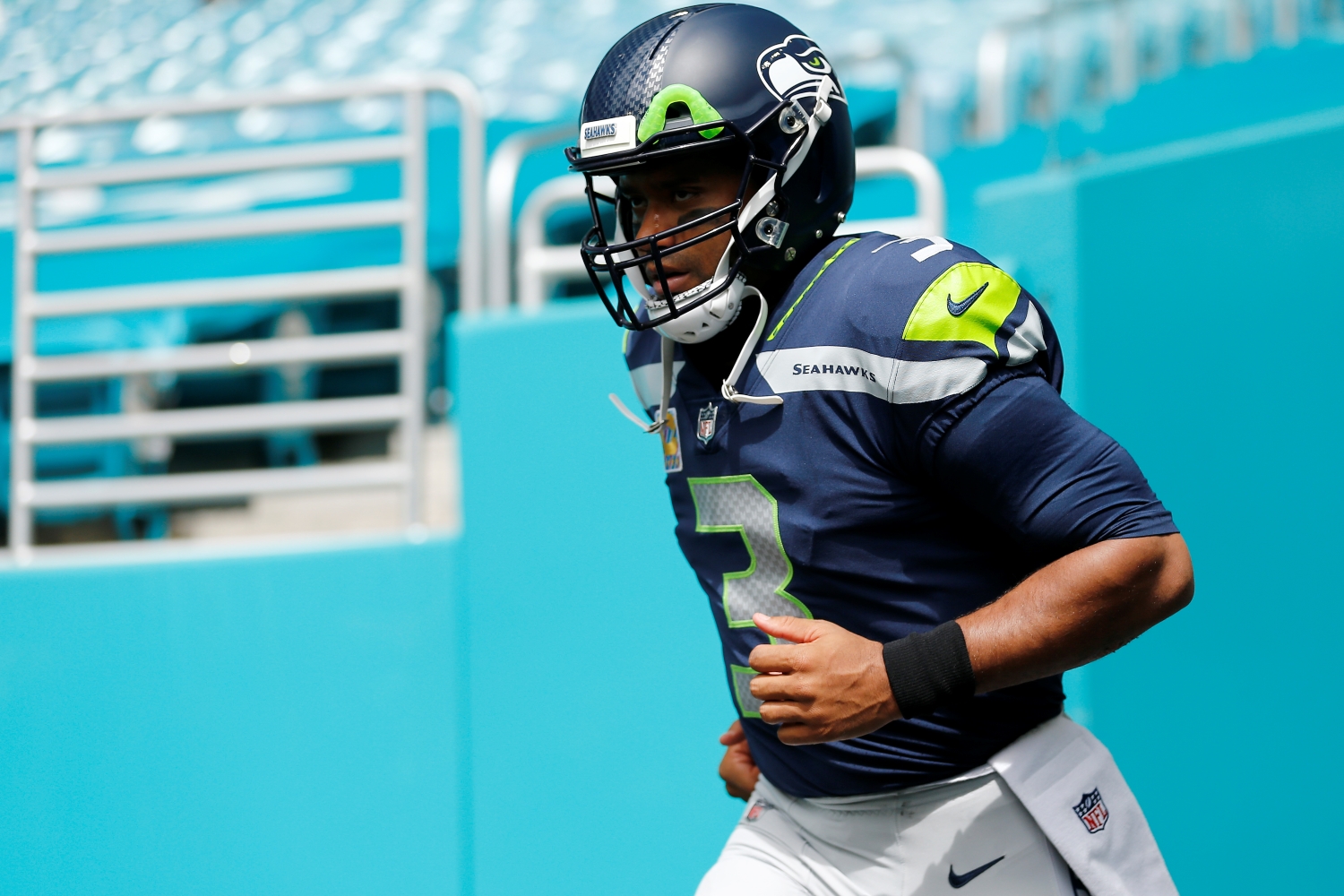 NFL Teams Reportedly Know the Minimum Price They Must Pay to Pry Russell Wilson From the Seahawks' Clutches
NFL teams reportedly know the starting point for any potential trade involving disgruntled Seattle Seahawks quarterback Russell Wilson.
As NFL teams wait to see if Deshaun Watson becomes available, they also remain intrigued by the possibility of acquiring another star quarterback: Russell Wilson.
However, just like the Houston Texans have said they have no interest in trading their best player, the Seattle Seahawks have reportedly refused (so far) to discuss a deal centered around a player who should earn a spot in the Pro Football Hall of Fame one day.
But if Seattle reverses course, NFL teams reportedly know the minimum price it will take to pry Wilson from the Seahawks' clutches.
Russell Wilson may not stick around much longer in Seattle
Despite having one of the best quarterbacks in the NFL, the Seahawks have only won a single Super Bowl title with Russell Wilson under center. Their lack of championship hardware reflects more on the coaching staff and front office rather than the 32-year-old signal-caller.
After all, a defense that once boasted the Legion of Boom has regressed mightily in recent years. The Seahawks haven't ranked in the top-10 in points allowed since 2016.
Meanwhile, Seattle's inability to adequately protect Wilson has forced the dual-threat star to absorb far too many hits and sacks.
In fact, he raised a few eyebrows by calling out his teammates during a Zoom call with reporters less than two weeks ago.
"You never want to be sacked that many times. Four-hundred times basically is way too many — 400 too many," Wilson said. "So I think that's a big thing that we've got to fix. That's got to be fixed and has to be at the end of the day, because my goal is to play 10 to 15 more years."
Essentially, after being the consummate team-first guy for almost a decade, Wilson has made it clear that he has some issues with his current situation. And while neither he nor the Seahawks have confirmed anything, it hasn't stopped speculation from swirling about a potential blockbuster trade centered around one of the most talented signal-callers to ever step foot on an NFL field.
NFL teams reportedly know the minimum price it will take to pry the star quarterback from the Seahawks' clutches
Pinpointing an exact price for any player can be a difficult exercise. While many expected the Detroit Lions to get a decent draft pick (or two) for Matthew Stafford, nobody could have predicted that the LA Rams would send two first-rounders, a third-rounder, and Jared Goff in exchange for the former No. 1 pick.
On the other hand, the Indianapolis Colts only sent a 2021 third-round pick and a conditional 2022 draft choice to acquire Carson Wentz from the Philadelphia Eagles.
Obviously, Russell Wilson ranks well above both Stafford and Wentz in terms of overall value. So any deal involving the perennial Pro Bowler would have to top the return the Lions received for their longtime franchise quarterback.
And according to NFL reporter Michael Silver, teams already know the minimum price they must pay to acquire Wilson.
"Teams have been calling. Probably a third of the league have reached out to inquire about Russell Wilson," Silver said during an appearance on the NFL Network on Monday. "I think you start with something like three first-round draft picks. That's kind of the message that other teams believe would be conveyed."
Silver also highlighted that Wilson remains under contract through the 2023 season, and that he imagines head coach Pete Carroll would not be on board with a rebuilding project.
"Chances are it'll get patched up, but that hasn't stopped a lot of teams from reaching out and from talking about this," Silver said. "You kind of hear that three number ones being tossed around the league a little."
Will Wilson remain with the only NFL franchise he's ever known?
If the "floor" for a Russell Wilson trade stands at three first-round draft picks, that should most teams out of contention already.
After all, only a few franchises currently hold multiple first-rounders for the 2021 NFL draft. And while Seattle could settle for future picks, those draft choices do not hold as much value as top-32 selections in the upcoming draft.
Both the New York Jets and the Miami Dolphins possess two first-round picks in 2021. Plus, both AFC East franchises have young quarterbacks who could be viewed as high-upside investments.
The Jacksonville Jaguars also hold two top-32 selections, but they will likely use the No. 1 pick on Trevor Lawrence.
Ultimately, trading away a proven star for a package of picks would represent a massive risk for the Seahawks. After all, none of the 22 quarterbacks selected in the first round between 2009-2016 will suit up for their original team in 2021.
Moving in a new direction at the most important position in sports doesn't seem like a smart strategy for Seattle. Then again, if Wilson truly wants out, John Schneider may be forced to put the future Hall of Famer on the market.
And if that occurs, expect an all-out bidding war for a quarterback who has the talent to turn just about any team into a legitimate Super Bowl contender.
Like Sportscasting on Facebook. Follow us on Twitter @sportscasting19.