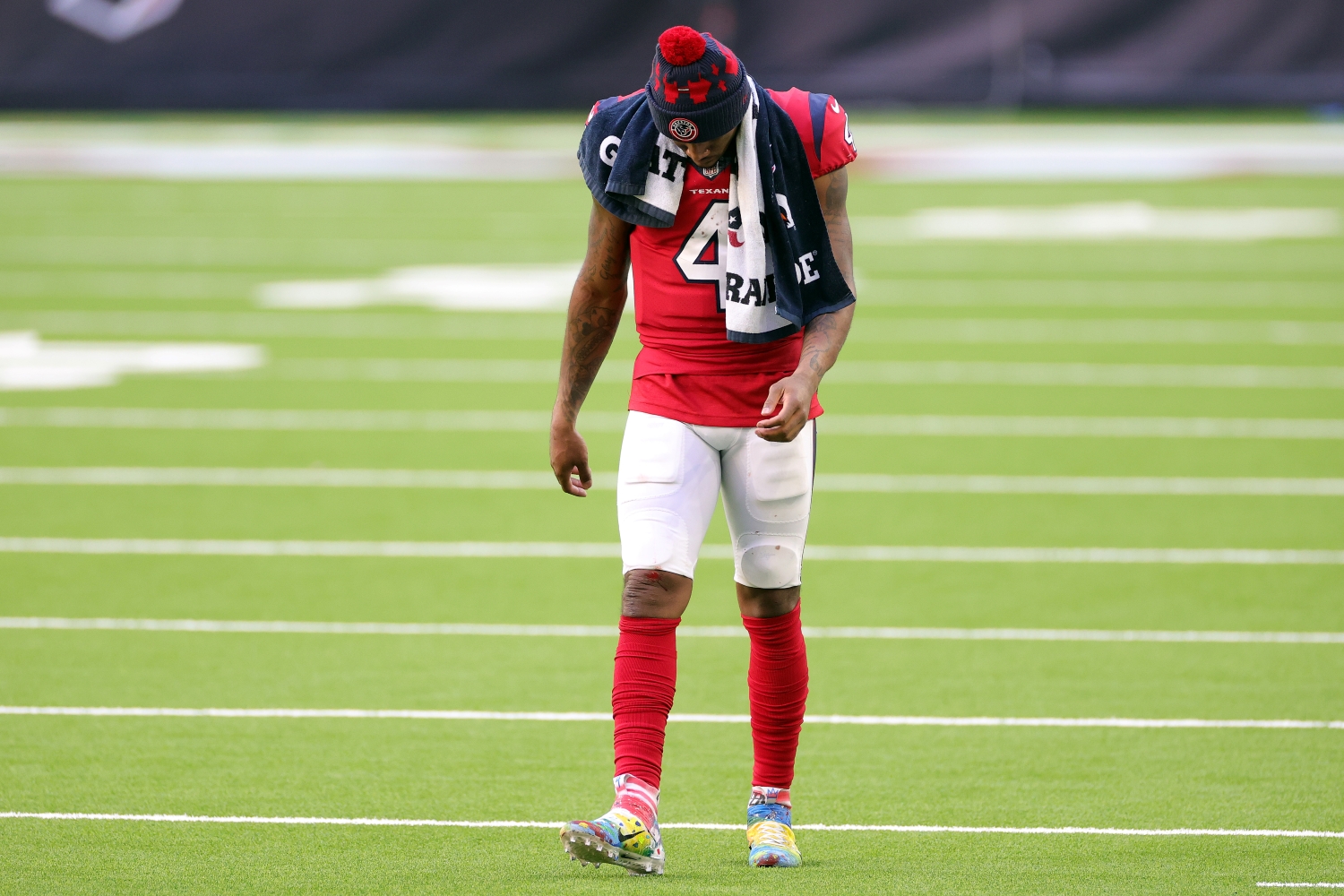 Deshaun Watson Just Put $20 Million on the Line by Threatening the Texans With the Ultimate Power Move
Deshaun Watson will lose $20 million if he stands firm against the Texans. Will Houston have no choice but trade the star NFL quarterback?
Deshaun Watson does everything in his power to put his team in the best position to succeed on Sundays. Unfortunately for Houston Texans fans, the star quarterback has no interest in putting his body and mind on the line anymore for a franchise that just mutually parted ways with the beloved J.J. Watt after he expressed his desire to find a new NFL team to play for.
While the Texans remain firm on refusing to trade away one of the league's most talented quarterbacks, Watson won't back down from his stance, either.
Any by threatening to pull the ultimate power move on the Texans, the 25-year-old superstar is taking a $20 million gamble that he will ultimately emerge as the victor in a standoff that continues to remain the top storyline to follow during the early stages of an offseason that seems destined for more drama.
Deshaun Watson refuses to suit up for Houston ever again
Deshaun Watson quietly had one of the best seasons by any quarterback in NFL history. Despite all the chaos around him, the former Clemson star led the league with 4,823 passing yards. He completed a career-high 70.2% of his attempts and threw 33 touchdowns. Watson also posted a personal-best 112.4 quarterback rating.
Texans fans better keep those memories of his sensational 2020 season as fresh as possible. Because if the disgruntled NFL star stays true to his word, Houston will never feature No. 4 in the starting lineup again.
On Thursday, ESPN's Dan Graziano reported that Watson met with new Texans head coach David Culley on Feb. 19. The three-time Pro Bowler told him he has no intention of suiting up for the team again.
But on Friday, the situation took a turn thanks to Watson pulling the ultimate power move against the Texans.
The NFL star is taking a $20 million gamble by pulling the ultimate power move against the Texans
On Friday, ESPN's Jeremy Fowler reported that Deshaun Watson is willing to sit out preseason and regular-season games if the Texans do not trade him. Of course, that shouldn't be a surprise to Houston considering the quarterback's recent conversation with the team's new head coach.
At the same time, pulling the ultimate power move will cost Watson money. In fact, Pro Football Talk reported the star quarterback could lose more than $20 million if he sits out the entire 2021 season.
Mike Florio laid out the key figures to keep in mind if a holdout occurs:
$93,085 for missing mandatory minicamp
$50,000 per day for missing training camp
$620,000 per preseason and regular-season game missed
If Watson misses all 34 days of training camp, he will incur a $1.7 million fine. If he sits out all three preseason games, he will lose $1.86 million.
Watson will lose $11.16 million by sitting out the entire regular season. Plus, Florio reported the Texans would then have the ability to recover $5.4 million in signing-bonus money.
He ultimately calculated that Watson will lose a total of $20.213 million by skipping 2021.
Will Watson win out and force the franchise to find him a new home?
By putting $20 million on the line, Deshaun Watson clearly won't let money stand in the way of achieving his goal of getting out of Houston. At this point, he certainly seems fully committed to completing his next pass as a member of another NFL team.
So as much as Nick Caserio and the Texans want everyone to believe that they won't trade their franchise quarterback, it appears as though that will have to happen at some point.
If Houston does open the door for suitors to present offers, it will be fascinating to see who wins the battle for one of the most talented signal-callers to ever step foot on an NFL field.
The Miami Dolphins and the New York Jets can offer multiple first-round picks and young quarterbacks with theoretical upside.
The Carolina Panthers have cleared out a large chunk of salary-cap space in an effort to make a major upgrade at the most important position in sports. But can Matt Rhule's team outbid either AFC East franchise?
Plus, you can never rule out the San Francisco 49ers, who may have to give up on the Jimmy Garoppolo experiment given his injury woes.
But if the Texans refuse to pick up the phone in the first place, all of those teams will have to search elsewhere for a new quarterback.
And if Watson truly intends on sitting out all year, he clearly has no problem putting $20 million on the line.
In this case, money really does talk.
All statistics courtesy of Pro Football Reference.