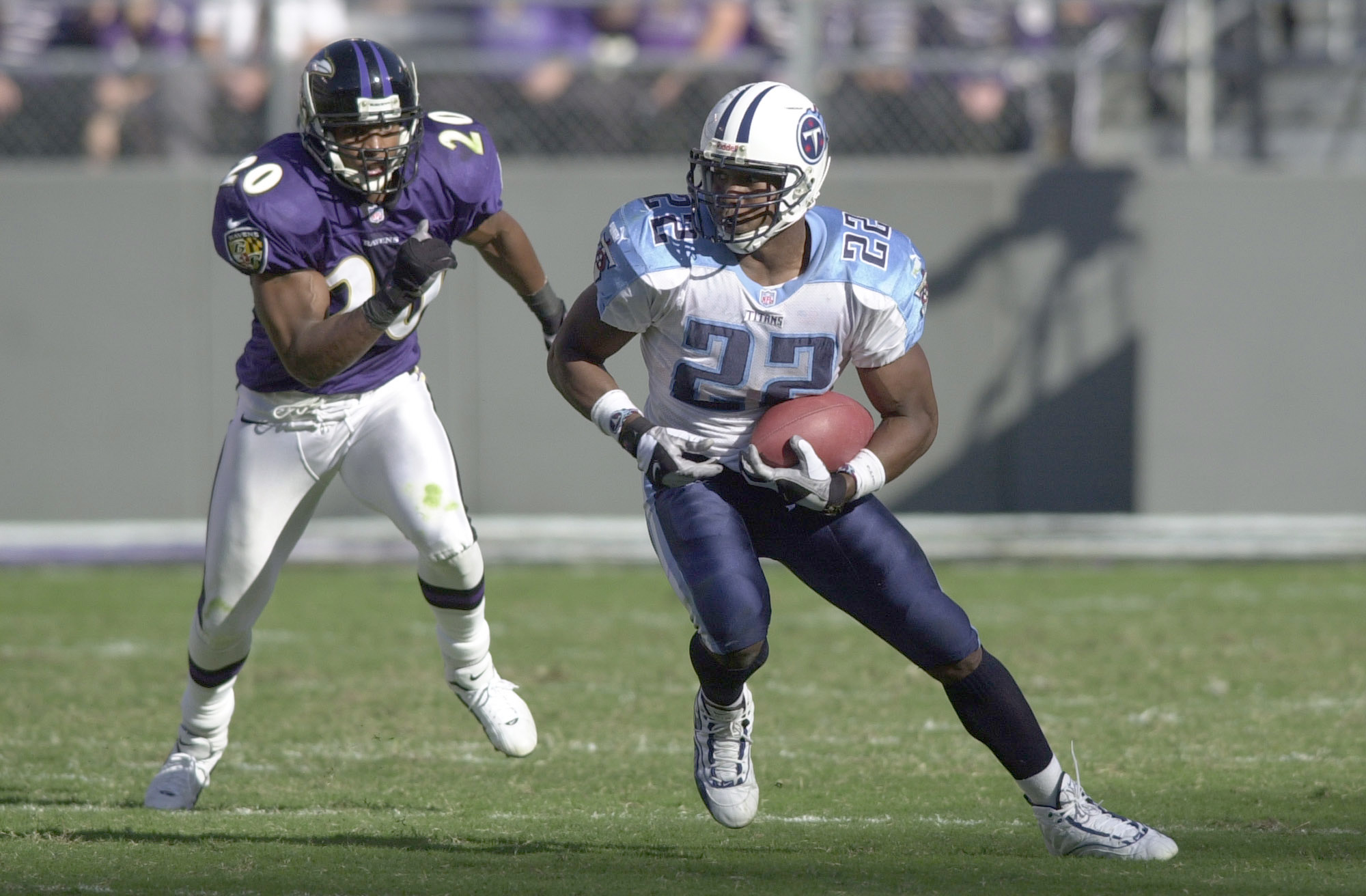 The Tragic Death of Tennessee Titans RB Rodney Thomas
Former Texas A&M star and Tennessee Titans running back Rodney Thomas was one of the good guys in the world of sports.
Rodney Thomas was known for many of the things he did off the football field rather than some of the things he accomplished on it. Thomas was a star running back at Texas A&M and played sparingly in the NFL, although he made an appearance in the Super Bowl with the Tennessee Titans. Thomas had his life tragically cut short in 2014 at the age of 41 after suffering a heart attack.
Rodney Thomas on the football field
As a high-schooler at Groveton High School in Groveton, Texas, Rodney Thomas had a record-setting career as a running back. As a senior, Thomas rushed for 3,071 yards, which was the second-best in state history. He finished his career with 8,441 yards, which were the third-most ever in the nation at the time.
Thomas was heavily recruited and elected to attend Texas A&M. He became the fourth player in school history (at the time) to rush for more than 3,000 yards in his career. He did that despite sharing the backfield with future NFL backs Greg Hill and Leeland McElroy.
Thomas, a 5-foot-10, 210-pound back, was a third-round pick in the 1995 NFL draft. He was selected by the Houston Oilers. In his rookie season, Thomas racked up 947 yards and scored five rushing touchdowns. The following season, the Oilers selected running back Eddie George with their top pick as Thomas became a backup. Thomas and the Titans reached Super Bowl 34 in 1999, falling to the St. Louis Rams.
Thomas did things the right way off the field
When Rodney Thomas was at Texas A&M in 1994, he was the recipient of the Aggie Heart Award. The award, voted on by teammates, is presented to a senior who completed his eligibility and shows effort, desire, determination, competitiveness, leadership, and courage. The award is the highest honor for an A&M senior player.
According to Sports Illustrated, when Thomas was a student at Texas A&M, there was a malfunction in a vending machine in the athletic dorms. Because of the malfunction, cans of soda were dispensed without cash being inserted into the machine. Thomas, hardly made of money, took his own change and replaced all the money for the drinks that had been taken.
Even when Thomas reached the NFL, he never caused a scene after he was relegated to the bench when the Houston Oilers selected Eddie George with their first pick. Thomas even turned down more lucrative offers from other teams to remain with the team that selected him. In 2001, he signed with the Atlanta Falcons as a free agent and appeared in 12 games.
Thomas died in 2014 at the age of 41
On June 14, 2014, Rodney Thomas died of a heart attack in his hometown of Groveton, Texas.  His death stunned his family, friends, and his former teammates and coaches.
"I was shocked and saddened by the news of the passing of Rodney Thomas," former A&M coach R.C. Slocum said, according to Pro Football Talk. "He was a great football player, but more importantly, he was one of the finest young men that I have ever met. (Thomas) was so kind, considerate, and unselfish. He impacted all that met him in a positive way. Our prayers go out to his family and friends. Aggieland lost one of its brightest stars today."
Thomas left behind a wife, a 4-year-old son, and a stepson.