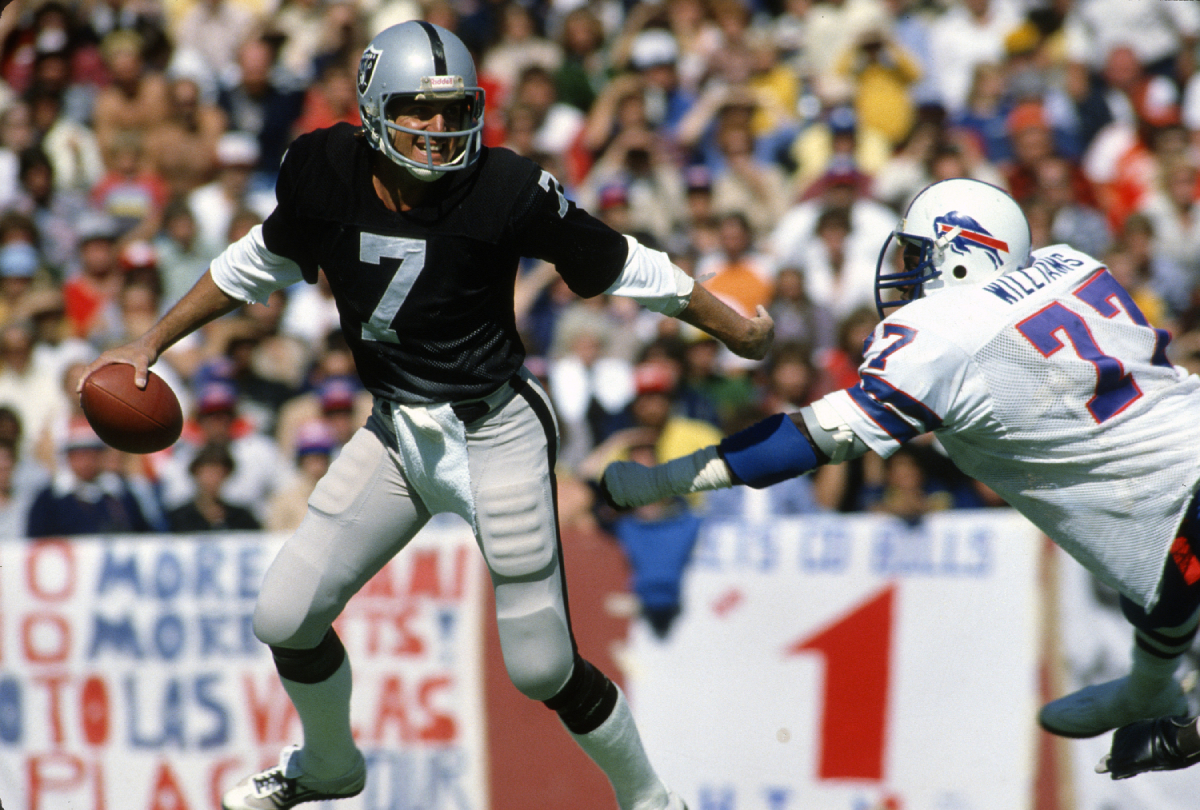 Former Oilers QB Dan Pastorini Talks Football, Farrah Fawcett, and a Dislike for Al Davis
Former Houston Oilers quarterback Dan Pastorini taks football, dating Farrah Fawcett, and a strong dislike for Al Davis.
As a quarterback in the NFL in the 70s and early 80s, Dan Pastorini had it all. He was talented, athletic, good-looking, and free-spirited. Pastorini was a guy who would say what's on his mind, no matter who he was speaking with. Some might say he was a primadonna but he didn't care. He was living a life that included a nine-year run with the Houston Oilers and one ugly season with the Oakland Raiders. His wild life also led to his autobiography called Taking Flak: My Life in the Fast Lane.
Dan Pastorini's football life
Dan Pastorini was drafted third overall in the 1971 NFL draft by the Houston Oilers after a not-so-impressive college career at Santa Clara. He was selected behind Jim Plunkett and Archie Manning. "I was injured most of my career in college," Pastorini said in an article on seniorbowl.com, and I think I played a total of maybe 7 or 8 games, if that, in 4 years.  I don't know how it happened but I was selected to play in the East-West Shrine Game and the Senior Bowl game in 1971 and those allowed me to showcase my talent. And I think that moved me up the ladder on the draft in 1971."
Pastorini spent the first nine years of his 12-year NFL career with Houston where he had a roller-coaster ride. In his second season, the team won once in his 12 starts and then went 0-10 in his 10 starts the following season. Pastorini then had three seasons of 10 victories, including a 10-4 season in 1975 when he made the Pro Bowl.
In his final game as an Oiler, Pastorini guided them to the AFC Championship Game against the Pittsburgh Steelers. If not for a controversial call on a Mike Renfro would-be touchdown reception that likely would've been overturned under today's instant replay, he may have gotten the Oilers to the Super Bowl. Pastorini was traded to the Oakland Raiders for an aging Ken Stabler prior to the 1980 season and Pastorini went 2-2 before breaking his leg. He ended his career by playing one season each for the Los Angeles Rams and Philadelphia Eagles.
Pastorini's relationship with Farrah Fawcett
Off the field, Dan Pastorini was having just as much fun. He dated actress/model Farrah Fawcett and he posed in Playgirl magazine. Not much of that was mentioned at the time, but he did speak on the matter in his autobiography Taking Flak: My Life in the Fast Lane.
In his book, he wrote that the headline after his trade to the Raiders read "Pastorini can make passes at Farrah Fawcett in Hollywood." He remembered driving cross country to Oakland listening to sports radio.
One of the hosts declared, "Well, we finally got rid of Pastorini. I've got two things to say about Dante: Goodbye and good riddance." I turned off the radio, stuck my right hand out of the sunroof, stepped on the gas, shot the finger into the air, and said, "Screw you, Houston."
As for Farrah Fawcett, he wrote: Farrah and I had become very close. Not many people knew how serious we were. My last night there, she came over for a Nooner and before she left, she jumped on top of me, gave me a big kiss and said, "I can't wait to see you tonight." When I walked into the bathroom after she left, I saw that she wrote on the mirror in red lipstick, "I want to have your baby." But Farrah didn't return my calls that night. I didn't hear from her the rest of the week, or the next. Or ever. My secretary, Marge Mangoulis, had her pegged from the start. Marge told me Farrah just wanted to screw around with me, but Ryan O'Neal was better for her career. Farrah had no conscience.
Pastorini's ugly year with the Raiders
When Dan Pastorini was traded to the Oakland Raiders, he was the starter ahead of Jim Plunkett, the man selected first overall and two picks ahead of Pastorini in 1971. Pastorini broke his leg in Week 4 after a rocky beginning with the Raiders. He said he had heard stories about Raiders owner Al Davis playing favorites, but he took a liking to Davis. Davis showed him around and even helped restructure his contract so he could get more up-front money to help his parents.
Then the injury came. When he was in the locker room on crutches, Pastorini said on multiple times he saw Davis and asked how he was. Davis ignored him. He stopped, looked at me and just kind of exhaled and shook his head with a look of complete disgust on his face. It was as if I was some kind of piece of meat that wasn't any use to him anymore. I was waste. He walked right past me, so close that he almost brushed one of my crutches and didn't say a word. My mind started racing, thinking all kinds of things. Is he trying to send me some kind of message? Is this some kind of game? As he walked past I shouted, "Hey, motherf—–, what's your problem?"
The Raiders were winning without Pastorini and went on to win the Super Bowl. When he got his Super Bowl ring, he gave it away to charity. He was cut after the year.