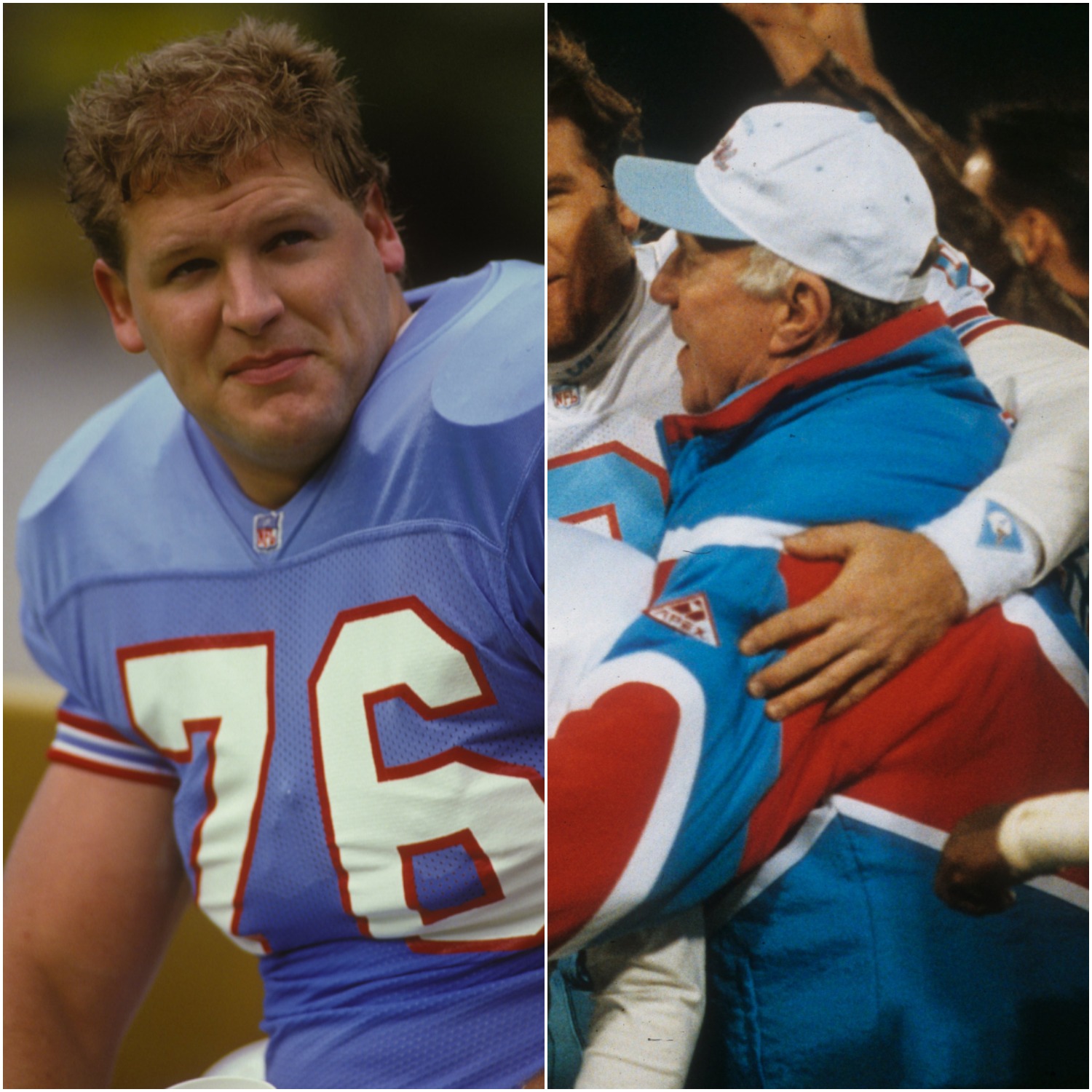 Moments After Houston Oilers DT Jeff Alm Accidentally Killed Best Friend in Car Crash, He Grabbed Gun and Ended His Own Life
At 25, Jeff Alm had most of his NFL career ahead of him. However, after a car he was driving crashed and killed his best friend, he pulled out a gun and ended his own life.
After defensive lineman Jeff Alm started seven games for the Houston Oilers during the 1992 season, his third in the NFL, the defensive lineman's future appeared bright. However, the 1993 season didn't get off to a good start with a preseason holdout and a broken leg. He had only played in two games that season when he tragically died in December along with his best friend in a bizarre car accident-suicide incident that rocked the Oilers and the NFL.
Jeff Alm becomes All-American at Notre Dame
Growing up in a suburb of Chicago, Jeff Alm was bigger than most kids and excelled on the football field. He earned all-state honors at Carl Sandburg High School. During that same time, he also met Sean Lynch, who was considerably smaller in size. The two became best friends and were inseparable.
In 1985, the pair were part of a team that advanced to the state semifinals. Seventeen of the 19 seniors on that team earned college football scholarships. Alm earned one to play at Notre Dame.
Despite being split up, the two still managed to stay in touch. Lynch regularly made the trip to South Bend to watch his friend play. When Notre Dame won the national championship at the 1989 Fiesta Bowl in Arizona, Lynch joined his friend on the field after the game to celebrate.
Several months later, after Alm was named a second-team All-American, and selected in the second round of the NFL draft by the Houston Oilers, Lynch was there as well celebrating his friend's accomplishment.  
Jeff Alm has solid career with Houston Oilers
Jeff Alm joined the Houston Oilers in 1990 and played in all 16 games. He recorded a half-sack during his first year in the NFL. Alm got his first start in year two, but the Oilers defensive staff primarily used him on a rotational basis. 
In 1992, his third season, the 6-foot-6 Alm had the best year of his career, starting in seven games for the Oilers and recording a sack. 
Despite playing in the NFL, Alm and the diminutive Lynch remained best of friends. They regularly talked on the phone. They would always hang out each offseason. And during the season, Lynch would make his way down to Houston, and the two would find time to hang out together.  
During the 1993 season, Jeff Alm needed his best friend more than ever. While the Oilers were putting together a solid season and eventually finished with a 12-4 record and berth in the playoffs, Alm struggled. A contract holdout started the season, and it preceded a broken leg that kept him out for weeks. Alm had played just twice the whole season. 
After car crash kills best friend, Alm gets gun and dies by suicide
A day after Jeff Alm stood on the sidelines during a mid-December win over the Cleveland Browns with Lynch, who had received a special pass, the two men went out on Monday night for a farewell evening together before Lynch returned home. 
The two first enjoyed a steak dinner together before they visited a night club for drinks. They stayed until closing and then headed home. Just before 3 a.m. tragedy struck when Alm was speeding down a highway and lost control of his vehicle on an exit ramp. The force from the crash threw a seatbelt-less Lynch out of the car. 
Alm exited his vehicle and walked over to the edge of the embankment and saw his friend motionless on the ground 20 feet below. Distraught, he called 911 on his car phone.
"I had an accident on… 59 north, where [expletive] 59 meets 610. I have a buddy dying," Alm frantically told the operator. Seconds later, according to police reports, he went back to his vehicle and grabbed a shotgun he always carried with him. 
Jeff Alm fired three shots into the air. Then he fired a fourth taking his life. Toxicology reports later revealed Alm's blood-alcohol level was 0.14 percent, more than the allowed 0.10 in Texas. Lynch's was even higher. Both men were 25. 
How to get help: In the U.S., call the National Suicide Prevention Lifeline at 1-800-273-8255. Or text HOME to 741-741 to connect with a trained crisis counselor at the free Crisis Text Line.