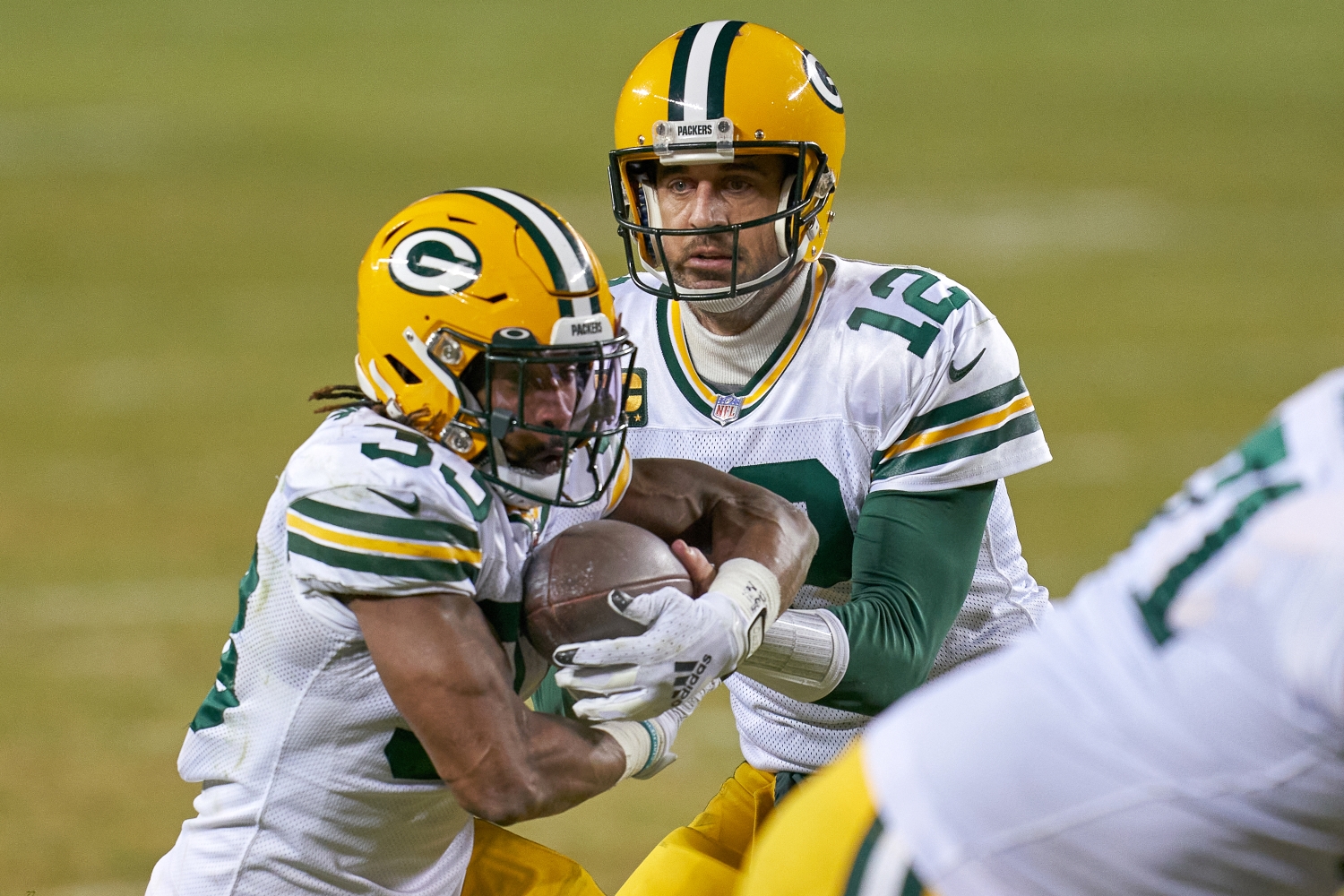 Aaron Rodgers Should Be Highly Concerned About His Future After the Packers Make a Surprising $48 Million Investment
Aaron Rodgers should be highly concerned about how the Packers plan on building a Super Bowl-caliber team around him if they continue to make questionable investments at the running back position.
As Aaron Rodgers inches closer to age 40, the Green Bay Packers continue to take an interesting approach to building around one of the most talented quarterbacks in NFL history.
After all, who expected general manager Brian Gutekunst to trade up to select Jordan Love in the first round of the 2020 NFL draft?
That selection simply set the stage for a draft class that featured some more surprising picks. But after strangely using an early-round choice on the running back position, the Packers have once again made a head-scratching move that should cause Rodgers to be highly concerned about his future.
The Packers didn't exactly do their star quarterback any favors in the 2020 NFL draft
For years, Packers fans have questioned the team's refusal to devote early-round picks on players who can directly help Aaron Rodgers.
After spending the 32nd pick on Derek Sherrod in 2011, Green Bay didn't use a first-round selection on an offensive player until 2020. Despite breaking the mold of going defense early, the Packers still didn't give their star quarterback a weapon to help him in the passing game.
Instead, the team selected his potential successor.
Of course, Jordan Love didn't play a snap as a rookie. Meanwhile, Rodgers won his third NFL MVP trophy after leading the league with 48 touchdown passes.
The Packers didn't do their best player any favors with the rest of their 2020 draft selections, either.
Even with Aaron Jones and Jamaal Williams already on the roster, Green Bay shockingly spent the 62nd overall pick on AJ Dillon. The 6-foot, 247-pound running back carried the ball 46 times and scored just two touchdowns in his rookie campaign.
And in the third round, the Packers opted for a tight end over a receiver. Josiah Deguara only recorded one reception before he suffered a season-ending knee injury. Meanwhile, several pass-catchers who got drafted later made an impact as rookies, including Gabriel Davis and Darnell Mooney.
Aaron Rodgers should be highly concerned about his team's surprising $48 million investment
Between free agency and the NFL draft, Green Bay simply hasn't devoted significant resources to landing a top-flight receiver to pair with Davante Adams. And as much as Aaron Rodgers may love playing alongside Aaron Jones, the 37-year-old should be highly concerned about his future after the Packers pulled a surprising move to keep his teammate from leaving.
On Sunday, ESPN's Adam Schefter reported via Twitter that Jones will remain in Green Bay on a four-year, $48 million deal that includes a $13 million signing bonus.
Although Jones definitely deserved a raise after totaling 3,017 yards from scrimmage and 30 touchdowns the last two years, few expected him to receive a lucrative deal from the Packers. After all, the team just spent a second-round pick on a running back last April. And without a ton of financial wriggle room to address other legitimate holes, it seemed like Green Bay would allocate its spending money elsewhere.
Yet, Rodgers has now seen the franchise spend two early-round picks on players who don't figure to start anytime soon in Love and Dillon. And with the Packers surprisingly handing Jones a top-level deal, their long-term plan doesn't seem clear at all.
And if re-signing the dual-threat star hampers Green Bay's ability to address true areas of need, that should give Rodgers even more reason for concern about his future.
Will the Aaron Jones contract prove to be another mistake by Green Bay's front office?
Aaron Jones most certainly makes the Packers a better team. But considering they found him in the fifth round of the 2017 NFL draft, they didn't need to extend themselves to keep him.
After all, teams routinely pluck productive backs from the later rounds (and sometimes from the undrafted free agent ranks) on an annual basis. So for Green Bay, making Jones one of the highest-paid players at his position after spending a second-round pick on AJ Dillon does not make much sense from a team-building perspective.
Already facing major salary-cap issues, the Packers now have even less money to spend during a pivotal offseason for the NFC North franchise.
The offensive line needs reinforcements.
The receiver room features a ton of question marks after Davante Adams.
And let's not forget Green Bay slipped from ninth to 13th in points allowed in 2020. So in addition to their needs on offense, the Packers have to improve on defense, too.
With Rodgers likely angling for a new deal of his own, it certainly will be interesting to see if he still wants to extend his stay. Because with the way the front office continues to operate, he should be highly concerned about what the future holds.
Maybe a change of scenery wouldn't be so bad for both sides after all.
All statistics courtesy of Pro Football Reference.