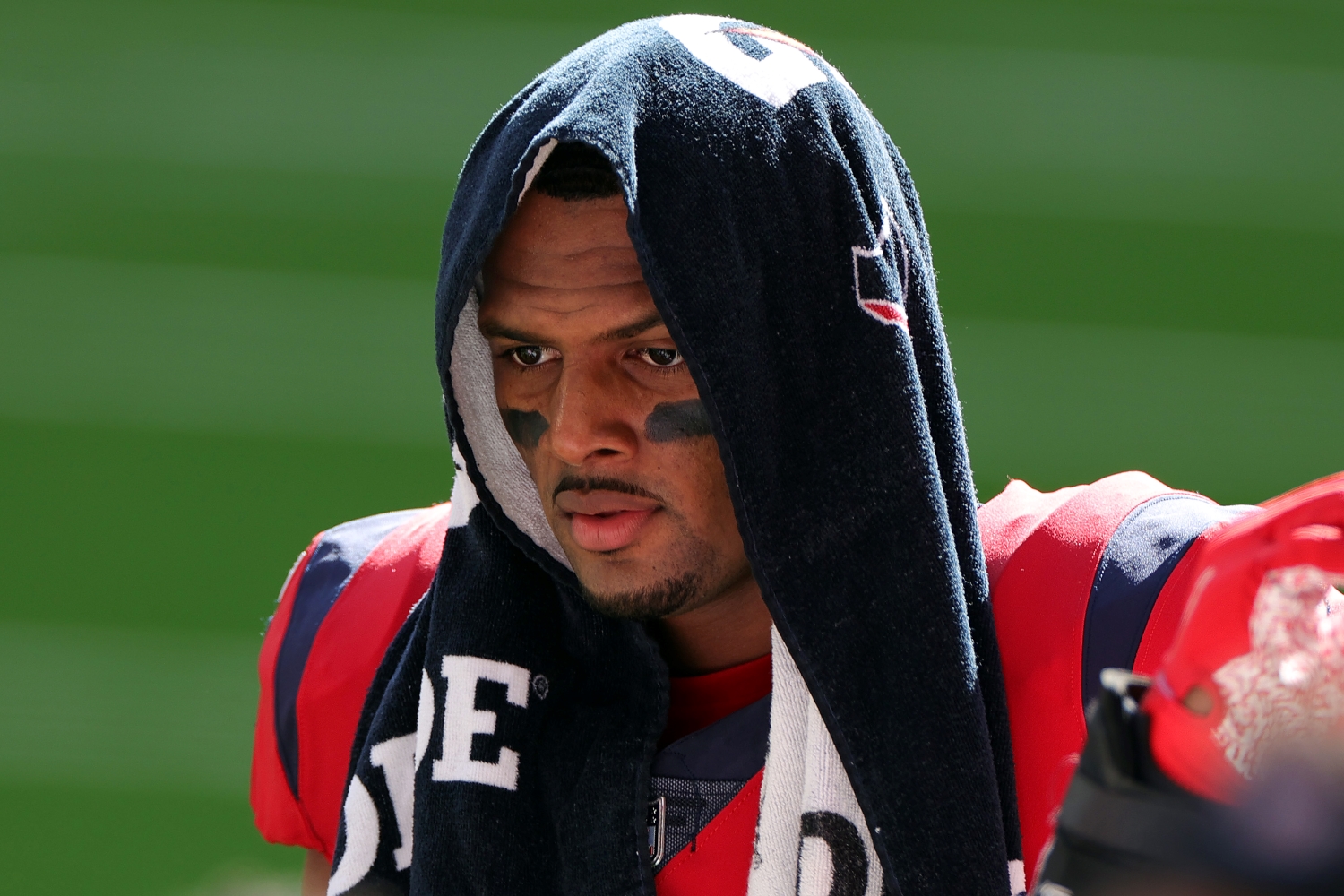 A Single Tweet From the Houston Police Department Has Changed Everything About the Deshaun Watson Case
The Houston Police Department's tweet on Friday changed everything about the Deshaun Watson case.
Even before allegations of sexual harassment emerged against him, Deshaun Watson already faced an uncertain NFL future. After all, he's spent months waiting for the Houston Texans to grant him his wish of finding a new home.
However, with the star quarterback facing a growing list of civil lawsuits, it remains unclear whether Watson will even play football this season.
And on Friday, his case took a significant turn thanks to a single tweet from the Houston Police Department.
Deshaun Watson currently faces 21 civil lawsuits
In the span of just a few weeks, Deshaun Watson has seen his entire life turn upside down. The 25-year-old NFL star currently faces 21 civil lawsuits involving allegations of sexual assault and inappropriate behavior.
Houston attorney Tony Buzbee has been at the center of the story. He has been quite outspoken on social media about the case. Yet, despite initially claiming he would provide evidence to police regarding his clients' accusations against Watson, Buzbee pulled a 180 on Tuesday.
"Here is my worry. When I ran for Houston mayor against the CURRENT mayor, I called for the resignation of the former police chief," he wrote on Instagram.
While Art Acevedo no longer holds that position, Buzbee pointed out that Rusty Hardin, Watson's attorney, has a son who works for HPD.
"I am not saying in any way that Deshaun Watson's lawyer, Mr. Hardin, has a son who has a position that would compromise HPD and its investigation. I support his service, along with all Houston police officers — I think the rank and file know that," he wrote. "But, I am saying that me and my clients will go elsewhere to provide our evidence to investigative authorities. Stand by.
A tweet from the Houston Police Department has changed everything about the Watson case
As Deshaun Watson and his legal team decide how to handle a long list of civil lawsuits, they may need to prepare for another case, too.
Because thanks to a single tweet from the Houston Police Department, the star quarterback's case has taken a major turn.
"Today, a complainant filed a report with the Houston Police Department concerning Deshaun Watson. As with any allegation, the Houston Police Department is now conducting an investigation and will not comment further during the investigative process," the statement read.
Tony Buzbee said Friday he did not have any involvement in filing the report. Meanwhile, Watson's attorney sounded surprisingly positive about the latest development in his client's case.
"We welcome this long-overdue development," Hardin said, per Sarah Barshop of ESPN. "Now we will learn the identity of at least one accuser. We will fully cooperate with the Houston Police Department."
While no specific details concerning the investigation have been reported, the fact the police have become involved takes the case to another level. Watson has denied any wrongdoing in relation to the civil suits filed against him. Still, depending on the nature of the criminal complaint, there could be significant legal ramifications involved.
What does the future hold for the Houston Texans and their biggest star?
As the Houston Police Department conducts an investigation into the criminal complaint filed against Deshaun Watson, it will be fascinating to see how the Texans handle their biggest star.
Before his legal situation became the top storyline of the NFL offseason, everyone focused on a potential trade involving the three-time Pro Bowler. But given what's transpired in recent weeks, it remains to be seen whether teams will pivot in a different direction at the quarterback position. After all, how could an owner sign off on a trade for Watson with so much uncertainty?
As much as it makes sense for teams like the Miami Dolphins and the New York Jets to give Nick Caserio a call, that may take much longer than expected, if at all.
Since the case seems to take a turn on a daily basis, it's simply too chaotic at the moment for any general manager to go all-in on acquiring Watson.
Like Sportscasting on Facebook. Follow us on Twitter @sportscasting19.