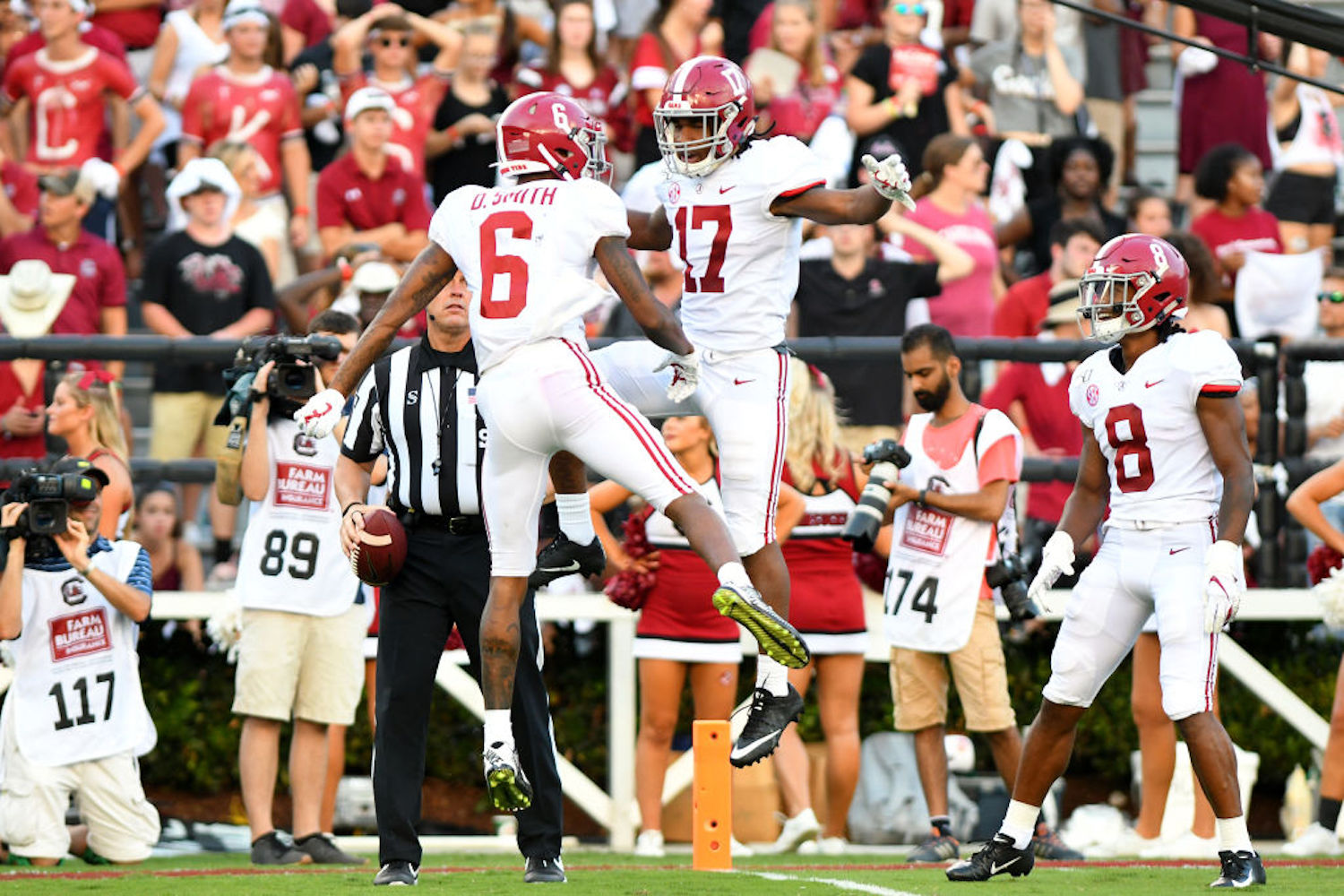 Alabama Star and Heisman Favorite DeVonta Smith Incredibly Isn't Even Best Wide Receiver on His Team
DeVonta Smith is most likely going to win the 2020 Heisman Trophy, but he isn't even the best wide receiver on his team this season.
DeVonta Smith has wowed the college football world with his game-breaking speed and jaw-dropping stat lines for Alabama this season. His historic resume is most likely going to earn him a Heisman Trophy, but Smith is incredibly not even the best wide receiver on his team.
Jaylen Waddle, who's missed the last seven games with an ankle injury, was more impressive than Smith on the field to start the year. If not for his injury in Week 5, Waddle could've been the one hoisting the Heisman Trophy on Tuesday night.
DeVonta Smith is on his way to winning a Heisman Trophy
No wide receiver has won the Heisman Trophy since Desmond Howard struck his iconic pose in the end zone for Michigan in 1991. That's about to change this year.
DeVonta Smith, who's been far and away the most dominant wideout in the country this season, is the prohibitive favorite to win the 2020 Heisman Trophy at -1,000 odds. The next closest is his teammate, Mac Jones, at +550.
It's easy to see why Smith is a near-lock to lift the bronze trophy on Tuesday night. The WR led the country in catches (105), receiving yards (1,641), and receiving touchdowns (20) this season. He also scored a rushing touchdown and a punt-return touchdown.
All you need to do is watch five minutes of Alabama's offense to see why Smith is the best player in college football this year. He's got glue-like hands, crisp route-running skills, and breakaway speed that can't be found anywhere else in the country. Well, except his own locker room.
DeVonta Smith isn't even Alabama's best wide receiver
DeVonta Smith will most likely walk away with the Heisman Trophy on Tuesday night, which will officially dub him the best player in college football for the 2020 season. However, he might not even be the best player in Alabama's wide receiver room.
Jaylen Waddle started the season as the Crimson Tide's No. 1 WR and arguably the top draft prospect at the position for 2021. He finally got out of the shadows of Jerry Jeudy and Henry Ruggs III, and he was ready to establish himself as the next dominant Alabama WR. That's exactly what he did to start the season.
Waddle opened up his 2020 campaign with 134 yards and two touchdowns against Missouri, 142 yards and a touchdown against Texas A&M, 120 yards against Ole Miss, and 161 yards and a touchdown against Georgia. He recorded 557 yards and four touchdowns in his first four starts of the season. Over the same span, Smith had 483 yards and four touchdowns.
Waddle proved in a short time period that he was faster, more dynamic in the open field, and harder to cover than Smith in Alabama's offense. But in Week 5 against Tennessee, Waddle suffered an ankle injury that ended his season.
Jaylen Waddle's injury opened the door for DeVonta Smith to win the Heisman
Ever since Waddle went down with an injury in Week 5, Smith has absolutely torched opposing defenses as the true No. 1 weapon on the Crimson Tide offense. He had 203 receiving yards and four touchdowns the following week against Mississippi State without Waddle splitting targets with him.
Smith has done enough to be named the Heisman Trophy award winner this season, but he wouldn't have accumulated the stellar resume he did with Waddle in the lineup all season. If Waddle continued on his four-game pace from early in the year, he would've finished the season with over 2,200 receiving yards and 20 touchdowns of his own.
Expect both Smith and Waddle to come off the board early in the 2021 NFL draft.
All stats courtesy of Sports Reference