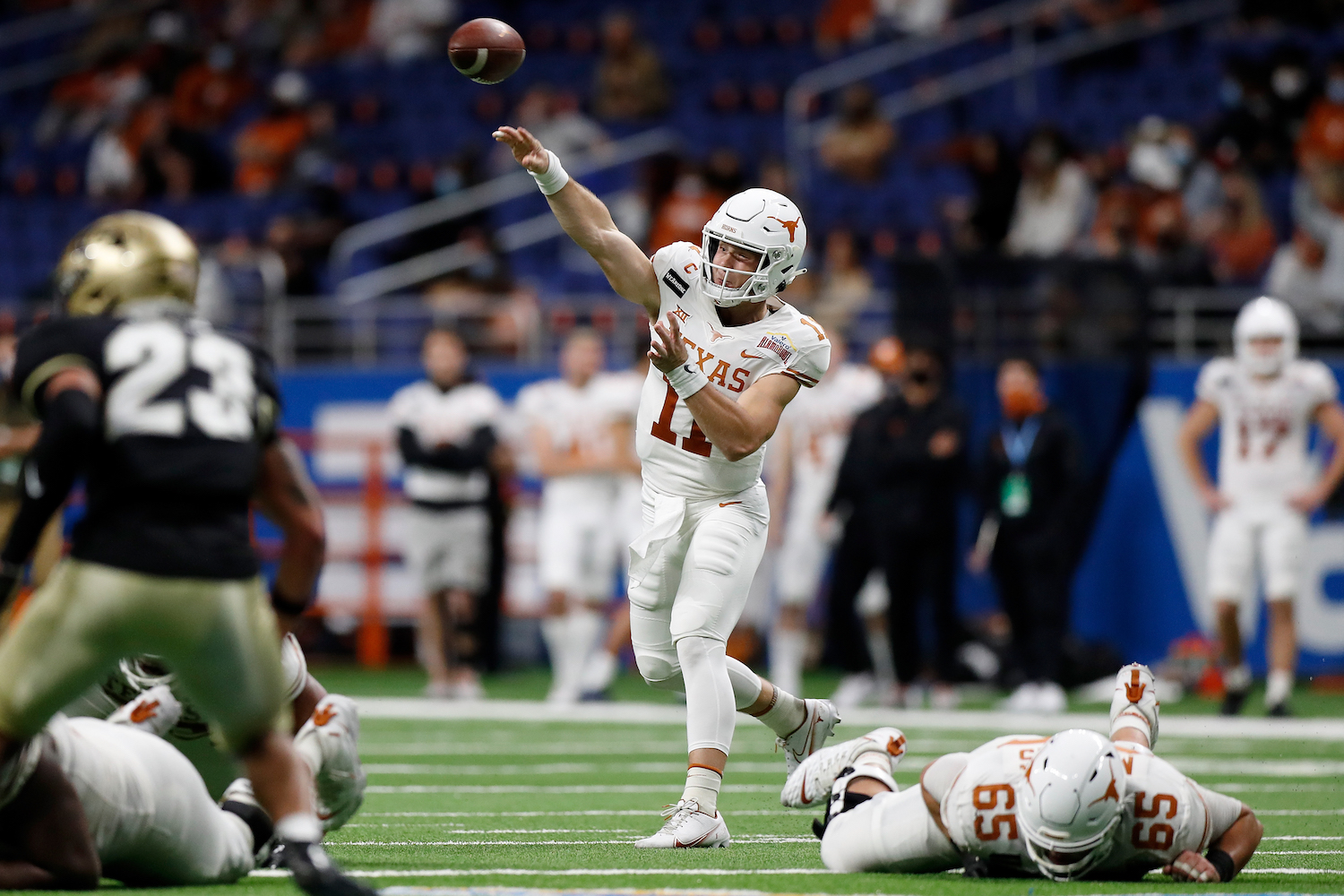 Sam Ehlinger Sends Clear Message What He Thinks About New Texas Longhorns Coach Steve Sarkisian
Sam Ehlinger sent a clear message on what he thinks about new head coach Steve Sarkisian when he decided not to return and play for the Texas Longhorns in 2021.
If there was ever one player likely to take advantage of the NCAA's special rule this year allowing players an extra year of eligibility because of the pandemic, it would be Texas Longhorns quarterback Sam Ehlinger. The senior bleeds burnt orange, and has unabashedly admitted it since his arrival on campus in 2017. With his love for the university so strong, it would make sense for him to return for another season.  
On Sunday, a day after the university fired head coach Tom Herman and replaced him with Steve Sarkisian, Ehlinger posted a video on Twitter revealing his decision to forego an extra year in Austin and making himself eligible for the NFL draft. Whether or not that is the right decision, time will tell. However, Ehlinger's decision to leave Austin did send a clear message to Longhorn fans what he thinks about new head coach Steve Sarkisian.   
Sam Ehlinger's successful career with Texas Longhorns
Sam Ehlinger was born to be a Texas Longhorns football player. During game broadcasts throughout his career, networks regularly played the video of him throwing up the "Hook 'Em" sign as an infant. There were plenty of opportunities to show it as Ehlinger was the starting quarterback for most of his four years in the burnt orange.
While Ehlinger never guided the team back to national relevance as he suggested, following the team's 28-21 victory over the-then No. 6-ranked Georgia Bulldogs in the 2018 Sugar Bowl, he did lead the team out of the doldrums left behind from the Charlie Strong era.
Despite a 27-16 overall record under center, Sam Ehlinger will go down as one of the greatest quarterbacks in Texas Longhorns' history. He finished his career with 11,436 career passing yards, 94 touchdowns, and 923 completions. All three of those numbers rank second in Texas history behind Colt McCoy.
Tom Herman replaced by Steve Sarkisian
For better or worse, Sam Ehlinger's time at Texas will forever be linked to former head coach Tom Herman. Herman finished his career in Austin with a 32-18 record from 2017-2020, the same time Ehlinger flung it at DKR-Texas Memorial Stadium. 
After the university fired Tom Herman on Saturday and replaced him with Alabama offensive coordinator Steve Sarkisian, Longhorn fans couldn't help but wonder whether of not this might affect Ehlinger's decision to return for one more year.
Under Sarkisian, Sam Ehlinger would receive tutelage from one of the most respected offensive minds in the college game. In the last two year's under Sarkisian's guidance, the Alabama offense has been the second-ranked scoring unit in the nation both seasons. He played a key role in developing quarterbacks Tua Tagovailoa last year and Mac Jones this year.
Sam Ehlinger spurns development under Steve Sarkisian and opts for NFL 
When the Texas Longhorns fired Tom Herman and announced the hiring of Steve Sarkisian, Sam Ehlinger's decision on his future may not have changed, but at least it got a little more interesting. He had to weigh the pros and cons of playing under Sarkisian and how it might affect his football future. 
It was exactly the same scenario Ricky Williams faced in 1998 when Mack Brown came in and replaced John Mackovic after the running back's junior season. Williams stuck around for one more season, set the all-time career rushing record, and won the Heisman Trophy.
Like Williams, the biggest con for Ehlinger would be learning an entirely new offensive system for his lone remaining season at Texas. The biggest pro would be playing with a coach who has a proven track record improving quarterbacks, including one who is now a starter in the NFL and another who is a potential Heisman Trophy winner. 
Ultimately, Ehlinger decided against staying and opted to leave for the NFL, announcing it in a Twitter video. 
"Dear Longhorn family. First and foremost, I want to thank Longhorn nation from the bottom of my heart for this incredible ride," Ehlingher said. "God told me go to UT and do all you can do to better the program and turn the tide. I listened and it was the best decision I've ever made.
"In the same way I knew UT was the right choice for me, I now know that it is time for me to go on to the NFL. It is my highest hope that I make all of you proud in this next chapter of my football career… I'm so proud to have been your quarterback for four amazing years. I love this university and I love Longhorn nation. May God bless all of you, and Hook 'em."
Sam Ehlinger's decision to pass on an extra year of eligibility reveals as much about his belief in himself as it does about his doubt in whether or not Steve Sarkisian could take his game to the next level. Ehlinger's legacy at Texas is officially complete. But there will always be that lingering thought of what might have happened had he stayed. It worked out pretty well for Ricky Williams.
Like Sportscasting on Facebook. Follow us on Twitter @sportscasting19.