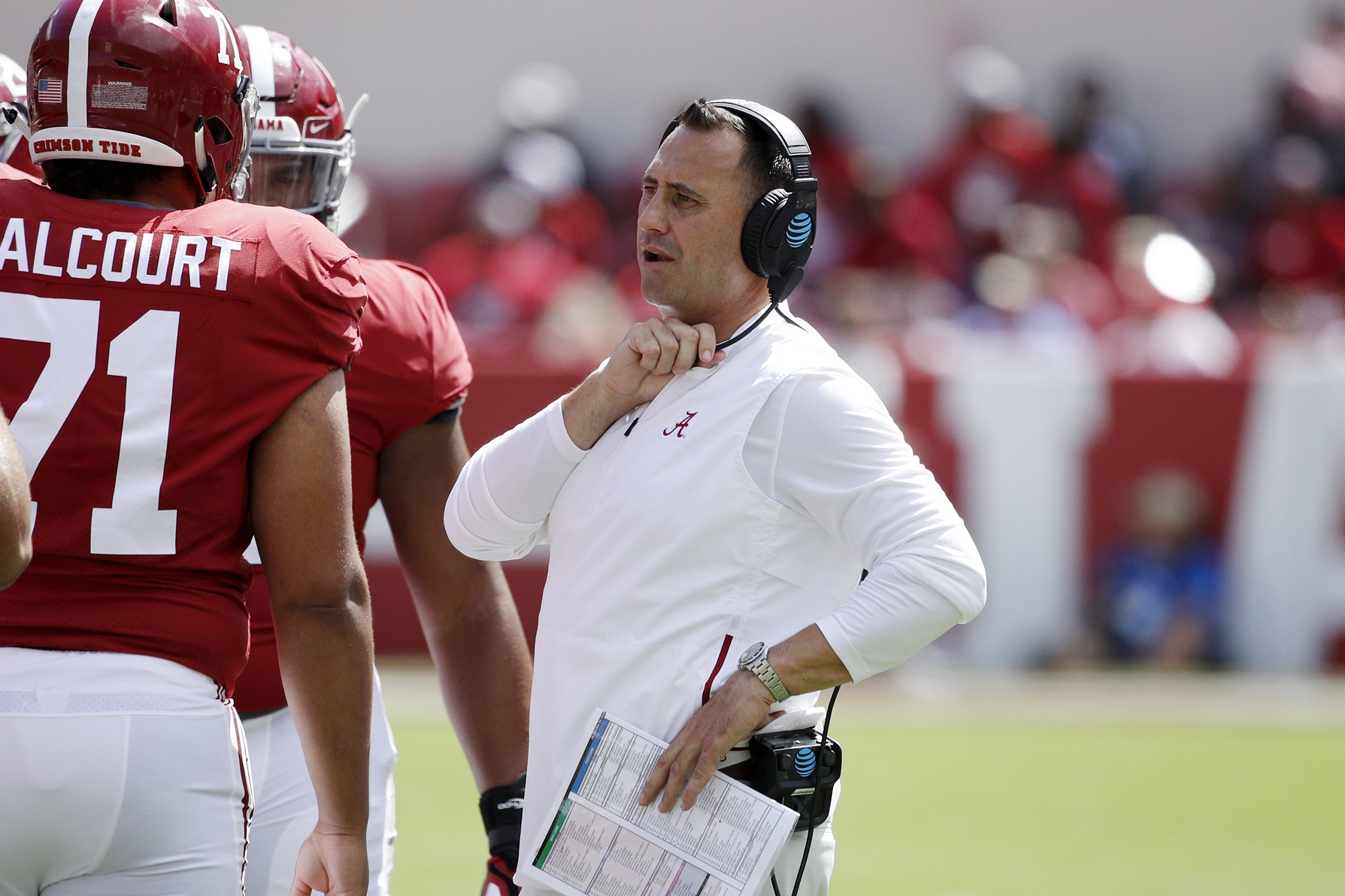 The Texas Longhorns Are About To Make a Dangerously Desperate Hire
Having fired Tom Herman, the Texas Longhorns reportedly offered the football head coaching job to Alabama assistant Steve Sarkisian.
Steve Sarkisian has left behind two figurative wet cleanups in the world of football, once in college and once in the NFL. Yet, the Texas Longhorns reportedly thought of him first when they needed to tidy up what, by comparison, amounts to three dropped rolls of toilet paper on their supermarket floor.
The school has kicked off 2021 by overreacting to a fixable problem, racing after a less-than-stellar college football coaching candidate, and possibly having that man turn them down.
Tom Herman is going to be laughing all the way to the bank. And it will take Herman two or three trips, because his parting gift from the school is deep into eight figures.
The Texas Longhorns have fired Tom Herman
Universities like hiring one of their own to fill vacancies. Alums who excelled as athletes or up-and-coming assistant coaches and return as head coaches are comfort food to the big-money donors.
Tom Herman checked all the boxes for the Texas Longhorns. As a graduate and coming off a 22-4 record at the University of Houston, Herman was lauded when he arrived to replace Charlie Strong after the 2016 season.
Mack Brown had been 30-21 in his final four seasons, but Strong's teams went 16-21 in three years. All things considered, going 7-6 and 10-4 is his first two seasons in Austin should have earned Herman more goodwill than it did, because a 2-4 start in a 2019 season that ended with an 8-5 record proved to be the beginning of the end.
According to an exhaustive story by 247Sports, a 53-45 loss to Oklahoma on Oct. 10, 2020, to drop Texas to 2-2 was the development from which there could be no recovery. Administrators were swamped with emails by powerful donors imploring athletic director Chris Del Conte, who arrived from TCU during Herman's first season, to fire Herman and bring in a big name.
The end arrived for Herman on Jan. 2, 2021, as the school announced his firing just days after the Longhorns' 55-23 Alamo Bowl win over Colorado. He finished his four seasons at Texas with a 32-18 record.
Herman is owed $15.4 million on a contract with three seasons left to run. The Dallas Morning News reports that the school will need to set aside about another $9 million for assistant coaches and staff likely to be let go when the new head coach is announced.
The Texas Longhorns already botched the process
Once the narrative is out there that the coach of a high-profile program is on thin ice, the school should have only two choices: Fire him or announce that the coach will absolutely be back next season – even if it's a lie. Either decision will upset one set of donors or the other, but both offer the possibility of salvaging the recruiting class. Instead, the Texas Longhorns brass left Herman unable to guarantee current seniors that he would be there next fall.
Rumors were rampant that Texas pursued Urban Meyer, who was wildly successful at Florida and Ohio State and would have given them a legitimate reason to move on from Herman. But Texas didn't land Meyer (not yet, anyway). ESPN's Adam Rittenberg reported that the school had also looked at Notre Dame's Brian Kelly.
Within minutes after the announcement that Herman had been fired, several media outlets reported that Alabama offensive coordinator Steve Sarkisian was expected to be the replacement. Barely an hour after that story broke, ESPN analyst David Pollack tweeted that he had heard that Sarkisian had turned the job down.
Pollack may be correct, but it is also possible that negotiations had not been completed or that Sarkisian wants to put off an announcement until after Alabama plays Ohio State for the national championship.
Regardless, it's bad business and bad optics for the Texas Longhorns on several fronts.
Steve Sarkisian would be a risky gamble
If the Texas Longhorns bomb out with Steve Sarkisian, they have only themselves to blame. Sarkisian, recently selected the Broyles Award recipient as college football's best assistant coach, has both credentials and baggage.
Sarkisian was offensive coordinator at USC before taking over an 0-12 Washington Huskies team and winning five games in 2009. However, the program stagnated with three straight 7-6 seasons when he left to return to USC, where Lane Kiffin was fired at the airport following a game.
Sarkisian didn't make it to the middle of his second season with the Trojans. Reportedly already working under a zero-tolerance policy regarding alcohol use, he was fired in October 2015 for allegedly missing a practice after showing up intoxicated. Sarkisian waged an unsuccessful wrongful termination fight against USC.
Alabama coach Nick Saban hired Sarkisian the following fall as an offensive analyst, and he ended the season as the interim coordinator when Kiffin took off to become head coach at Florida Atlantic. But Sarkisian wasn't long for Tuscaloosa. The Atlanta Falcons hired him to replace Kyle Shanahan as their offensive coordinator in February 2017 following the Super Bowl collapse vs. the New England Patriots. The Falcons dropped from first in the league in scoring to 15th and then 10th in Sarkisian's two seasons, and he was fired again.
Sarkisian returned to Nick Saban's staff as offensive coordinator in January 2019 and has worked toward repairing his reputation. If he accepts the Texas Longhorns job, however, he will be stepping into a situation in which an alum with a strong resume was given a short leash.
It would be interesting to see how much patience is shown to a coach with no previous connection to a football-crazed school.
Like Sportscasting on Facebook. Follow us on Twitter @sportscasting19.