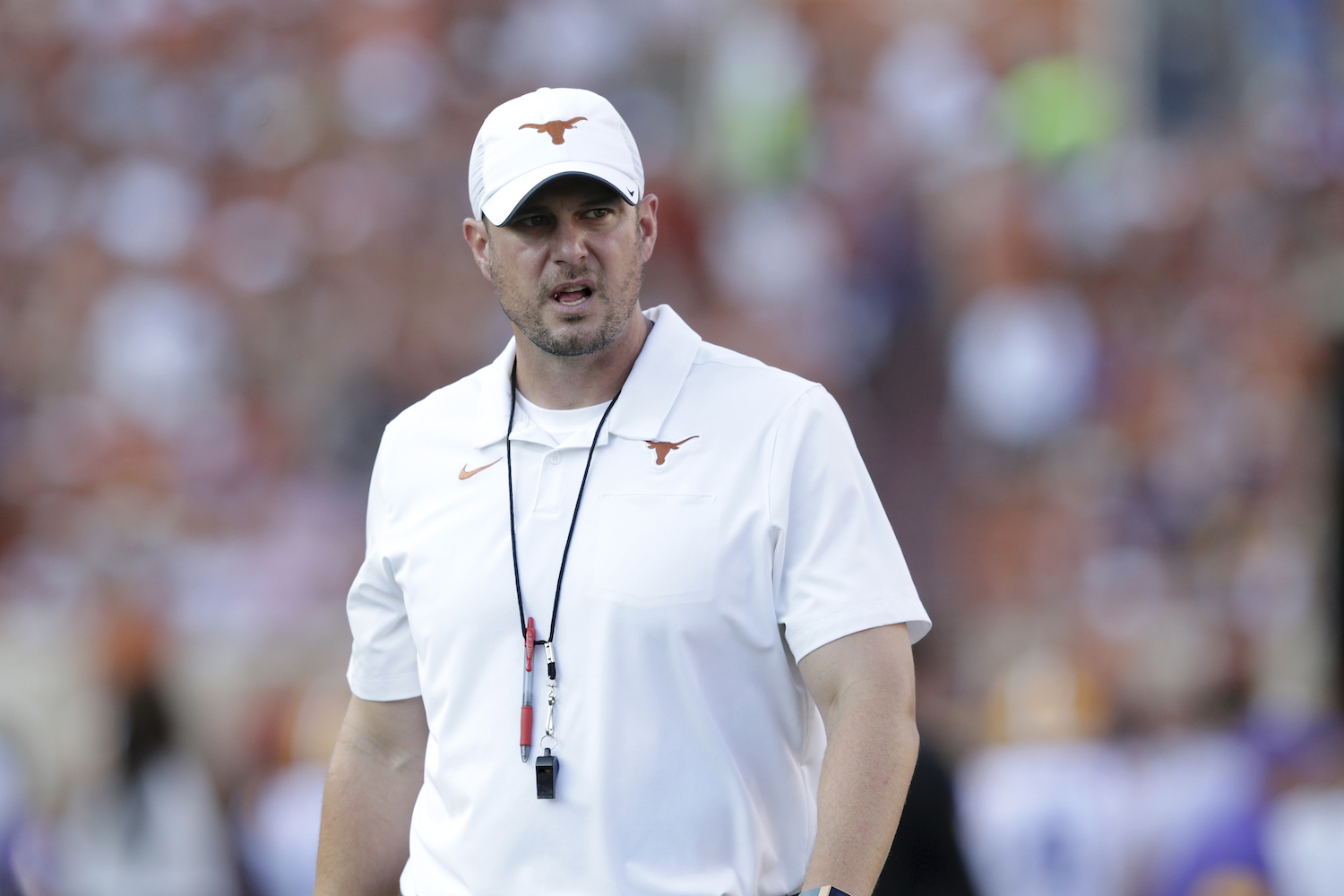 Tom Herman Actively Looking to Leave Texas Longhorns According to Report
Tom Herman and his future with the Texas Longhorns remains unclear after a recent report revealed he was actively looking to leave Austin for a surprising school.
In four seasons, head coach Tom Herman hasn't exactly produced the results the Texas Longhorns fanbase envisioned with a record of 31-18. While it's undeniable Herman's performance is an improvement over his predecessor Charlie Strong, that was admittedly a low bar in Austin.
The 2020 season was particularly challenging for Tom Herman and the Texas Longhorns. By most accounts, the team with a lot of returning starters underperformed, finishing with a 6-3 record. The calls for Herman's ouster grew louder as the season progressed. At one point, there were multiple reports of ongoing conversations with Urban Meyer as a potential replacement. Nothing happened. Texas officials announced Herman would return in 2021. And now, the saga has taken another dramatic twist, and it appears Herman's future in Austin is far from decided.    
Tom Herman's Texas Longhorns have been average
The performance of the Texas Longhorns under Tom Herman's leadership has been consistently inconsistent. The 2020 college football season proved to be a microcosm of his tenure in Austin. 
Texas won six games this season, but as has happened throughout Herman's time with the Horns, several were much closer than they should have been as the Longhorns played down to the opposition's level. The Longhorns' conference-opening home loss to TCU was a big red flag and a portend of things to come. 
Texas also showed moments of quality, but they were fleeting. After stringing together three conference wins, including a big victory on the road in Stillwater against the No. 6 Cowboys, the Longhorns had a clear path to the Big 12 title game. 
Then Iowa State happened. The No. 15 Cyclones came into Austin on Senior Day and outplayed and out-coached the Longhorns for a 23-20 victory, eliminating Texas from Big 12 title contention. 
Calls for his ouster as UT officials reportedly eye Urban Meyer
En route to another season without a Big 12 title, much less playing for one, the calls for Tom Herman's departure progressively grew louder throughout the 2020 campaign. In addition to the team's erratic on-field play, the Texas Longhorns encountered other issues that didn't reflect well on Herman and his leadership.
Sam Ehlinger revealed dysfunction in the locker room when he was the lone player remaining on the field to sing "The Eyes of Texas" following the loss to Oklahoma in the Cotton Bowl. Ehlinger even called out Herman later in the season when asked about the coaching staff's inability to get the players to play up to their talent level. 
"It's never fully on the coaching staff… That's the million dollar question that everyone's been trying to figure out for the last 10 years," Ehlinger admitted.
In addition to Ehlinger, the team leader, other top players like offensive lineman Sam Cosmi and defensive back Caden Sterns opted out of playing before the season ended. Add into the mix Tom Herman's recruiting prowess from his first couple of years has seen a precipitous decline, including the decommitment of the 2022 No. 1 quarterback recruit Quinn Ewers.
All of it combined reveals a Texas Longhorns football program that is not heading in the right direction. 
Tom Herman wants out of Texas Longhorns program
With so many things trending in the wrong direction in Austin, it wasn't all that surprising to hear speculation around Tom Herman's future. Multiple reports indicated the Texas Longhorns wanted Fox analyst and three-time national champion coach Urban Meyer. Meyer reportedly told the Longhorns thanks but no thanks.  
Interestingly, according to Gene Sapakoff of the Charleston Post and Courier in Charleston, South Carolina, around the same time the Longhorns were pursuing Meyer, Herman reached out to South Carolina about the school's vacant head coaching position. 
"Tom Herman, I've been told called Ray Tanner, the South Carolina athletic director. I'm not gonna say he begged for the job, but my sources say he was quite interested," Sapakoff dropped that random nugget of information on the Paul Finebaum Show. 
Tom Herman and Texas Longhorns officials didn't respond to the report. Herman's wife, Michelle, however, provided a tweet suggesting it was false. South Carolina ultimately hired Oklahoma assistant coach Shane Beamer and Texas athletics director Chris Del Conte confirmed Herman would return in 2021.
Or will he?  
Like Sportscasting on Facebook. Follow us on Twitter @sportscasting19.