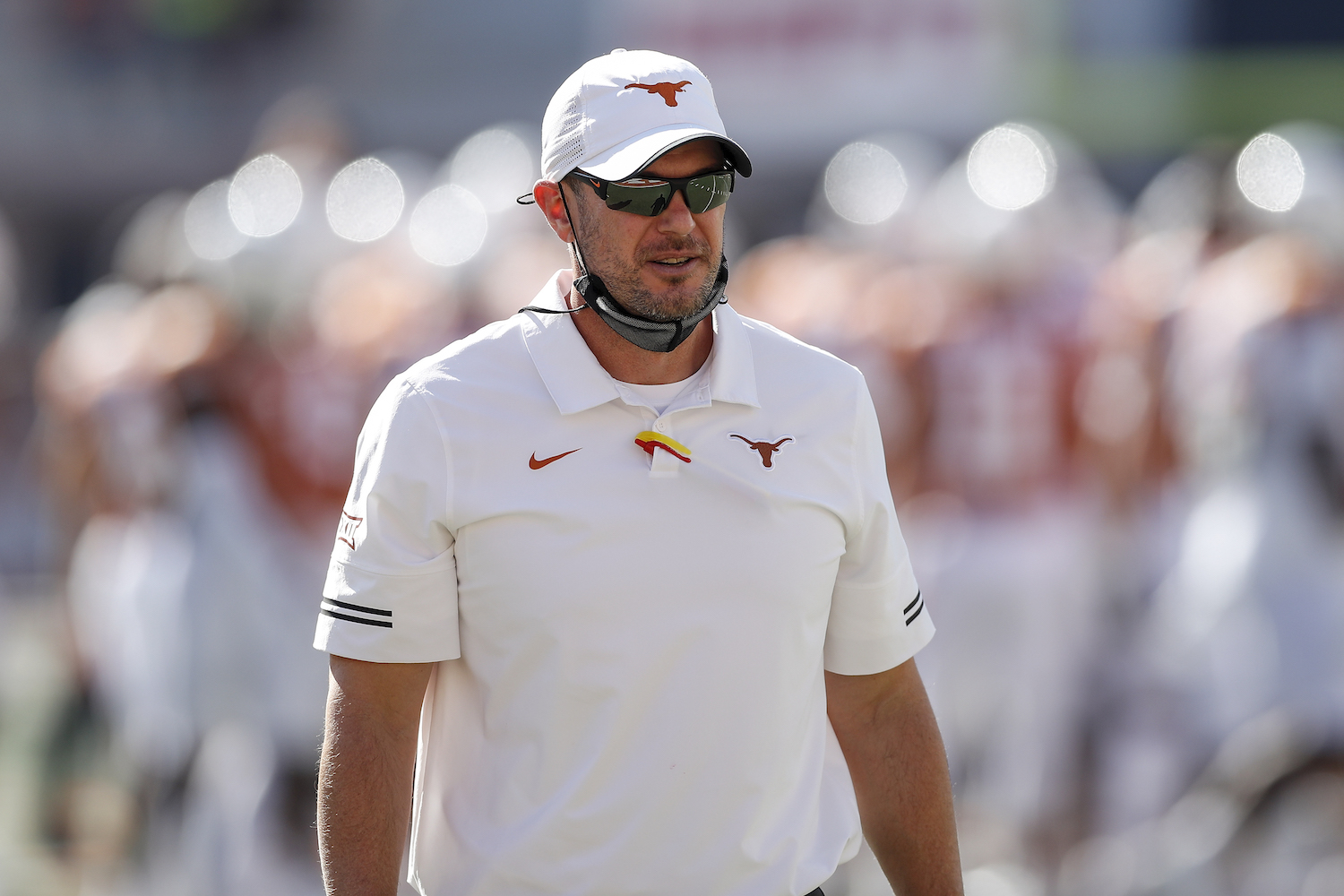 Tom Herman and Texas Longhorns Receive Unexpected Surprise and Chance to Make Big 12 Title Game
Tom Herman and the Texas Longhorns got an unexpected surprise Sunday when the team learned it still might make the Big 12 Championship game.
There's really no question that 2020 has been a year unlike any other. The pandemic has wreaked havoc on the entire sports landscape, and history will show a delayed college football schedule that was littered with countless postponed and canceled games.
Team records and the total number of games played will vary greatly because some schools endured outbreaks while others didn't. In a year where anything is to be expected, Tom Herman and the Texas Longhorns might just get an unexpected gift in the form of an invitation to the Big 12 Championship game. 
Tom Herman and Texas Longhorns were inconsistent in 2020
The 2020 season for Tom Herman and the Texas Longhorns provides a fairly accurate snapshot of his four years in Austin. There were glimpses of greatness like the Sugar Bowl victory over Georgia in the 2019 Sugar Bowl, but they were fleeting. They're often followed by moments of mediocrity or playing down to the competition. 
The Longhorns started the season with a senior-laden roster and high expectations under the leadership of quarterback Sam Ehlinger. After a couple of wins, including an overtime win over Texas Tech in Lubbock, Texas hit a two-game skid, with an upset home loss to TCU, and a quadruple-overtime defeat against the rival Sooners at the Cotton Bowl.
Tom Herman's Texas Longhorns reeled off three straight before facing a No. 15-ranked Iowa State team in a crucial Big 12 matchup, with a conference championship game berth in the balance. The Horns failed the test, losing the game, 23-20, and losing out on a chance at a Big 12 crown. Or, so it was believed. 
Texas Longhorns deal with COVID-19, Kansas game canceled
Tom Herman and the Texas Longhorns watched other Big 12 teams deal with virus outbreaks throughout the season while avoiding any of their own. That all changed when the Longhorns returned to Austin after their most impressive performance of the season, a 69-31 thumping of Kansas State in Manhattan. 
On Sunday following the victory, the Longhorns announced all team activities would be paused after three players and two staff members tested positive. All five had traveled to Kansas with the team after they had tested negative on Friday.
On Dec. 10, just two days before Tom Herman's Longhorns were supposed to play the Kansas Jayhawks on the road, UT athletic director Chris Del Conte announced the game was canceled due to COVID-19 protocols.
"We're extremely disappointed that we won't be able to play our final regular-season game at Kansas this week, but look forward to returning to action for our bowl game in the coming weeks," Del Conte said in a statement. 
Texas could still make Big 12 title game 
Appropriately, a week after the Texas Longhorns announced they were pausing team activities due to a COVID outbreak, AP's Ralph Russo delivered some surprising and unexpected news to Longhorn fans. 
The Big 12 confirmed that Tom Herman's Texas squad had a legitimate chance of making the Big 12 Championship contest if either the Oklahoma Sooners or Iowa State Cyclones cannot compete due to COVID outbreaks of their own. 
Texas would be the replacement team with a 6-3 Big 12 mark over the Oklahoma St. Cowboys and their 7-3 record because the teams are tied in the loss column, and the Longhorns won the head-to-head meeting. 
But this is, after all, 2020, so anything is possible. That's because if Oklahoma or Iowa State were to encounter COVID issues, Texas still isn't in the clear. As of the last report, the Texas Longhorns confirmed positive cases had jumped to nine players and 13 staffers, with an additional 29 in quarantine.
2020 is the year that keeps on giving.
Like Sportscasting on Facebook. Follow us on Twitter @sportscasting19.