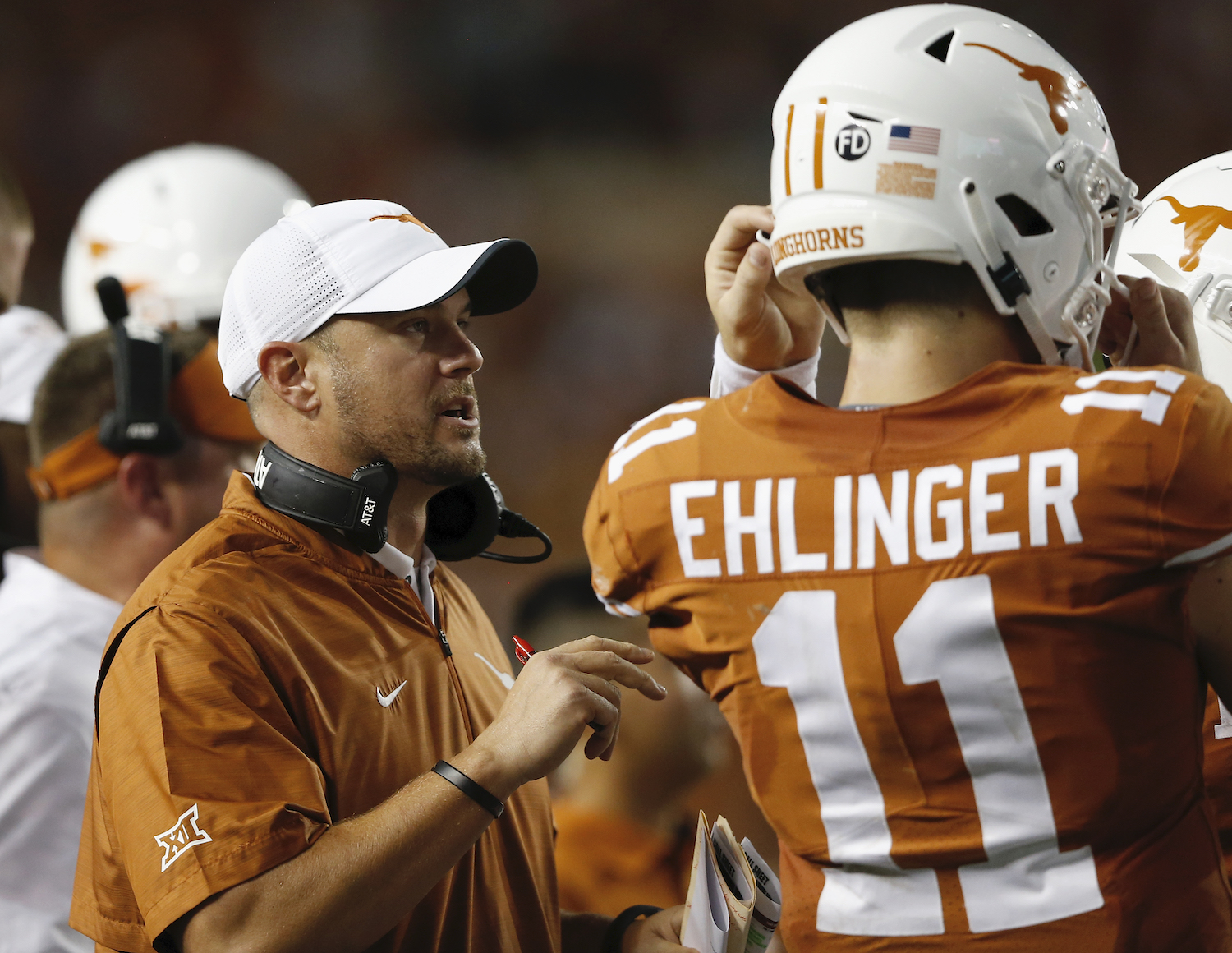 Sam Ehlinger Throws Serious Shade at Tom Herman and His Future with Texas Longhorns
Tom Herman's 2020 Texas Longhorns squad has struggled. His future in Austin is in serious doubt. Sam Ehlinger added some fuel to the fire.
When the University of Texas hired Tom Herman in late 2016, a large contingent of the burnt orange nation celebrated. Many supporters believed Herman's pedigree, including his previous stop in Austin, had prepared him for this moment of returning the Texas Longhorns to national relevance. 
However, it hasn't come close to happening in four years, and after the latest loss to Iowa State and ouster out of Big 12 title contention on Saturday, the Tom Herman experiment is possibly coming to an end in Austin. There's no greater evidence of this than the comments and recent actions of two players, including quarterback Sam Ehlinger.
Tom Herman joins the Texas Longhorns   
After guiding the Houston Cougars to a combined 22-4 record in 2015 and 2016, the Texas Longhorns called Tom Herman to lead the next chapter of Texas football following three very disappointing years under Charlie Strong. With Strong's below .500 average as his baseline, Herman succeeded in his first season, guiding the Texas Longhorns to a 7-6 record, including a Texas Bowl win over Missouri.  
However, at or just above .500 in Austin is unacceptable. In 2018, Herman's Longhorns stepped it up a notch, defeating Oklahoma in the regular season, losing to the Sooners in the Big 12 title game, defeating the Georgia Bulldogs in the Sugar Bowl, and ending the season with a 10-4 record and No. 9 final ranking. 
Since that 2018 season, Tom Herman's Longhorns have posted a 13-8 record with homegrown born-to-be-a-Longhorn quarterback Sam Ehlinger under center. While Ehlinger has had a solid, not great career at Texas, he's had his share of struggles, including this season. His inconsistency, coupled with a lack of discipline and poor fundamentals on both sides of the ball, including penalties, tackling and ball security, have haunted the Longhorns all season and throughout much of Herman's tenure. 
Sam Ehlinger and Longhorns underachieve in 2020
After last season's 8-5 mark, senior Sam Ehlinger and Tom Herman were paired together for their fourth and final year together. Longhorn Nation expected big things, and there was even talk amongst the fan base, and in some media circles, Texas might be returning to national title contention.
Those perceptions seem like years ago, not months ago. This season, outside of the season-opening win over UTEP, every game has been a dogfight. Even against those perceived as lesser teams, the Longhorns have failed to separate themselves. At 5-3, Texas is out of Big 12 title contention with two games remaining. 
For much of the season, especially with the unexpected early-season struggles, speculation has swirled about Tom Herman being on the hot seat. While his team's discipline, or lack thereof, has been under scrutiny, so has his own decision-making, and justifiably so. 
Herman has provided numerous examples of questionable play-calling throughout the season, including against Iowa State, a decision to go on 4th and one from the ISU 13 instead of kicking a field goal to take a seven-point lead with eight minutes remaining. There are countless others.
Sam Ehlinger and teammate send Tom Herman ominous messages
Despite a united front on the field and in the media, there have been signs of a deteriorating relationship between Sam Ehlinger and Tom Herman since the Oklahoma game, when Ehlinger was the lone Texas player to remain on the Cotton Bowl field for the postgame singing of the "Eyes of Texas."
Following the team's 23-20 loss to Iowa State, reporters asked Sam Ehlinger whether the Horns' inability to play to their talent level is due to coaching. Ehlinger surprisingly didn't provide an all-out defense of his coach.  
"It's never fully on the coaching staff… That's the million-dollar question that everyone's been trying to figure out for the last 10 years."
Sam Ehlinger's comments and the strained relationship between players and the coaching staff were only echoed on Sunday, when it was reported that potential first-round draft pick and junior left tackle Samuel Cosmi has opted out of the Longhorns' final two regular-season games. This isn't before the bowl game. This is with two games remaining in the regular season, plus a potential bowl game. Cosmi confirmed the Horns247's report and declared for the 2021 NFL Draft.
Could Cosmi's departure be the first domino to fall? The final two weeks of college football in Austin will be interesting to watch. And possibly a precursor of things to come.