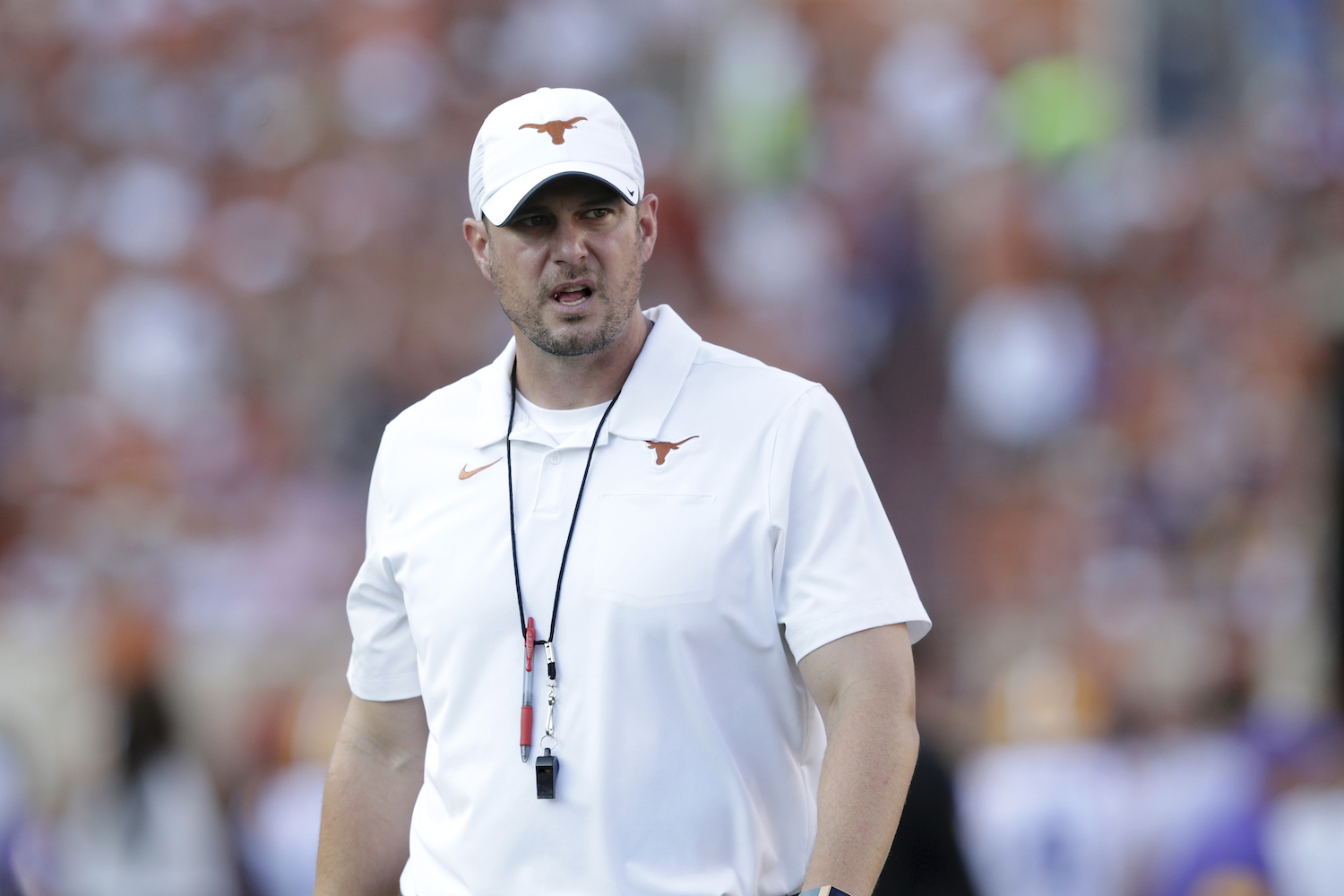 Sam Ehlinger Reveals Fractured Texas Longhorns' Locker Room and Tom Herman Has Lost the Team
Following the Texas Longhorns 53-45 loss to the Oklahoma Sooners, Sam Ehlinger revealed Tom Herman has a fractured locker room in Austin.
Tom Herman had an eye on leading the Texas Longhorns football program since he was a graduate assistant in Austin back in 1999. In 2016, Herman's dream came true when he replaced Charlie Strong as the head coach at the University of Texas. 
Four years later, and it's turned into a recurring nightmare for the Longhorns and their fans. On Saturday against their rivals from Oklahoma, the Horns lost for the fourth time in five tries under Herman in a game filled with too many self-inflicted wounds to count. Immediately after the game quarterback Sam Ehlinger revealed there are much bigger problems in the Texas locker room and in the process confirmed Tom Herman has lost the team.
Tom Herman and Texas Longhorns headed in wrong direction  
Tom Herman led the Texas Longhorns to a 7-6 record his first season in Austin. It was a step in the right direction after three consecutive losing seasons under Charlie Strong. Herman's second year was even better as Texas defeated rival Oklahoma, and then made it to the Big 12 title game, losing to the same Sooners, before defeating the No. 6-ranked Georgia Bulldogs in the Sugar Bowl. After the game quarterback Sam Ehlinger declared Texas was back. 
Since that night in New Orleans, the Texas Longhorns have gone 10-7. Last season Ehlinger led the Horns to an 8-5 record and an Alamo Bowl win over Utah. The 2019 season clearly showed Texas was indeed not back.
This season, Texas started off with a pair of wins, including a come-from-behind 63-56 overtime victory over Texas Tech in Lubbock. The Longhorns suffered their first loss of the season at home against TCU, 33-31, in a game that was riddled with mistakes (two turnovers including a fumble late in the fourth quarter on the TCU 1-yard line) and undisciplined play, including more than 100 yards in penalties.
This type of start was not what Texas fans had expected from a team loaded with experience on both sides of the ball, including what many considered a Heisman Trophy candidate at quarterback. Two weeks into Big 12 play and Texas could have easily been 0-2. 
Tom Herman and Texas Longhorns united against social injustice
Earlier this summer, just days after the death of George Floyd, Tom Herman met with his staff and players and had meaningful conversations on the social injustice issues facing the nation. As a result of those discussions, a large group of Texas football players and coaches marched with Austin police officers from Royal-Memorial Stadium to the Texas state capitol, where numerous athletes spoke. 
Following that march, athletes from multiple athletics programs, including football, joined together as one demanding action from the school. The athletes requested the renaming of multiple campus buildings named after racist figures, as well as replacement of the school fight song "The Eyes of Texas," which was written in 1903 and was originally sung and played at minstrel shows that featured performers in blackface. 
The university pledged it would reconsider renaming campus buildings and erecting statues and monuments to honor Black alumni, but decided to keep the song. Last week, the school announced it was forming a committee that would include current and former athletes to further examine the song and share its findings with university officials in January.  
Sam Ehlinger reveals a fractured locker room in Austin
With a 2-1 record and a disappointing home loss to TCU, Tom Herman was hoping his team would rebound against an Oklahoma squad that was limping into Dallas with a 1-2 record. It didn't happen.
Herman's squad once again played uninspired and undisciplined, racking up 101 yards in penalties and three turnovers. Texas lost in four overtimes 53-45. It was Herman's fourth loss in five tries against the Sooners. 
After the game, however, came the biggest surprise for many Longhorn fans watching as Sam Ehlinger was the only player to remain on the field for the playing of the Eyes of Texas. The rest of the players returned to the locker room. 
That single incident was alarming to the burnt orange faithful. The on-field leader of the team, who had given so much for four-plus hours against the team's biggest rival, and had shown support for his teammates during the summer, was abandoned during the school's fight song. It was a shocking image and one that revealed a fractured locker room, and more significantly, Tom Herman has lost this team and his days in Austin appear to be numbered.