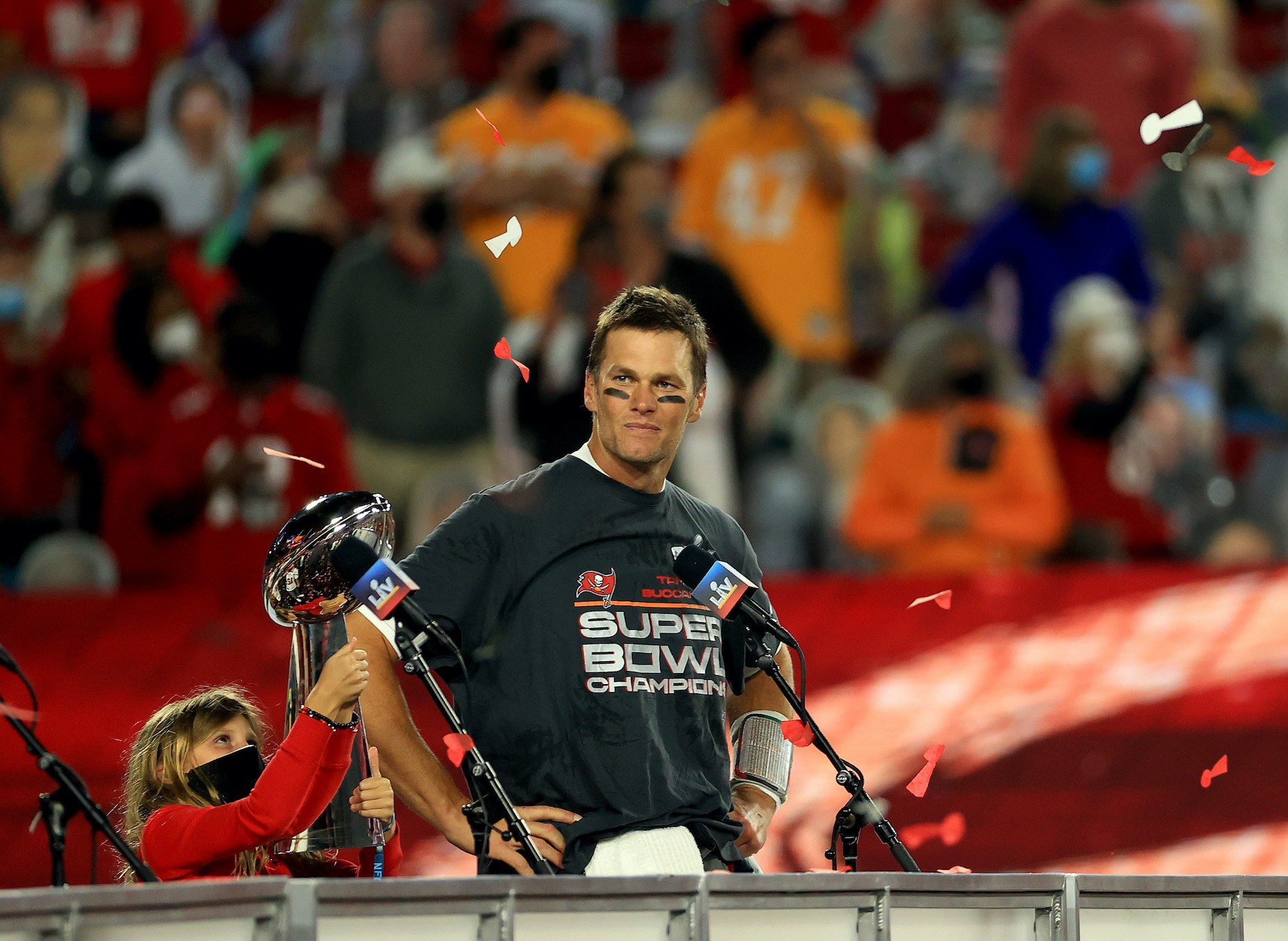 Tom Brady's 4th-Down Admission Is the Latest Example of Sports' Uncomfortable Press Conference Reality
During his time in the NFL, Tom Brady has established a reputation as a pretty perfect quarterback. The Tampa Bay Buccaneers signal-caller, however, made an embarrassing error during the 2020 campaign. In the dying moments of a game against the Chicago Bears, he appeared to lose track of the down and cost his team the …
During his time in the NFL, Tom Brady has established a reputation as a pretty perfect quarterback. The Tampa Bay Buccaneers signal-caller, however, made an embarrassing error during the 2020 campaign. In the dying moments of a game against the Chicago Bears, he appeared to lose track of the down and cost his team the contest.
While both Brady and Bruce Arians insisted that TB12 knew exactly what was happening, the quarterback has since confirmed that he did make an on-field mistake. That admission isn't groundbreaking in of itself — everyone, even NFL stars, are human — but it does provide another example of the uncomfortable reality of pro sports press conferences.
Tom Brady owned up to his mistake and trapped himself and Bruce Arians in a lie
On the whole, it's tough to take too much issue with Brady's 2020 NFL campaign. One lowlight, however, took place when the Buccaneers lost their Week 5 game in Chicago.
To recap the situation, Brady and his offense got the ball back in the dying moments and tried to drive down the field for a winning score. The drive came to an embarrassing end when the quarterback threw an incomplete pass toward Tyler Brate on fourth down. While that play ended the contest, TB12 seemed to have gotten confused. He held up four fingers and remained on the field for a moment, suggesting that he lost track of the down.
After the game, both he and Arians played things close to their chest. They insisted that the quarterback knew exactly what down it was and simply tried to force a quick pass into a tight window.
As of now, though, we know that wasn't the case. In a recent TikTok, Brady admitted that he thought the play was his "second-to-last chance" and said he'd never been as confused as he was in that moment.
Stretching the truth and withholding information happens all the time in pro sports press conferences, whether we like it or not
Trapping both you and your head coach in a lie isn't the best look for anyone, even an NFL legend. Fortunately for Brady and Arians, stretching the truth is simply par for the course in pro sports press conferences.
Take, for example, the Houston Astros' sign-stealing apology. As documented by CBS Sports, owner Jim Crane contradicted himself by saying his team's actions both did and did not affect the outcome of games. It goes without saying that if sign-stealing didn't have an on-field benefit, no one would have bothered banging on a trash can.
Other sports have also provided more benign examples of meaningless fluff filling press conferences. Arsene Wenger, for example, told interviewers that he didn't see any controversial incident during his time managing Arsenal; uninformed observers would be excused if they thought he was wearing a blindfold in the dugout. In the world of hockey, postgame media availability is so chock full of cliches that you could write the script ahead of time without knowing what happened on the ice.
Jumping back to football, NFL fans will remember Marshawn Lynch's infamous "I'm just here so I won't get fined" media session. The running back was frustrated with his media obligations but didn't want to run afoul with the league, so he simply responded to every question with the same sentence.
Should those sports figures be hauled to the Hague for stretching the truth or dodging specific during a press conference? Of course not. It's simply par for the course.
Tom Brady's little white lie takes on new meaning after Naomi Osaka's French Open
Under most circumstances, a meaningless fib in an October press conference would fly under the radar. In light of Naomi Osaka's experience at the French Open, though, they take on a new significance.
For those who don't follow tennis, Osaka announced that she wouldn't be taking part in press conferences during the tournament for her mental health. She was reminded of her obligations, fined, and eventually withdrew from the French Open.
As you might imagine, that situation cast press conferences into the spotlight. Some argued they were meaningless and forced athletes to answer the same question over and over again. Others asserted that media duties are simply part of the job; if you want to make millions for playing a sport, you have to slog through some unpleasant experiences with reporters.
While the real answer is probably somewhere in the middle, Brady's recent TikTok revelation does underscore a central reality of pro sports press conferences. Even if we don't want to admit it, they're full of cliched answers, half-truths, and little white lies. If the two options are to be honest and get torn to shreds by the media or play it safe, almost everyone will choose the latter.
If done right, press conferences have some value. Media access has value. At the same time, though, don't pretend that every post-game scrum contains nothing but unfiltered truths flowing directly from the athletes to the fans. That's simply not the case, even if we all want to believe otherwise.