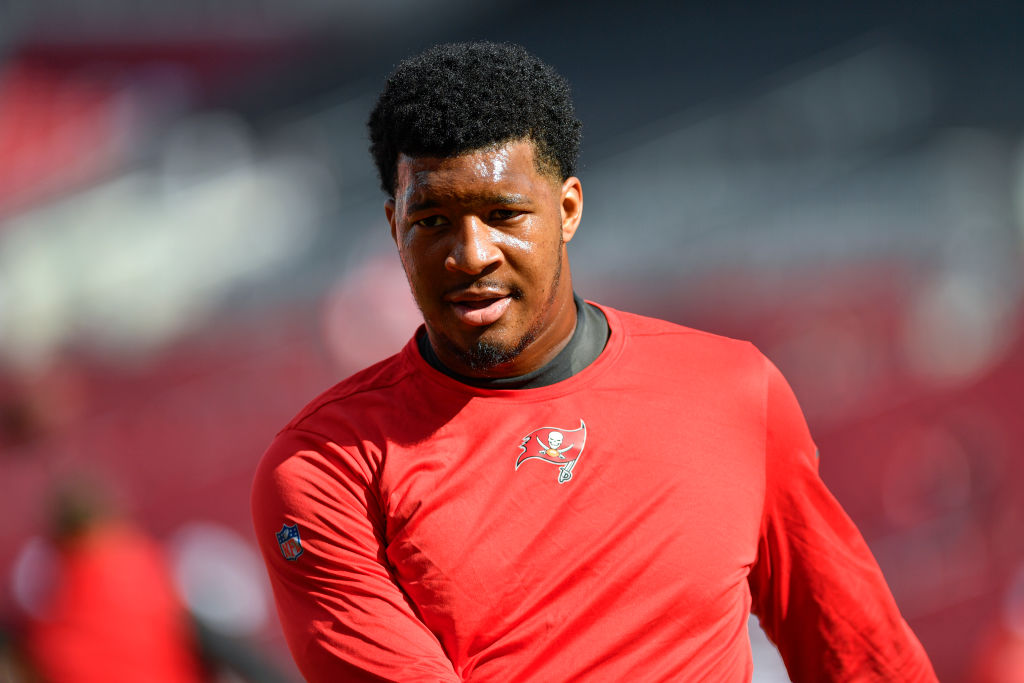 Jameis Winston Sees a Better Future After Making Major Change
Jameis Winston is hoping that a procedure to correct his vision helps him cut down on a league-leading 30 interceptions.
Jameis Winston would like nothing better than to turn the 2020 football season into a 20/20 football season, as in one with perfect vision.
That would make for a potential huge turnaround for an impending free agent coming off a 30-30 season, as in 30 touchdown passes but also 30 interceptions.
With his future in the NFL not over but definitely uncertain, Winston has gone under the knife, or more accurately the laser. He's hoping that the procedure will have the effect of cutting down on his astonishing rate of mistakes from this past season.
Jameis Winston's numbers were big up and down the line
Jameis Winston started all 16 games for the Tampa Bay Buccaneers for the first time in four years and some of his numbers were eye-popping, beginning with the league-leading 5,109 passing yards. Only four other quarterbacks in the league have thrown for more yards: Peyton Manning, Drew Brees (four times), Tom Brady, and Ben Roethlisberger.
Winston also threw for 33 touchdowns in 2019, finishing second in the league. His 60.7% accuracy rate on an eye-popping 39 attempts per game was in line with his career average.
But the statistic that had to alarm the Buccaneers was Winston's league-high 30 interceptions. Winston has never thrown twice as many touchdown passes as interceptions in his five NFL seasons, but this time he wasn't even close to hitting that ratio.
Tack on his lost fumbles and Winston was personally responsible for two turnovers a game, including a record seven interceptions returned for scores. That goes a long way toward explaining Tampa Bay's 7-9 record.
Jameis Winston undergoes a procedure to improve his vision
It's been known since before he became a No. 1 NFL draft pick that Jameis Winston is nearsighted, a condition that causes him to squint any number of times during a game. The player and the team have maintained that doesn't keep him from being able to spot receivers and – theoretically anyway – defenders.
The Tampa Bay Times reports that Winston finally tackled that issue last month by undergoing laser-assisted in situ keratomileusis, better known as LASIK surgery, to re-shape the cornea. That properly focuses light onto the retina.
The report said it was unknown whether Winston sought out the procedure on his own or whether someone in the Bucs organization nudged him in that direction.
A career at the crossroads
If Jameis Winston never plays another down for the Tampa Bay Buccaneers, his last throw for them will have been an overtime pick-six against the Atlanta Falcons that made him the first QB in league history with 30 touchdowns and 30 interceptions in the same season.
Winston's rookie contract is up, making him an unrestricted free agent for the 2020 NFL season at the age of 26.
There's no doubt he will attract interest, perhaps even returning to the Tampa Bay Buccaneers. But the combination of all those interceptions and concerns that his personal conduct may be a liability – a three-game suspension in 2018 over an alleged groping incident was the most recent issue — will damage his bargaining position wherever he goes.
It also doesn't help that the free-agent class is jammed with experienced quarterbacks. Tom Brady, Drew Brees, and Philip Rivers are the huge names on the list. Winston is much younger, but he'll be battling for top dollars in that niche against the likes of Dak Prescott and Teddy Bridgewater.