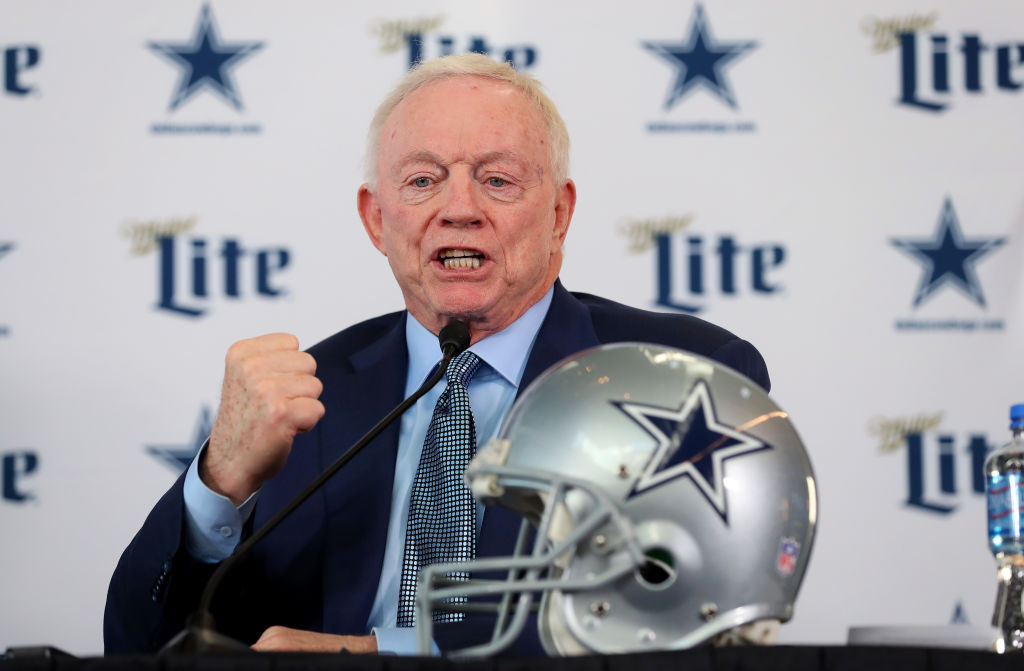 Could Jerry Jones Really Bring Tom Brady to the Dallas Cowboys?
Jerry Jones wants to win another Super Bowl. Could bringing Tom Brady to the Dallas Cowboys be his way of accomplishing that goal?
Whether you love him or hate him, Dallas Cowboys owner Jerry Jones has a flair for the dramatic. After purchasing the struggling franchise, he turned them into America's Team. He built a massive stadium and finds his way in front of the TV cameras each week, always willing to make a statement. All of those things, however, would pale in comparison to bringing Tom Brady to Texas.
Dreaming big and executing are two very different things, though. Could Jerry Jones really pull off the impossible and bring Tom Brady to the Dallas Cowboys?
Tom Brady's impending free agency
For the past two decades, Tom Brady, Bill Belichick, and the New England Patriots have been one and the same. That reality, however, could change in a matter of months.
After a difficult 2019 campaign, Brady is due to become a free agent for the first time in his career. While no one knows what the veteran quarterback is planning, he didn't have the happiest year in New England; despite cruising to another AFC East title, the Patriots weren't as dominant as they've been in recent years. Even Brady, who for years seemed untouchable, struggled to cope with a weak offensive line and receiving corps.
Beyond Brady's frustration, other clues have seemed to hint at an impending departure. Both the quarterback and his trainer have put their Massachusetts homes up for sale. In Gillette Stadium, Brady and Gisele Bundchen's family suite has reportedly been cleared out. All we know for sure, however, is that the quarterback wants to play professional football next season; everything else is speculation.
Is Jerry Jones eyeing a new Dallas Cowboys quarterback?
On paper, Dak Prescott is the Dallas Cowboys quarterback. Jerry Jones, however, seems like he might be looking elsewhere.
According to Michael Irvin, the Cowboys organization has been exploring the possibility of bringing Tom Brady to Texas. Their interest is presumably tied to Dak Prescott's contractual situation; the young quarterback has been playing hardball with the club, making a franchise tag and an offseason holdout a possibility.
Irvin has since clarified his initial statement, saying that his source was not Jerry Jones or anyone within the Cowboys organization, but we all know how things work in Dallas. If a football decision is being made, Jerry Jones will have a hand in it.
Could Tom Brady really join the Dallas Cowboys?
While Tom Brady has generally been linked to teams like the Los Angeles Chargers or the Las Vegas Raider, the Dallas Cowboys do provide an interesting option. The quarterback wants to get paid and have a shot at winning the Super Bowl; both of those should be possible, at least on paper, in Texas.
The move wouldn't make sense, however, from a long term planning perspective. Dak Prescott might not have Brady's resume, but he's a talented young quarterback with a bright future ahead of him; even if he's playing hardball, it would be incredibly shortsighted to freeze him out for a couple of seasons of Tom Brady. Dak isn't going to sit idly by as the Cowboys give away his job; Dallas would essentially be mortgaging their future for a greater chance at immediate glory.
Everything with the Cowboys, though, comes down to Jerry Jones. We know that the owner loves to make a splash and wants to prove that he can build a Super Bowl-caliber team. Bringing Tom Brady to Dallas might not be the smartest move, but Jones isn't beholden to any rule book.