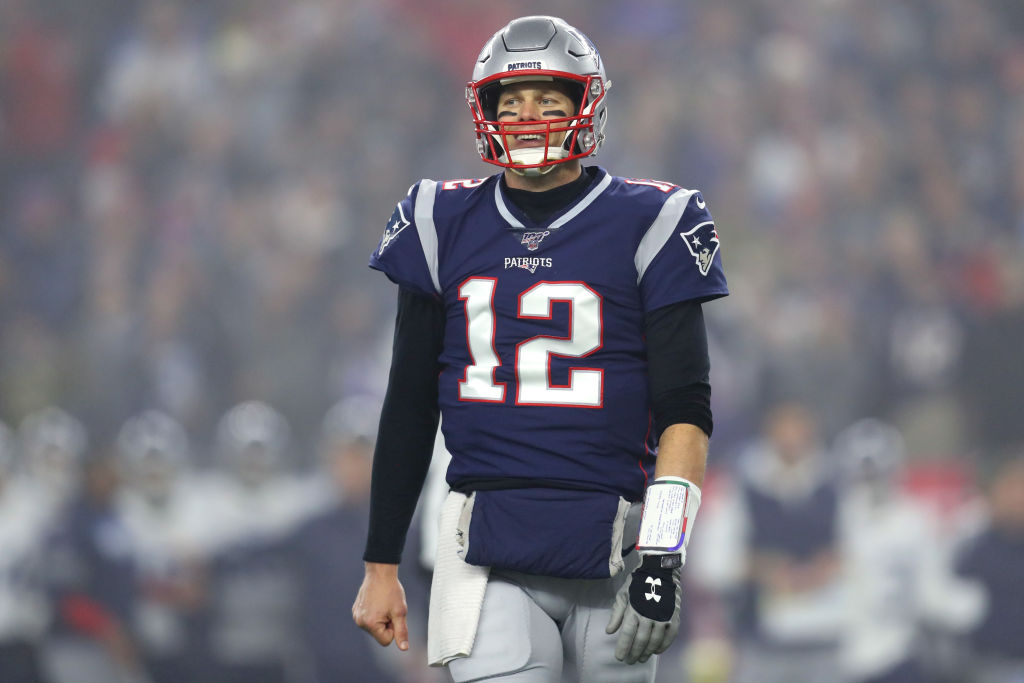 Tom Brady Has 1 Specific Plan for the 2021 Super Bowl
On Super Bowl Sunday, Tom Brady was wearing a blazer and staring in a commercial. Next year, though, he intends to be playing for a title.
The 2019 NFL season must have been a unique experience for Tom Brady. For the first time in what seems like forever, the New England Patriots didn't seem invincible. Their offense struggled, they failed to secure a first-round bye, and fell well short of another Super Bowl title. Brady, however, has another idea for next year.
While the veteran quarterback is bound for free agency, he's sure about one thing. No matter where he signs, he'll have plans for the Super Bowl Sunday.
Tom Brady's uncertain future
For the past two decades, Tom Brady and Bill Belichick have been an inseparable pair with the New England Patriots. Their working relationship, however, might be a thing of the past.
During the season, Brady didn't seem especially happy in New England. While the club still cruised to the AFC East title, the quarterback didn't personally thrive. Between a porous offensive line and a patchwork receiving corps, Brady was publically frustrated with the Patriots' offense; on a personal level, he posted one of his worst statistical campaigns in years.
Off the field, additional clues seemed to point towards his departure. During the season, Brady and his personal trainer put their Massachusetts homes up for sale; in Gilette Stadium, the quarterback's family suite has apparently been cleared out. While the quarterback hasn't confirmed or denied if he's leaving New England, we know one thing for sure: he still wants to play football in 2020.
Tom Brady's Super Bowl plans
While the New England Patriots fell on Wild Card Weekend, Tom Brady still made a splash at the Super Bowl. The quarterback appeared on the field as part of the NFL 100 All-Time Team and poked fun at his impending free agency in a Hulu commercial. In 2021, though, he has different plans.
On Tuesday, Brady posted an Instagram story asking if his followers had any questions about his training regimen. While the post was fairly standard, featuring some weights in the background, the quarterback also added an additional message.
Back at @tb12sports to get to work," he wrote. "I'm not wearing a blazer [like he did as part of the NFL 100 ceremony] to the Super Bowl next year.
What does that pledge mean for the quarterback's future?
Going into a new season, every player and team want to make it to the Super Bowl. As a premier free agent, however, Tom Brady has more bargaining power than most.
If the veteran quarterback is dead-set on appearing in the Super Bowl, that will likely limit his options. The Los Angeles Chargers are moving on from Philip Rivers, but Brady alone wouldn't make them a contender. The same is probably true for the Tampa Bay Buccaneers if they make a run at the quarterback.
The soon-to-be Las Vegas Raiders might fit the bill, but they play in the same division as the Kansas City Chiefs. Even with Brady under center, they'd probably be looking at a Wild Card berth; while that's far from a death sentence, it's not the ideal road to a championship. The Patriots fall into a similar bracket, being good enough to make the playoffs, but lacking the depth to make a run at the title. They, of course, have the added benefit of familiarity, though.
Free agency officially starts on March 18. Until then, there will be plenty more speculation about Tom Brady's future.