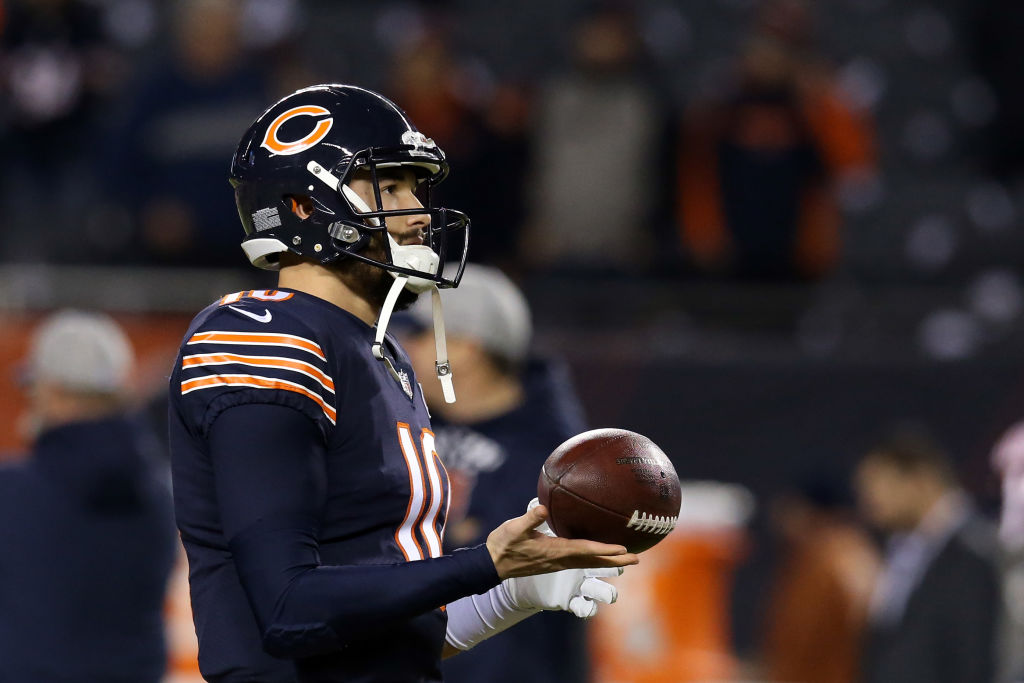 Mitchell Trubisky's Brutal 2019 Season May Have Cost Him $24 Million
We might be months away from NFL action, but Chicago Bears quarterback Mitchell Trubisky could miss out on a $24 million payday.
During his three seasons in the NFL, Chicago Bears quarterback Mitchell Trubisky hasn't had the easiest time. While things started out well—he was the second-overall draft pick in 2017 and earned the place in the 2018 Pro Bowl—they've since taken a turn for the worst.
After a tough 2019 campaign, the Chicago Bears will have to decide if they want to pick up Trubisky's fifth-year option. If they don't, the quarterback will miss out on a $24 million payday.
Mitchell Trubisky's time with the Chicago Bears
When you select a quarterback with the second-overall pick of the NFL draft, you're expecting him to be a franchise player. After his first three years in Chicago, it doesn't seem like Mitchell Trubisky will live up to that hope.
After beginning his rookie campaign on the bench, Trubisky took over the Bear's offense in Week Five of the 2017 season. While there were plenty of growing pains, the young quarterback showed potential; that upward trajectory would continue once Matt Nagy came to town.
In 2018, Trubisky and the Bears were markedly improved. The sophomore quarterback threw for 3,223 yards and 24 touchdowns; his team went 12-4, claiming the NFC North title. Although the season ended with a heartbreaking double doink, it seemed like the club had turned a corner. That, of course, would turn out to be a false dawn.
Rather than improving, Trubisky and his entire offense regressed. The quarterback threw for fewer yards and touchdowns; he also threw more interceptions and was sacked 38 times. While he was far from the only culprit—the Bears' offensive line and ground game didn't provide much help—Trubisky didn't leave anyone feeling too optimistic about the future.
Potentially missing out on a $24 million payday
During his first three NFL season, Mitchell Trubisky has brought home almost $25 million. His future earnings, however, could end up taking a major hit.
While the 2020 campaign will be the final season on Trubisky's rookie contract, the Bears can pick up his fifth-year option for 2021; that decision, however, has to be made by May 4. According to ESPN's Adam Schefter, "people around the league" don't expect the club to do so. That's a completely understandable football decision but will end up hitting Trubisky in the wallet.
Fifth-year option salaries work similarly to NFL franchise tags. Since Trubisky was a top-ten draft pick, his option would pay the average of the previous season's top 10 quarterback salaries. While there's still time for that number to change, it will most likely be "over $24 million."
What comes next for Mitchell Trubisky and the Chicago Bears?
Unless the Chicago front office decides to do something drastic, Mitchell Trubisky will still be a Bear come the fall. Beyond that, though, there are no guarantees.
Earlier this offseason, the Bears traded for Nick Foles; that move alone should tell you how the team feels about their incumbent quarterback. Even if Trubisky keeps a hold of the starting job, which isn't a foregone conclusion, he'll presumably be on a short leash. As Marcus Mariota learned last season, it can be hard to regain the top spot once you lose it.
At this point, it looks like Mitchell Trubisky is going to miss out on a nice payday; once his fifth-year option is a thing of the past, it will be hard to see him commanding that much money on the open market. At that point, he'll have to his play do the talking and see where the chips fall. If you want to be paid like a top-tier starting quarterback, you also have to play like one.