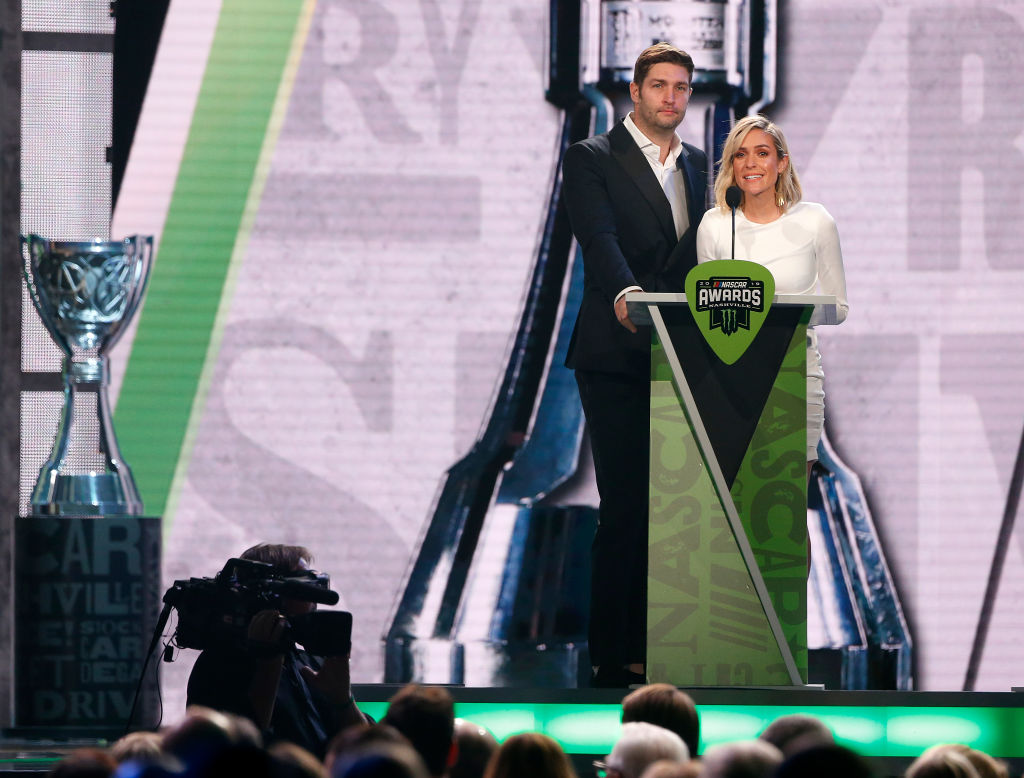 Jay Cutler Is Now in the Most Important Fight of His Life
Jay Cutler faced many battles as a member of the Broncos, Bears and Dolphins, but he's embroiled in a bigger fight off the field.
After making a brief comeback with the Miami Dolphins in 2017, Jay Cutler transitioned from an NFL star to a reality TV celebrity. However, most people probably remember Cutler as a strong-armed, unlikeable quarterback for the Chicago Bears. For 12 years, he battled opposing defenses on Sundays. But now, the 37-year-old is embroiled in an even bigger fight. And this time, Jay Cutler's adversary is actually on his own team…for now.
Jay Cutler's NFL career resulted in reality TV stardom
Before he became a reality TV trending topic, Jay Cutler fought his battles on the football field. Coming out of Vanderbilt, the 6-foot-3, 231-pounder garnered comparisons to some all-time greats given his prodigiously powerfully right arm. The Denver Broncos selected the talented thrower with the 11th overall pick in the 2006 NFL draft. While he flashed Pro Bowl talent, his personality rubbed people the wrong way. Josh McDaniels shipped the franchise quarterback to Chicago for a huge package that included two first-round picks, a third-rounder and Kyle Orton.
For Bears fans, the prospect of adding a young quarterback in his prime seemed like a gift from the football gods. After all, the franchise had failed numerous times to find a legitimate QB1 since Jim McMahon suited up in the late '80s. Teaming up with Alshon Jeffery and Brandon Marshall, Cutler had what could best be described as an inconsistent eight-year run with the Bears. He never made a Pro Bowl. And while he did lead Chicago to winning records from 2010-2012, he flopped miserably once he turned 30.
The Bears eventually drafted Mitchell Trubisky to replace their longtime starter, and Cutler briefly made a surprising NFL return with the Dolphins in 2017. Unfortunately for Miami fans, the 34-year-old went 6-8 and posted a dismal quarterback rating of 80.8 due in large part to his 14 interceptions and pitiful 6.2 yards per attempt. Though Jay Cutler's on-field career came to an end, his days on TV screens didn't.
Former NFL star faces bitter divorce battle with Kristin Cavallari
The veteran quarterback married reality TV star Kristin Cavallari in 2013. Cutler's wife became famous from her time on Laguna Beach: The Real Orange County, which ran from 2004-2006. However, the couple rose to collective fame by starring in Very Cavallari, which began in 2018. Getting a different look at the former NFL quarterback certainly opened some eyebrows. Yet, after 10 years together, the couple made headlines recently by filing for divorce.
Jack Baer of Yahoo Sports wrote that Cavallari claims that she and her husband separated on April 7, which was the day they returned from a vacation in the Bahamas. Of course, this all occurred when the coronavirus pandemic put a serious halt on international travel. Ultimately, the two stars announced their split on April 26, but the story is far from over. Currently, Cutler and Cavallari are embroiled in a bitter divorce battle that involves everything from a prenuptial agreement to child custody to claims of infidelity. Let's just say Jay Cutler might have had it easier on Sundays facing defensive lineman rather than dealing with his soon-to-be ex-wife.
Longtime Bears QB wants joint custody
One of the main points of contention seems to be the custody battle. According to Jennifer Drysdale of Entertainment Tonight, Cavallari requested primary custody. That certainly didn't sit well for the father of three.
"Kristin and Jay planned to keep everything amicable, but that's not the case anymore," ET's source says. "Kristin filing for primary physical custody upset Jay. He loves his children more than anything and thinks the couple should be reasonable and split custody."

Court documents revealed that Cavallari will allow Cutler visitation rights. However, the wealthy ex-quarterback will have to pay for the children's health insurance and maintain a life insurance policy with his wife listed as the sole beneficiary.
Jay Cutler has been accused of cheating
Besides the custody battle over their three children, Jay Cutler and Kristin Cavallari's public divorce battle has also included claims of cheating. Ali Nahas and Karen Mizoguchi of People.com explained the backstory of the infidelity rumors.
During the latest season of her E! reality series, Very Cavallari, fans saw the demise of Cavallari's friendship with her longtime best friend Kelly Henderson. Also spotlighted was trouble in Cavallari and Cutler's marriage, specifically rumors that he was having an affair with Henderson. (While Cavallari insisted she never believed the rumor, she and Henderson had a falling out.)

According to Nahas and Mizoguchi, the couple's split had nothing to do with the supposed cheating. Whether either party explored outside the lines of marriage may never be known. What is evident, however, is that Jay Cutler is in for the fight of his life. Who would have thought Bears fans might actually feel bad for him someday?