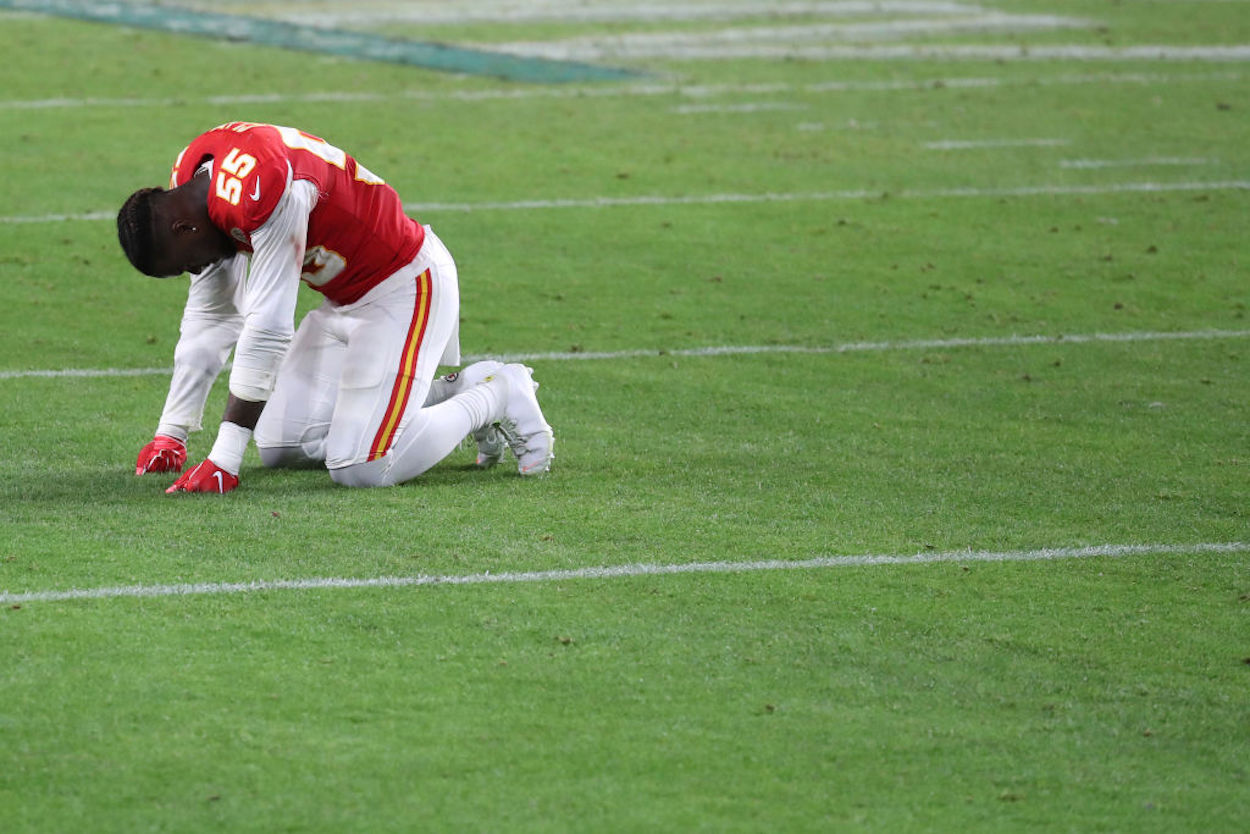 Chiefs DE Frank Clark Has a $104 Million Contract and a Super Bowl Ring, but He Still Can't Hide His Dark Past
Frank Clark has just about everything going for him with the Kansas City Chiefs, but he'll never be able to hide his dark past.
Frank Clark has just about everything going for him right now.
Just since 2019, the Kansas City Chiefs defensive end has signed a $104 million contract with the team, made the Pro Bowl twice, and won a Super Bowl. Talk about a fruitful two-year stretch.
But no matter how good life gets for Clark, he'll never be able to hide his dark past.
Frank Clark is loving life recently
It's hard to find an NFL player who's had a better last two years than Frank Clark. After spending his first four seasons with the Seattle Seahawks, Clark was traded to the Chiefs in 2019. He was immediately signed to a five-year, $104 million contract with $62.3 million guaranteed.
In his first season in Kansas City, Clark helped the Chiefs to a Super Bowl victory over the San Francisco 49ers. Clark even made the biggest defensive play of the game — and of the season for that matter — when he sacked Niners QB Jimmy Garoppolo on 4th and 10 late in the fourth quarter to ice the game.
"It feels like a dream come true," Clark told ESPN's First Take after the championship game. "Your whole life that's one thing you want to do. You want to play for that contract so you earn your money, but then at the same time, you want to win championships. Over the last year and a half, fortunately for myself, I've been able to do both. Getting traded to the Kansas City Chiefs is one of the best decisions that was made my whole life."
One year later, Clark finds himself back in the Super Bowl for the second straight season.
Frank Clark's dark past
Frank Clark might be on cloud nine today, but his life was in a much different place a few years ago.
Clark's legal troubles started in 2012 when he was still at the University of Michigan. When he was a sophomore, Clark was arrested and charged with second degree home invasion after he broke into a dorm room and stole a laptop. Michigan suspended Clark from the team, but he returned a season later.
The 2012 incident wasn't nearly as troubling as what happened a few years later. In 2014, when Clark was a senior at Michigan, he was arrested after his girlfriend claimed he punched her in the face, picked her up by the neck, and slammed her to the ground in a Maui Sands hotel in Sandusky, Ohio.
A few months later, Clark accepted a plea bargain that dismissed his first-degree misdemeanor charges for domestic violence and assault. He pleaded guilty to a charge of persistent disorderly conduct, but he never had to serve any jail time. Clark got off with the measly punishment of a $250 fine.
"I feel when you do something like that and go through a situation like that, you can come out two sides – you can come out in a positive manner or you can come out negative. It can make or break you," Clark told reporters when he joined the Chiefs in 2019. "I definitely feel like this was one of the things that happened in my life, amongst all the things that happened, that definitely made me better – a better person, a better father, more understanding, more compassionate, and just made my heart a little bit bigger."
Is Clark a changed man today?
It's now been seven years since Clark's domestic violence incident. He's stayed out of trouble since 2014, but that stain from putting his hands on a woman can never be washed away.
In 2019, Clark described himself as a changed man.
I've had to learn to be a better teammate, a better person, and just a better man in general. When you go through something like that and you put yourself in that position, the first thing is you've got to own up to it and understand what you've done. I affected a lot of people doing that. It wasn't just Frank Clark or Frank Clark's family or anyone else. It was Frank Clark. It was the Michigan football team. Who would have known where we would have been if Frank Clark was still on that team? But unfortunately it ended how it ended. It's just something I have to learn and grow from. It's something I continue to learn and grow from.

That's why I'm so persistent in bettering myself first. Five years later, I'm persistent in just doing everything I have to do to spread my word and spread the message and continue to speak out and be an advocate. I think that's important. I think you've got to have a heart sometimes, a real heart. And that's just being real. I'm a real person. I don't sugarcoat anything, I don't hide anything. I don't have anything to hide. I can barely hide; it's all out there. That's just me. I feel everyone's going to get a chance to know me. I know what they read. I know everything people see, and I know the perception people can have, and that's easy. I feel the hard part is just getting to know somebody. I feel once everyone does that they'll understand me as a person.

Frank Clark