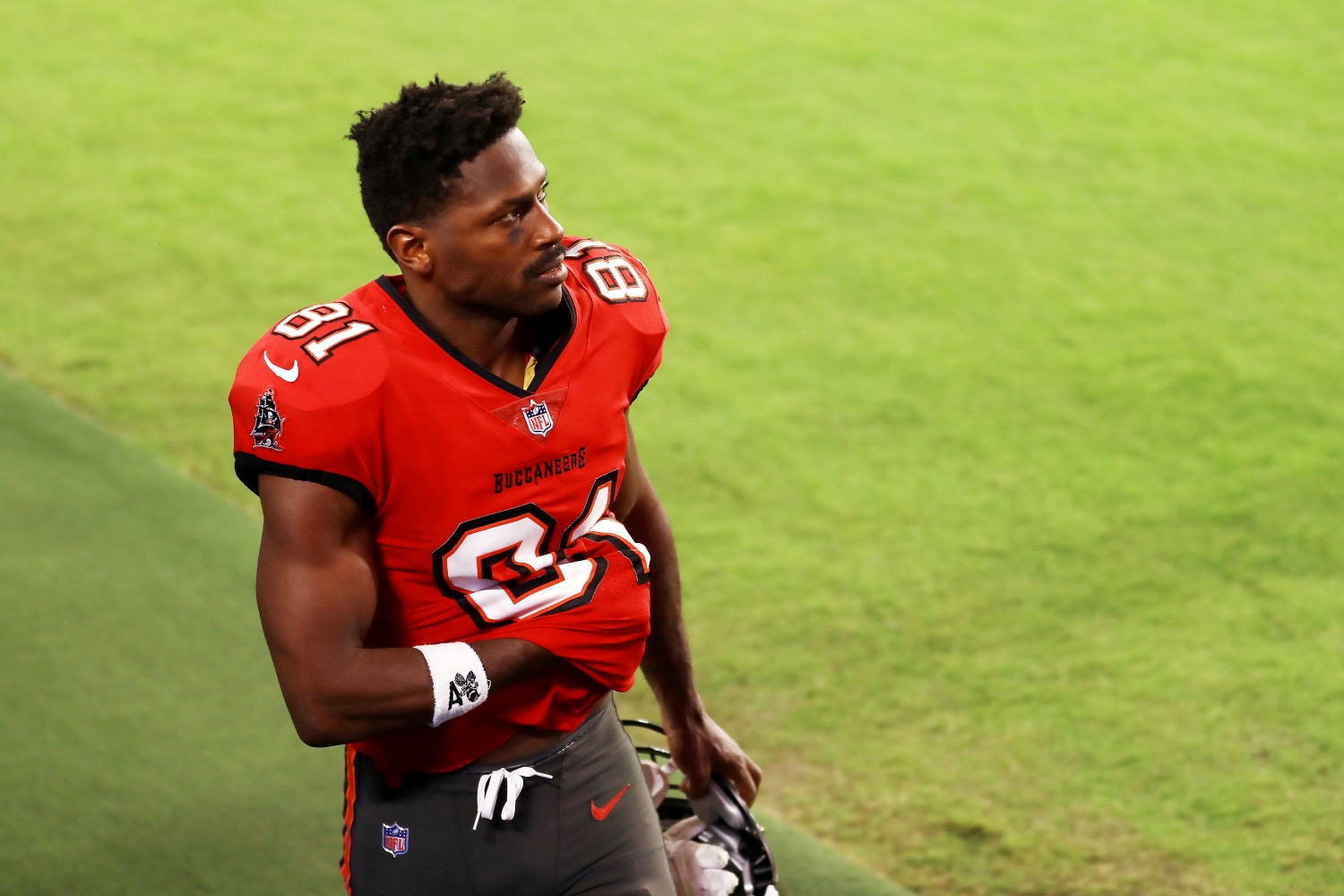 The Tampa Bay Buccaneers Have Backed Antonio Brown Into a $2 Million Corner
The Tampa Bay Buccaneers want Antonio Brown back, but the aging wideout faces a $2 million decision about his NFL future.
The Tampa Bay Buccaneers showed no hesitation in committing a significant amount of financial resources to bring back every starter from last year's Super Bowl squad. However, general manager Jason Licht has yet to sign Antonio Brown to a second contract.
With the 32-year-old still sitting on the free-agent market, the Buccaneers have reportedly made it quite clear about the price they're willing to pay to keep the relationship going.
Antonio Brown has yet to decide where he'll play football in 2021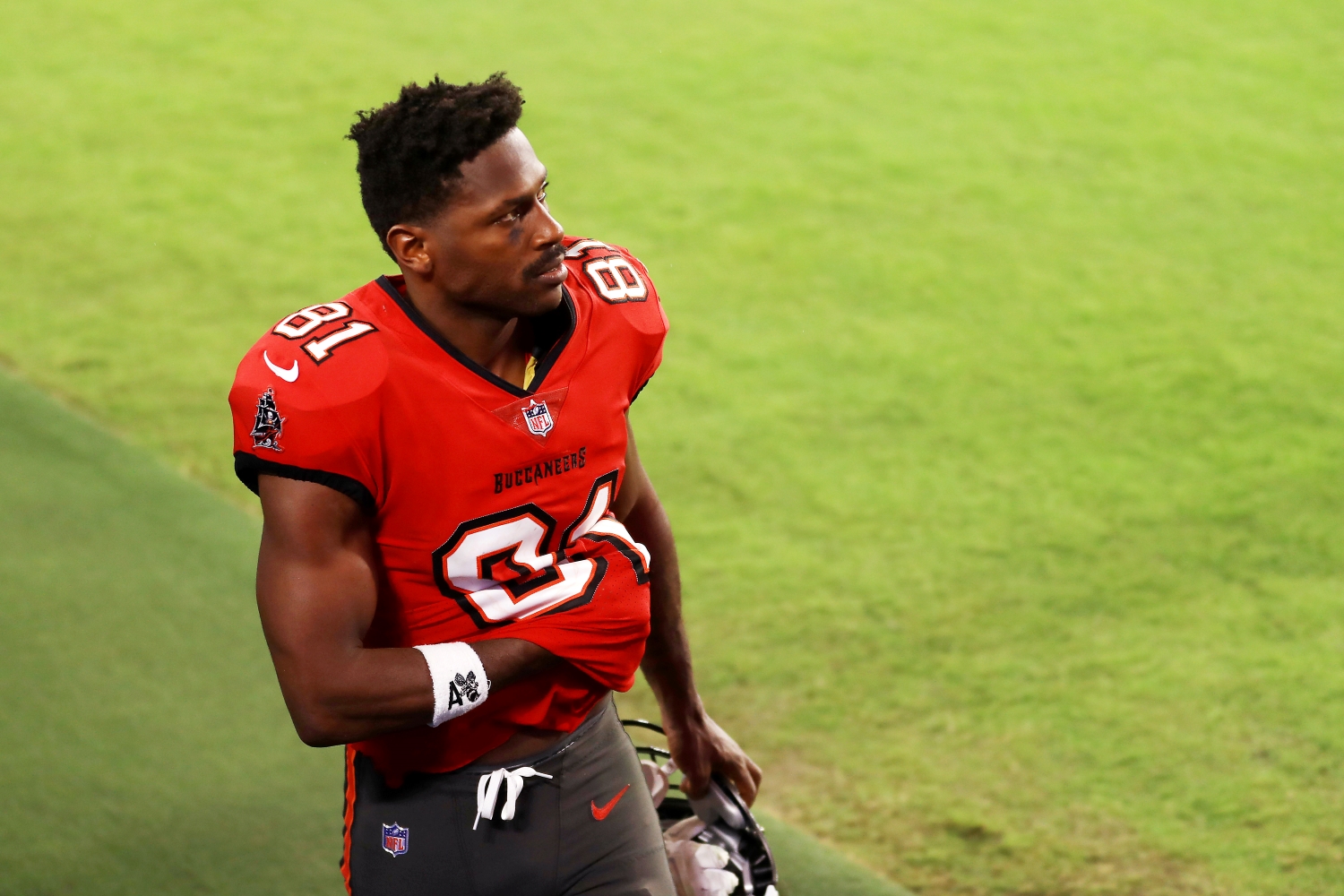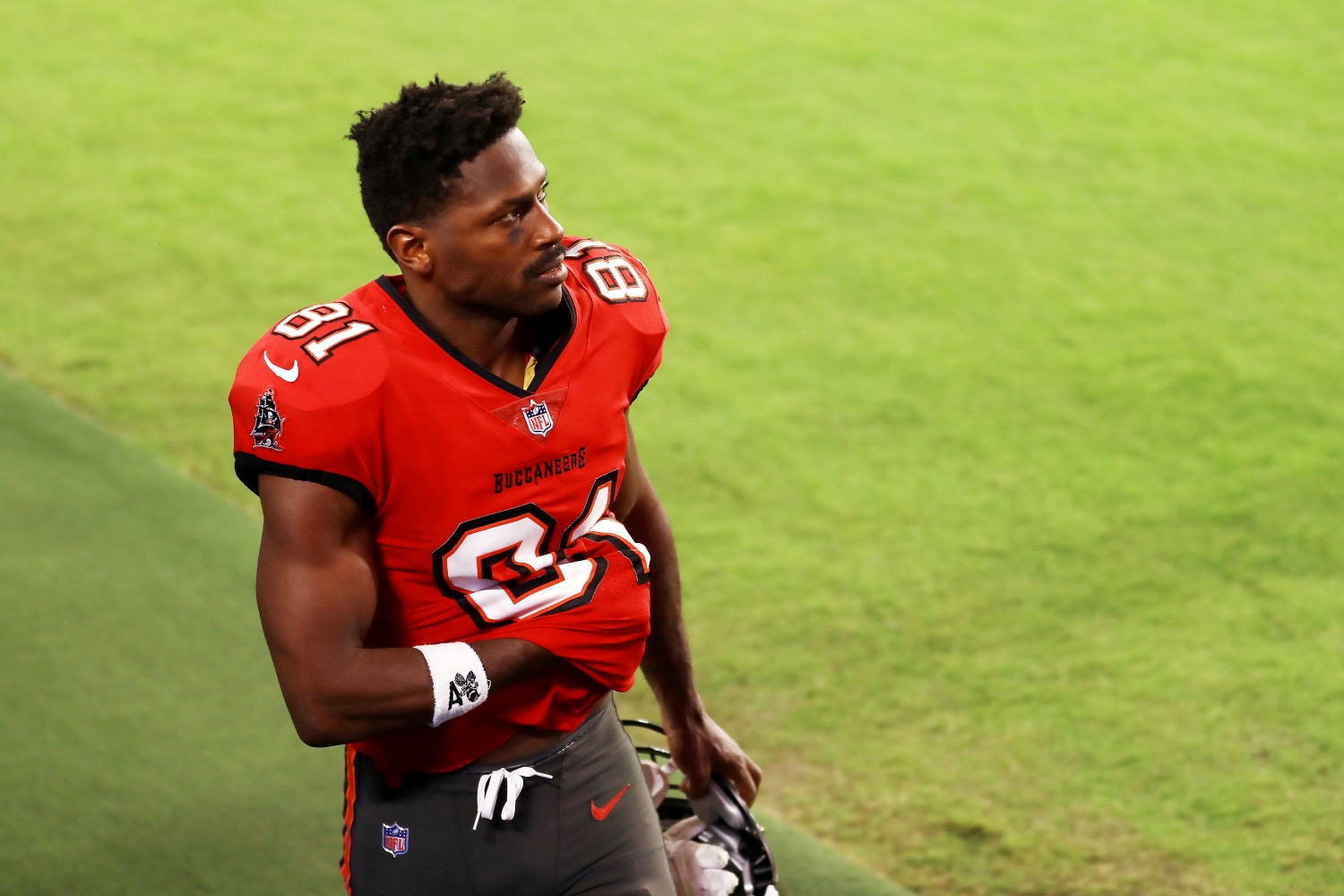 Thanks to the continued persistence of Tom Brady, the Buccaneers took a one-year flyer on Antonio Brown. Despite spending so much time away from football, he quickly became one of TB12's go-to targets.
In just eight regular-season games, Brown totaled 45 receptions for 483 yards and four touchdowns. He racked up eight catches for 81 yards and two more touchdowns in three playoff games.
However, while many of his teammates received new deals to remain with the reigning champions, Brown has yet to put pen to paper.
Set to turn 33 in July, his days as an elite receiver seem all but over. After all, the seven-time Pro Bowler averaged just 10.7 yards per catch last season.
Given his track record of production, though, he should still get at least another bite at the apple. But with the 2021 NFL draft just a few weeks away, Brown still hasn't decided on where he'll play football this year.
The Buccaneers have backed Brown into a $2 million corner
Buccaneers head coach Bruce Arians left more questions than answers with his recent comments about Antonio Brown earlier this week.
"We're just gonna take our time," he said in response to a question about how quickly Tampa will resolve the receiver's contract situation. "There's offers out there. We'll see how it goes."
While we don't know exactly what other teams have offered, thanks to Mike Garafolo of the NFL Network, we now know much more about what's going on with Brown and the Buccaneers.
"They want to bring him back, the Bucs do, just at a different number than he has in mind right now," Garafolo said on Good Morning Football.
Brown reportedly wants to be paid closer to market value, which starts at around $5 million. However, the Buccaneers have backed him into a much cheaper corner.
According to Garafolo, Tampa would like to re-sign Brown to a deal that pays him about the same amount he made for a half-season of football in 2020—about $2 million.
With Brown facing a quiet market, the Buccaneers have little incentive to back down in negotiations. Plus, they already have plenty of other proven playmakers on their roster.
At this point, Tampa should hold its ground. Because if AB doesn't accept a below-market offer to keep catching passes from Brady, the reigning Super Bowl champions can invest in an asset with far more potential upside.
Could Tampa replace Brown via the 2021 NFL draft?
If the Buccaneers want to invest more resources into the receiver position, they should do their homework and target one in the 2021 NFL draft. After all, this class features a ton of star power.
While Ja'Marr Chase, DeVonta Smith, and Jaylen Waddle will go off the board well before the Buccaneers come on the clock, there should still be at least a few intriguing names left. Wideouts who could be available at pick 31 include Kadarius Toney, Rashod Bateman, Elijah Moore, and Terrace Marshall Jr.
And if the Buccaneers rather wait until later in the draft to find Antonio Brown's replacement, the depth of this class should allow Jason Licht and Bruce Arians to secure a receiver who can grow in the system and contribute for multiple years. That's particularly important given the long-term outlook of the position down in Tampa.
Mike Evans turns 28 this year, and his cap hit increases to nearly $19 million in 2022. Chris Godwin will play the 2021 season on the franchise tag. Slot receiver Scotty Miller will become a free agent after the 2022 season.
So even though the Buccaneers appear well-stocked for at least one more year, they may need to invest an early-round pick on a receiver to ensure their offense keeps humming along in the future.
All statistics courtesy of Pro Football Reference.