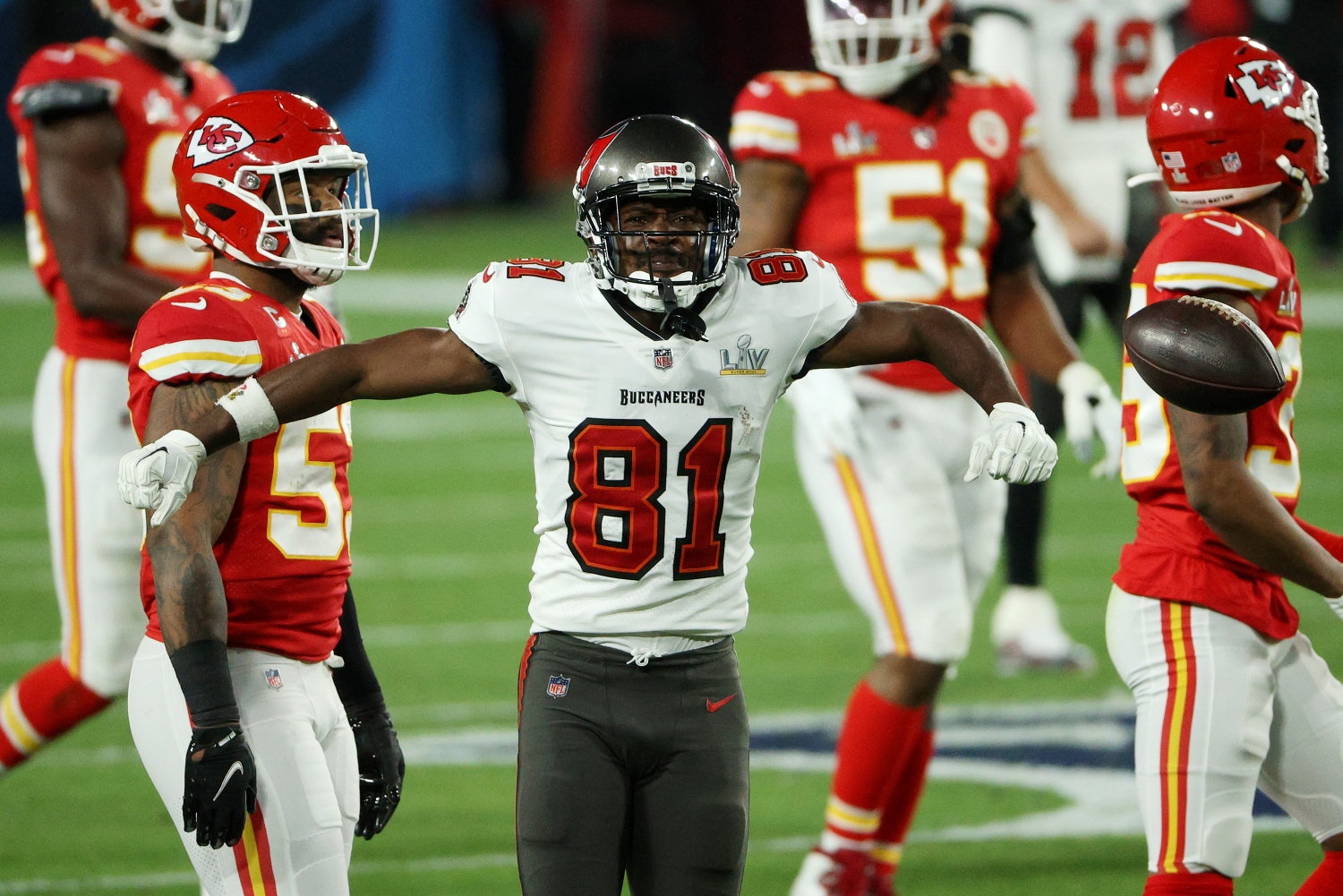 Bruce Arians' Vague Update on Antonio Brown Leaves More Questions Than Answers About His NFL Future
Buccaneers head coach Bruce Arians left more questions than answers about Antonio Brown's NFL future with his recent comments.
Antonio Brown didn't exactly light it up in his first season with the Tampa Bay Buccaneers. But he did manage to cap off his bounce-back campaign by catching a touchdown pass in his team's lopsided victory in Super Bowl 55.
Although he turns 33 in July, the longtime Pittsburgh Steelers star still has what it takes to contribute on Sundays. However, the aging wideout has yet to decide where he will play in 2021.
With Brown's future hanging in the balance, Bruce Arians' vague update on the veteran receiver leaves more questions than answers about his NFL future.
Antonio Brown hit free agency following a bounceback year in Tampa
Antonio Brown's off-field issues led to him playing just one game in 2019. After remaining unsigned for months, he finally found a new NFL home. And to little surprise, the Buccaneers made Tom Brady's wish come true by signing his former New England Patriots teammate to a one-year contract.
Brown immediately took on a prominent role in Tampa's offense. Thanks to a stat-stuffing Week 17 performance against the Atlanta Falcons, he finished the season with 45 catches for 483 yards and four touchdowns in eight games. However, his 10.7 yards-per-reception average represented his lowest mark since his rookie year.
The seven-time Pro Bowler went on to catch eight passes for 81 yards and two touchdowns during the Buccaneers' Super Bowl run.
While Brown's 2020 campaign certainly didn't measure up to what he accomplished in Pittsburgh, he still showed the ability to make an impact in a complementary role. As the calendar turns to April, though, the 32-year-old remains unsigned.
Bruce Arians' vague update on AB leaves more questions than answers about his NFL future
Although he appears to have lost some of the physical abilities that made him one of the most dominant playmakers in NFL history, Antonio Brown offers value as a second or third option in the passing game. Given his resume, it would make sense for a receiver-needy team to try to convince the Miami native to sign on the dotted line.
Brown's free-agency journey has mostly been a quiet one, though. Unfortunately for those expecting a clear answer about his future, Bruce Arians' vague update during Tuesday's virtual press conference leaves more questions than anything else.
"We're just gonna take our time," he said in response to a question about how quickly Tampa will figure out the Brown situation. "There's offers out there. We'll see how it goes."
Arians didn't specifically state if the Buccaneers are part of a group of teams that have offered Brown a contract. Still, it seems likely that Tampa has at least explored the possibility of bringing him back for another year.
But if the free-agent receiver has a more lucrative offer (or multiple) on the table, will he choose more money over the chance to win back-to-back Super Bowl titles?
Bringing back Brown would cap off an unbelievable offseason for the Buccaneers
By saying the Buccaneers will take their time to figure out the Antonio Brown situation, Bruce Arians may have already hinted that the team may move in a different direction. After all, Tampa didn't waste a second re-signing every other contributor from last year's roster.
General manager Jason Licht kept his Super Bowl parade promise of bringing back the band. He utilized the franchise tag to keep Chris Godwin from leaving. He signed Shaq Barrett and Lavonte David to lucrative extensions. And the Buccaneers also brought back Rob Gronkowski, Leonard Fournette, and Ndamukong Suh on one-year deals.
TB12 extended his stay in Tampa, too.
With all 22 starters returning, the Buccaneers have all the pieces in place to make a serious run at an undefeated season. Bringing back Brown would further bolster an offense loaded with weapons. He already has familiarity with the system, and his relationship with Brady also stands out as a big reason to remain in Tampa.
Let's see if the reigning Super Bowl champions give it another go with AB.
For the right price, of course.
All statistics courtesy of Pro Football Reference.