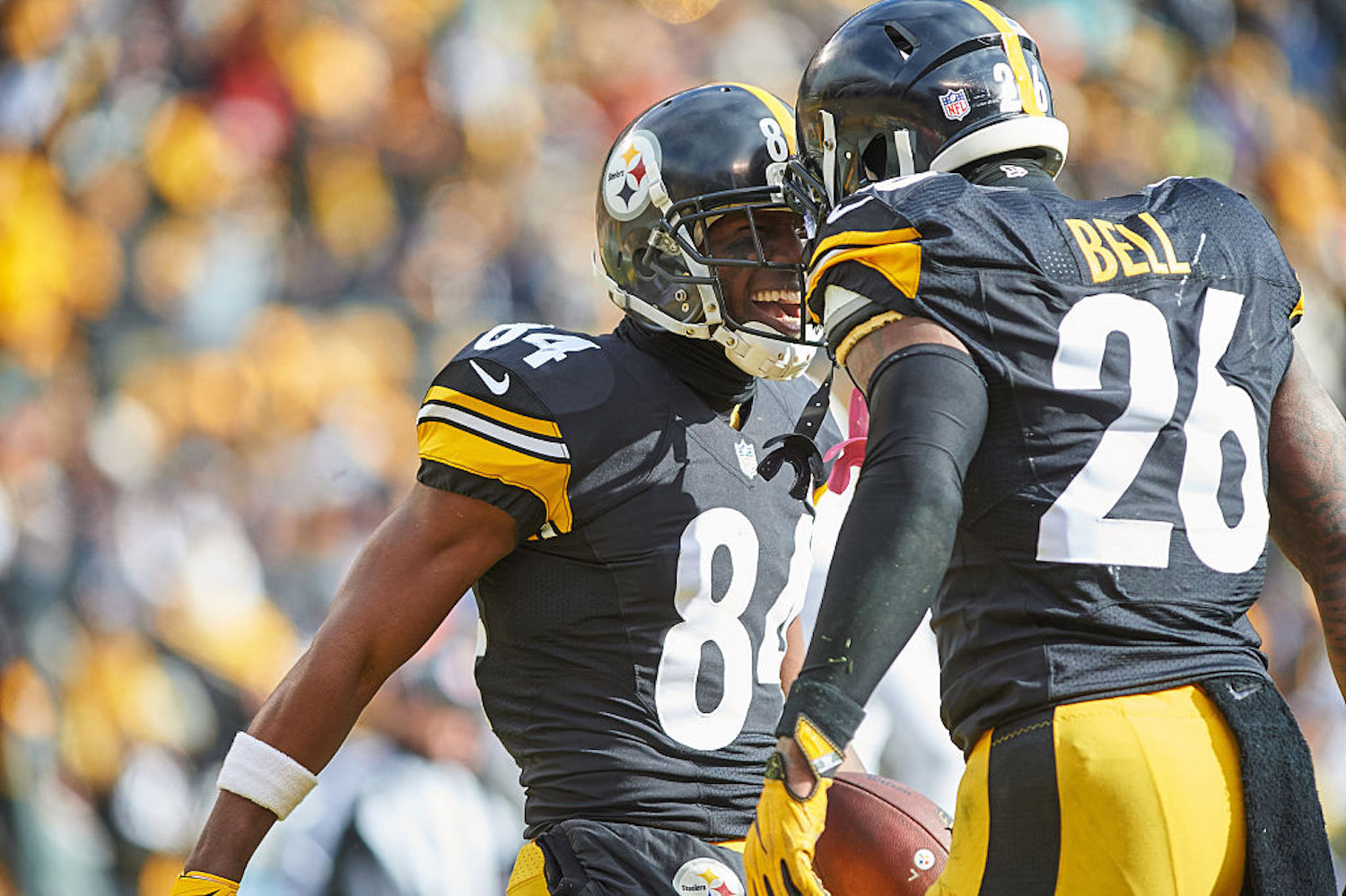 The Meteoric Rise and Drastic Fall of Le'Veon Bell and Antonio Brown
Le'Veon Bell and Antonio Brown were the most dominant RB/WR duo in the NFL just three years ago, but now they're both unemployed.
It was just three short years ago Le'Veon Bell and Antonio Brown made up the most terrifying RB/WR duo in the NFL.
Bell could lull defenses to sleep with his prodding, methodical running style, and Brown could take the top off once opponents starting selling out for the run. It was a lethal combination that made the Pittsburgh Steelers one of the most dangerous offenses in the league for a half a decade.
But now, both Bell and Brown find themselves unemployed at the same time. How did the best offensive duo in the NFL fall so hard?
Le'Veon Bell and Antonio Brown were dominant in Pittsburgh
Most elite offenses in the NFL either have a superstar running back or a superstar receiver. The Steelers had both.
From 2013-2017, you could argue Bell and Brown were the best at their respective position in the entire league, and they just happened to be on the same team. In those five years, the duo combined for 15,898 combined yards of offense and 94 touchdowns.
Bell made three Pro Bowls and received two First-Team All-Pro nods during his time in Pittsburgh. Brown made seven Pro Bowls himself and was named a First-Team All-Pro in four consecutive seasons.
Behind Bell and Brown, the Steelers were a top-10 offense in the NFL in terms of yards for four straight seasons and a top-five group in three of them. No defense wanted to face the dual-threat combo in their primes.
Bell and Brown's egos couldn't last together
With great success comes great responsibility, and Bell and Brown both abused their success for personal gains during their time in Pittsburgh.
Prior to the 2018 season, Bell made it clear he wanted a new contract before he took the field for the Steelers. Pittsburgh didn't budge on his demands, so he sat out the entire season out of spite. Bell never got the money he thought he deserved from the Steelers, so he jumped ship to the New York Jets for $52.5 million.
Now, no one in their right mind would sign with the Jets if they had dreams of winning a Super Bowl. All Bell cared about was his bank account, and his play suffered as a result. The RB rushed for just 789 yards and three touchdowns last season, both the lowest marks of his career. He averaged an abysmal 3.2 yards per carry and the Jets missed the playoffs at 7-9. But hey, at least Bell secured his bag.
Brown's issues weren't so much financial as they were personal. He constantly got in fights with teammates and coaches in Pittsburgh, and he became a detriment to the locker room. In 2018, Brown refused to play in the season finale even with a playoff spot on the line because of a spat with QB Ben Roethlisberger.
That offseason, Brown was traded to the Oakland Raiders for a third- and a fifth-round draft pick. He only lasted a few months before inevitably causing trouble in the locker room and getting cut. The New England Patriots scooped up Brown for one game during the 2019 season, and, in typical Antonio Brown fashion, he scored a touchdown on a pass from Tom Brady.
A few days later, the Patriots cut Brown. He hasn't seen an NFL field since.
Bell and Brown both find themselves unemployed three years after the duo dominated the NFL
It seems like just yesterday Bell and Brown were both going over 100 yards and a touchdown in almost every game for the Steelers. Their flamboyant end zone celebrations in the black and yellow made it look as if everything in Pittsburgh was fine and dandy, but that was never the case.
Two huge egos like that just can't coexist in the same locker room, and their personalities caused them to go from the best RB/WR duo in the NFL to unemployed just three years later.
Bell was just cut by the Jets four games into the 2020 season. Brown might never play in the league again. The drastic fall of the two superstars goes to show talent is only part of the formula to thriving as a professional athlete.
All stats courtesy of Pro Football Reference