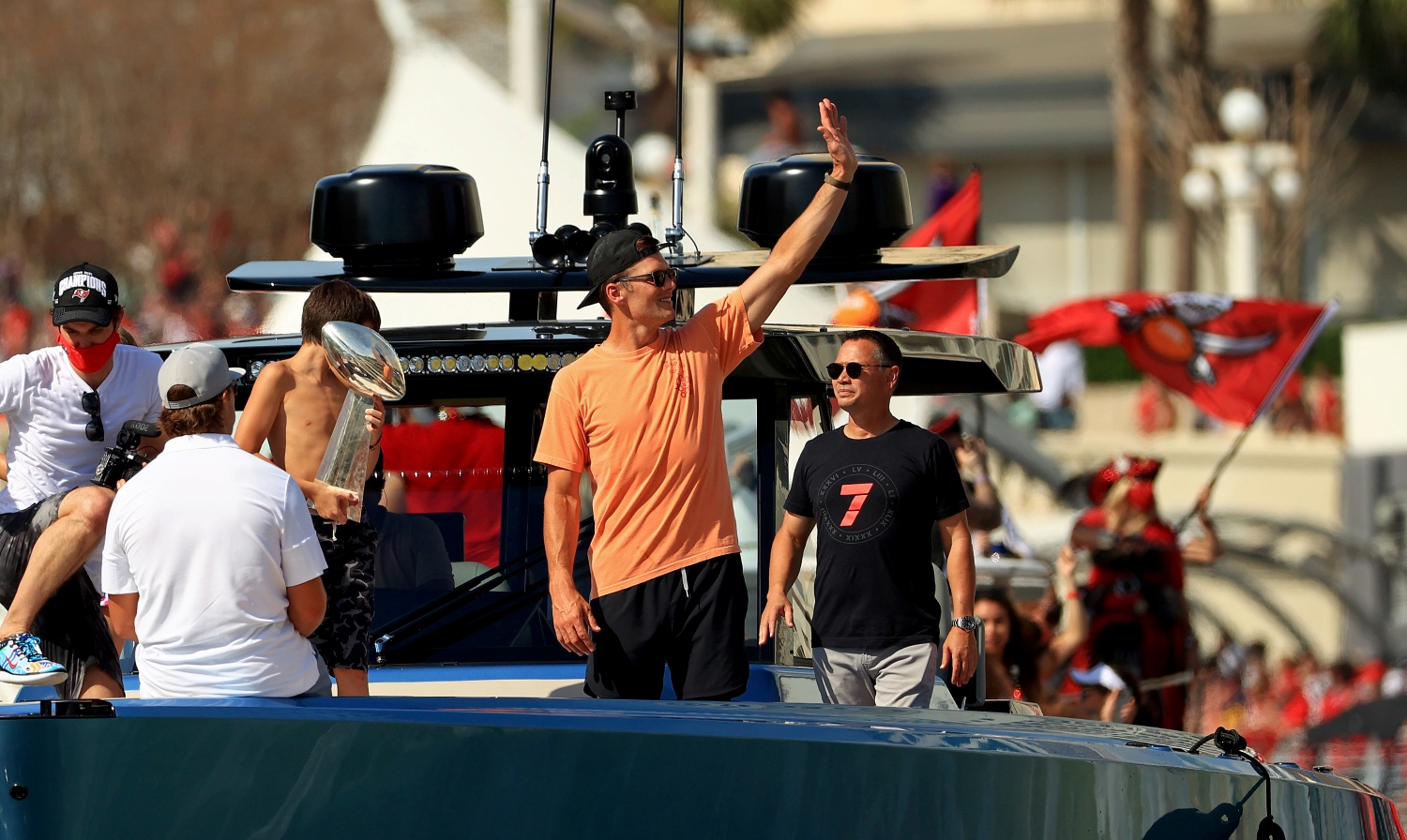 Tom Brady Hilariously Trolled Himself on Twitter After He Got Drunk at the Buccaneers' Super Bowl Parade
Tom Brady took a day off from his TB12 diet during the Buccaneers' Super Bowl parade, which led to a hilarious tweet from the NFL legend.
Tom Brady may be notorious for following a strict diet, but even the GOAT has to enjoy a cheat day or two.
And boy did the Tampa Bay Buccaneers quarterback do just that during the team's Super Bowl parade.
Harkening back to his younger days when he didn't obsess over nightshades and pliability, Brady certainly enjoyed himself on the water. And when he finally stumbled onto dry land, the NFL legend took to Twitter to troll himself in true TB12 fashion.
Tom Brady deserved to celebrate in style after winning his seventh ring
Tom Brady brought plenty of celebratory experience to Tampa. After all, the 43-year-old won six Super Bowl rings during his two-decade run with the New England Patriots.
In his first year with the NFC South franchise, the seemingly-ageless quarterback looked like a player who could suit up for another half-decade. Brady threw 40 touchdowns during the regular season before taking down Drew Brees and Aaron Rodgers in the NFC playoffs.
Although many expected Patrick Mahomes and Brady to go toe-to-toe in Super Bowl 55, Tampa's front seven prevented the Kansas City Chiefs star from finding the end zone. Meanwhile, Brady threw three touchdown passes, including two to Rob Gronkowski.
By defeating Andy Reid's team in convincing fashion, the Buccaneers and their new quarterback got to hoist the Lombardi Trophy in their home stadium.
That set the stage for a Super Bowl parade that looked quite different than what occurred in the streets of Boston over the last 20 years.
TB12 trolled himself on Twitter after his drunken day on the water
By moving to Florida, Tom Brady left behind not only a talent-depleted roster but also the bitter cold of New England.
So when it came time for the Buccaneers to celebrate their first Super Bowl title since 2002, they fittingly took to the water.
And we all got to see a different side of the winningest player in NFL history.
Brady raised more than a few eyebrows with his boating behavior. The supremely-accurate quarterback made a risky pass by tossing the Lombardi Trophy to tight end Cameron Brate, who was on a nearby boat.
In another funny moment featuring the five-time Super Bowl MVP, Brady could be seen stumbling after he made landfall. Obviously, the Florida sunshine (along with some alcohol) left the health-conscious quarterback in no shape to be taking snaps under center, let alone walking on his own.
With social media blowing up about his alcohol-inhibited footwork, Brady took to Twitter to troll himself.
"Noting to see her…just litTle avoCado tequila," Brady wrote in response to a tweet from ESPN that included the viral video of the quarterback after the Bucaneers' boat parade ended.
While avocado ice cream is part of the TB12 diet, it's safe to assume that tequila derived from the superfood isn't. But for Brady, poking fun at himself after a rare moment of letting his guard down showed that even someone who obsesses about health and fitness can still have fun on special occasions.
Assuming he rehydrated with electrolytes, the seven-time champion should be back at full strength by now. But will his team experience a Super Bowl hangover?
Will there be a Super Bowl hangover in Tampa?
Tom Brady wasted no time turning one of the NFL's worst franchises into a title-winning squad.
But after reaching the top of the mountain, can the Buccaneers remain there for at least another year?
That depends on how general manager Jason Licht attacks the offseason. Tampa has a number of high-impact players who need new contracts, including:
OLB Shaquil Barrett
OLB Lavonte David
TE Rob Gronkowski
DT Ndamukong Suh
RB Leonard Forunette
WR Antonio Brown
While Licht and Bruce Arians both expressed a desire to bring everyone back for another title run, it remains to be seen whether the Buccaneers can make that happen from a financial standpoint.
However, with Brady clearly enjoying himself in Tampa, that could sway his teammates to perhaps leave a little money on the table in order to remain with the reigning champions.
And if that occurs, don't be shocked to see an avocado tequila-fueled version of TB12 tossing another Lombardi Trophy across the water a year from now.
Like Sportscasting on Facebook. Follow us on Twitter @sportscasting19.