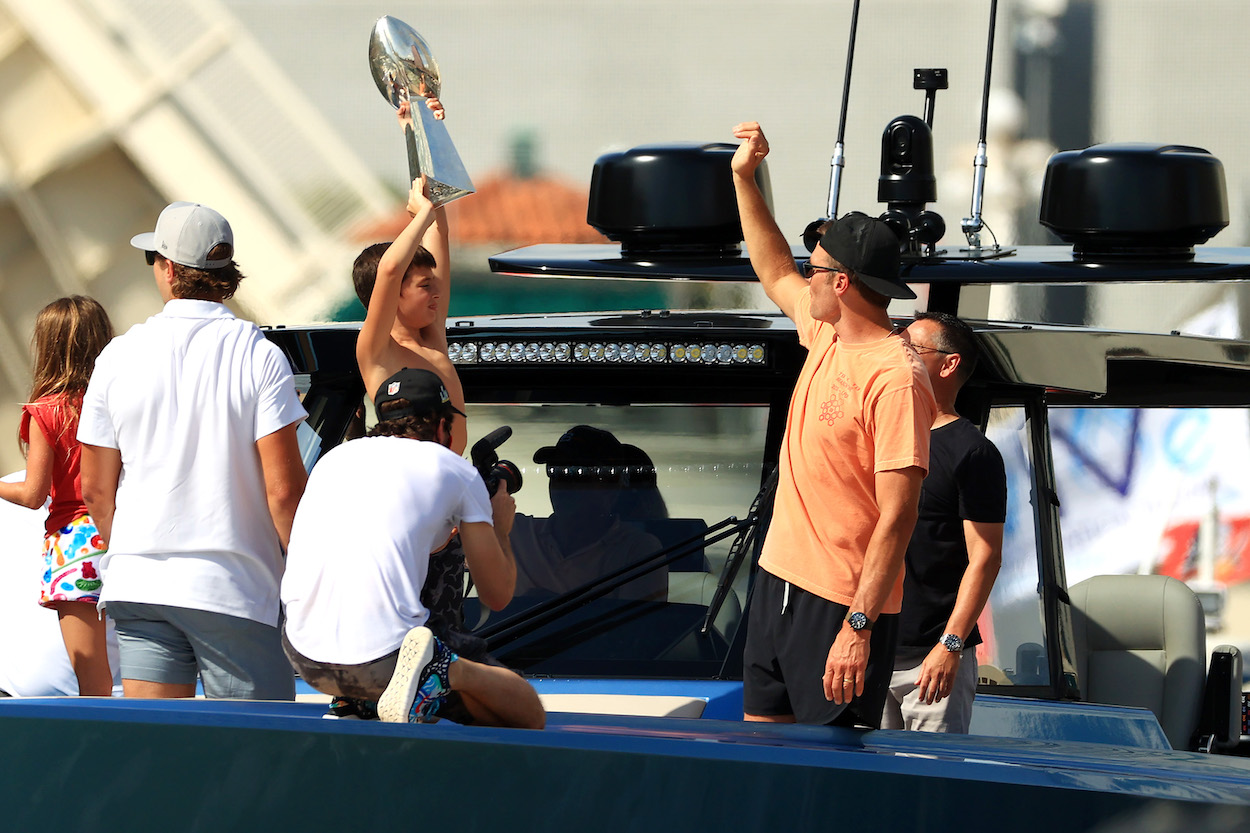 Tom Brady Makes Craziest Throw of His Career Unbelievably Tossing Lombardi Trophy Over Water to Another Boat During Tampa Bay Victory Parade
Tom Brady has made some pretty spectacular throws in his career. However, none of them have been crazier than the one he made throwing the Lombardi Trophy over water to another boat during the victory parade.
During Super Bowl 55, Tom Brady definitively answered the question on whether or not he is the GOAT, winning his seventh Lombardi Trophy, which is more than any single NFL franchise in league history.
On Wednesday, Brady and his Tampa Bay Buccaneers teammates celebrated the win with a boat parade. In a moment you have to see to believe, Brady made the single craziest throw of his career as he launched the Lombardi Trophy through the air over the water to another boat filled with teammates, including his go-to guy, Rob Gronkowski.
Tom Brady wins another Lombardi Trophy
Coming into the 2020 NFL season, Tom Brady didn't need to prove anything to anyone. With six Super Bowl championships on his resume, his legacy is established. Despite attaining a level of success no one else has ever achieved in NFL history, Brady wasn't finished. 
He signed with the Tampa Bay Buccaneers this offseason and then proceeded to further etch his name in the history books. After leading Tampa Bay to an 11-5 record and a berth in the postseason, Brady and the Bucs won four straight games in the playoffs, which included victories over the Washington Football Team, the New Orleans Saints, Green Bay Packers, and finally the Kansas City Chiefs in Super Bowl 55. 
Tom Brady impressively defeated three Super Bowl-winning quarterbacks in the postseason in Drew Brees, Aaron Rodgers, and Patrick Mahomes to capture his seventh Lombardi Trophy. 
Made many impressive throws in his career
During his 21 NFL seasons en route to winning seven Super Bowl titles, Tom Brady has had more than his share of heroic efforts. He guided the New England Patriots back from a 28-3 deficit to defeat the Atlanta Falcons in Super Bowl 51. He finished that game, throwing for 466 yards and a pair of touchdowns.
Interestingly, Brady's 466-yard performance that year is only good enough for second-best in Super Bowl history. That's because he set the all-time record at Super Bowl 52 a year later when he threw 505 yards in a 41-33 loss to the Philadelphia Eagles. 
Tom Brady owns countless Super Bowl and NFL records because of his arm. The Internet is chock-full of videos with Brady making some incredible throws. One of the more memorable this season came during the NFC championship game at Green Bay, when Brady hooked up with receiver Scotty Miller for a 39-touchdown score right before halftime that resulted in a huge momentum swing.  
Tom Brady throws Lombardi Trophy over water in craziest throw of his career
During Super Bowl 55, Tom Brady once again put his arm on display, to the tune of three first-half touchdowns against the Kansas City Chiefs. Brady finished the game completing 21-of-29 for 201 yards and three touchdowns. 
The combination of Brady's efficient passing and a stout Tampa Bay defense resulted in a convincing 31-9 victory. On Wednesday, the Bucs naturally took to celebrating on the water with a boat parade. 
With players all separated on different boats, news cameras were rolling when Tom Brady made the craziest throw of his career and launched the Vince Lombardi trophy through the air over the water to teammates sitting on another boat approximately 15 feet away.
The toss was completed to none other than Rob Gronkowski and followed by raucous cheers from all the fans watching on boats nearby. After the stunning completion, Brady recoiled, acting as if he was going to cover his face with his hands in embarrassment, realizing what he had just done. 
He's the GOAT. He can do whatever he wants.
Like Sportscasting on Facebook. Follow us on Twitter @sportscasting19.