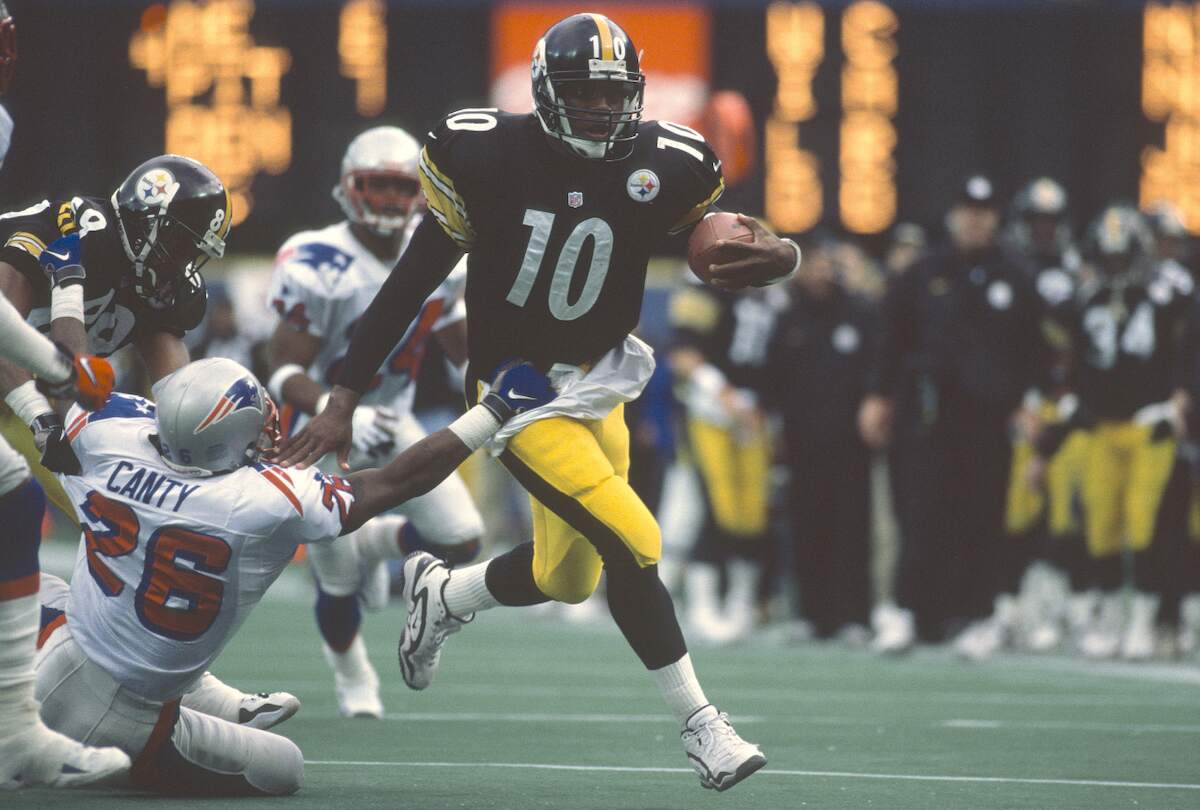 Kordell Stewart Opens Up About Devastating 1998 Rumor and Reveals How It Started
Kordell Stewart was excited to build off his successful 1997 season when a rumor turned 1998 into the darkest time of his life.
The Pittsburgh Steelers had just come off a season in which they made the AFC Championship Game, falling to the Denver Broncos. Kordell Stewart had taken over as the starting quarterback for the Steelers and guided them to an 11-5 mark in 1997.
Stewart was excited to build off that season in 1998. That's when a vicious and devastating rumor damaged the young quarterback.
Kordell Stewart hit with damaging rumor in 1998
Kordell Stewart was no longer Slash. He earned the nickname for his versatility on the football field. He was a quarterback/wide receiver/kick returner. The name Slash stuck until he became Kordell Stewart the quarterback. That happened in 1997, two years after the Pittsburgh Steelers selected him in the second round of the 1995 NFL draft.
Things changed in 1998 when he was watching a movie with his girlfriend and got a phone call. The call was from a family friend, Dr. Frank Sessoms.
"He said, 'Listen, I was about to bust somebody upside the head with this cane after what I just heard. Look, man … are you sitting down?'" Stewart recalled Sessoms saying in a Feb. 4 article in The Player's Tribune. "'Man, somebody told me you got arrested.'" Stewart said he didn't get arrested and said he had never been arrested before in his life. He asked Sessoms what he heard. What was he "arrested" for?
"'Listen, this is crazy. But I'm just telling you what they were saying in the barbershop,'" Stewart remembered Sessoms saying. "'They said you were having lewd acts performed on you. In the park. And you got locked up. And look, man … I'm just telling you, they're saying that you're gay. They're saying a whole lot of stuff.'"
Stewart called the rumor a 'death sentence'
Kordell Stewart was stunned. "I'm telling you this story today as a 48-year-old man who has learned a lot and has grown a lot," Stewart said in The Players' Tribune. "I got nothing but love for everybody, no matter what their sexual orientation is. It's great to see how much the world has evolved in the last 20 years. But when this was all happening? Man, you have to understand, I'm a young Black quarterback in a blue-collar town. Being the target of those kinds of rumors? At that time? In that era? In that NFL? It's sad to say, but at that time, it was a death sentence."
Stewart returned, not knowing how big this would blow up. When he arrived at the stadium the next day, a PR staff member greeted him and said the owner and coach wanted to see him. Stewart thought he might be getting benched. Head coach Bill Cowher asked if Stewart was OK. "I said, 'Come on, coach. For real? Seriously?'" Stewart said. According to the QB, Cowher responded, "I know, I know, I know. This is some malicious bleepity-bleep. I'm sorry, kid."
 Cowher suggested Stewart address the team since they heard the rumor. "I mean, time out," Stewart said. "Imagine this happening in 2021. Imagine a team suggesting to their quarterback that he should get up in front of everybody and defend himself against some wild lie from Twitter. No police record of it happening. No one standing behind it. Nothing." Stewart addressed the team even though he did nothing wrong. He insisted the rumors were all lies.
How did the rumor about Kordell Stewart start?
"How does a rumor travel around a whole city at the speed of light — wayyyy before social media?" Kordell Stewart asked in The Player's Tribune. "A rumor that took [owner] Mr. Rooney one phone call to find out was a lie? A rumor that was designed to ruin somebody's reputation in a blue-collar town? Mr. Rooney had his law firm look into who started this whole thing, and Pittsburgh is a small town. It didn't take them long to track down the original source."
Stewart recalled when Rooney brought him into his office to give an update on the investigation. "That's when he told me that the rumors were (allegedly) spread by a local police officer," Stewart said. Stewart said the name of the officer wasn't revealed.  "Now, I'm not stupid," Stewart said. "You think I'm going to cause a firestorm? You think I'm going after the Pittsburgh Police Department? As the quarterback of the Pittsburgh Steelers? In 1998? Bruh. No. At that point, just leave me alone, man. Just leave me be."
Stewart calls it one of the darkest times of his life. "I'm not going to lie; that was a really dark time for me," he said. "But what killed me wasn't that people were trying to diminish me as a "man" or whatever. It wasn't about the gay rumors. Ultimately, I was able to handle that. I knew who I was. What killed me was that there were people in the city who really wanted to see me suffer."