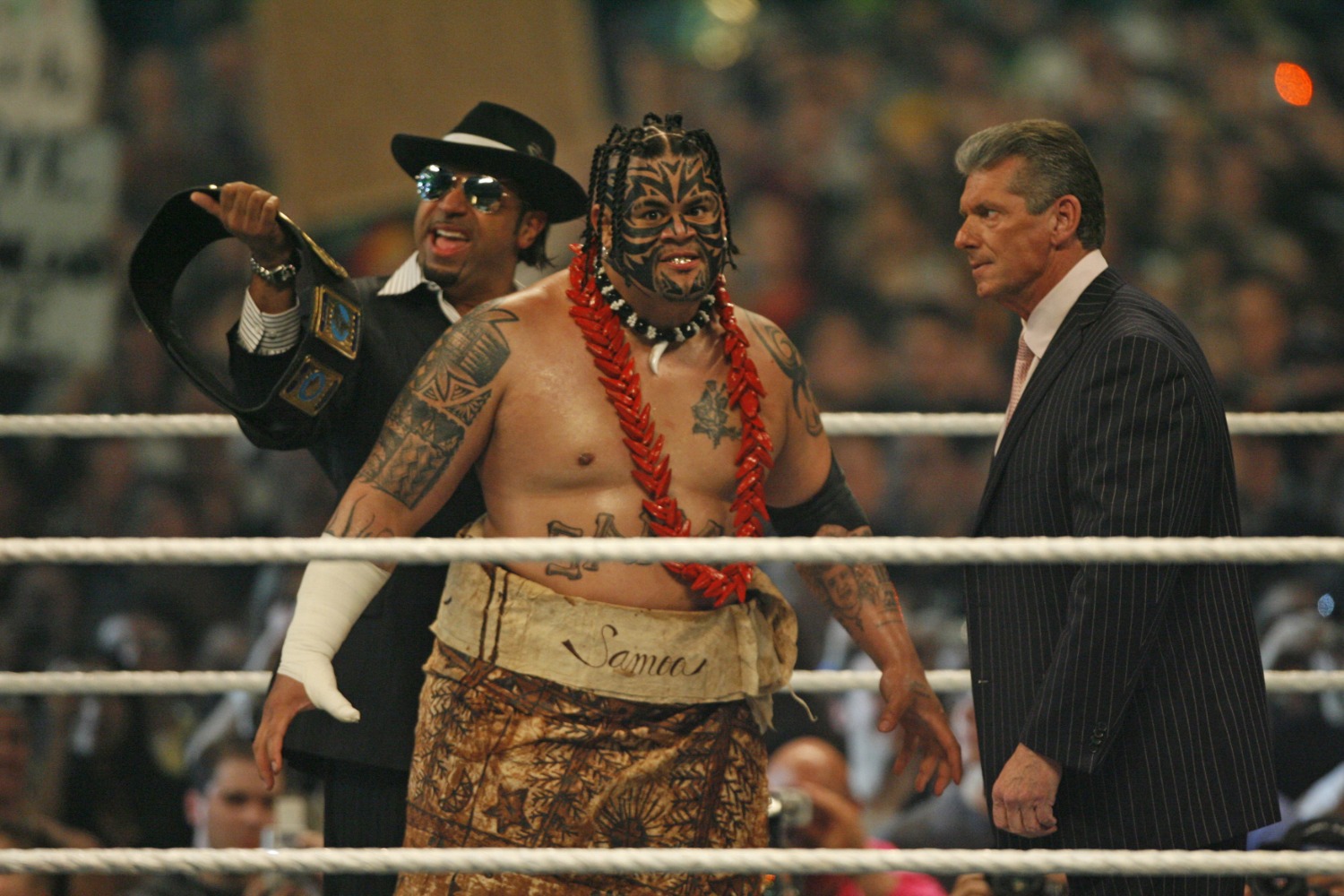 The Rock Suffered a Tragic Loss With the Death of His Cousin Umaga
Edward Fatu, better known in the WWE as Umaga, tragically died at the age of 36 due to a heart attack.
Vince McMahon has seen far too many of his WWE stars die young. From Owen Hart to Chris Benoit to Eddie Guerrero, the wrestling world has suffered tragic deaths over the years. In 2009, Edward Fatu, better known by his wrestling name Umaga, became the latest WWE superstar to pass away.
The father of four should have been in the prime of his life. Instead, he never lived to see his 37th birthday. Here's the story of the tragic death of Umaga.
Umaga became a two-time WWE Intercontinental Champion
Born in American Samoa, Edward Fatu hailed from the Anoa'i family, which happened to be one of the most famous families in the wrestling business. In fact, his two older brothers wrestled. He also happened to be cousins with Dwayne "The Rock" Johnson as well as Roman Reigns.
After making his debut in his uncle's smaller wrestling promotion, he landed a developmental contract with the then-World Wrestling Federation. He didn't exactly live up to expectations and ended up taking his talents elsewhere for a few years.
However, after re-signing with WWE in 2005, Fatu officially debuted as the character Umaga. Tipping the scales at 6-foot-4, 350 pounds, he boasted incredible size and strength. Beginning in 2006, Umaga ripped off a ridiculous winning streak that ended at 34 matches.
He finally got a taste of championship gold when he won the Intercontinental Championship from Jeff Hardy in 2007. Though he lost the title belt, he regained it in July by defeating Santino Marella.
Unfortunately, Umaga's WWE career came to an end in June 2009 when the company released Fatu from his contract. Only nobody knew that six months later his life would end, too.
The WWE superstar tragically died of a heart attack
One of the overlooked aspects of working as a professional wrestler has to be the physical toll it takes on the body. The pounding of hitting the mat can lead to injuries, bumps, and bruises. At the same time, wrestlers have been known to have some unhealthy habits, including drug usage. That played a role in Umaga's tragic death.
On December 4, 2009, his wife found him at home unresponsive with blood dripping from his nose. Despite getting rushed to the hospital after suffering a heart attack, doctors couldn't save Fatu. Months later, The Columbian shed more details on the role drugs played in his early passing. According to the autopsy report, Fatu's death was primarily caused by the combined effects of painkillers and a muscle relaxant.
A World Wrestling Entertainment spokesman told the Chronicle on Tuesday that Fatu was released from his contract in June for refusing to enter a rehabilitation program related to drugs.

Umaga's tragic death at the age of 36 should have been an outlier. Unfortunately, he suffered a similar fate that many other WWE stars met far too soon.
Umaga's passing shed light on wrestling's early death problem
Umaga's tragic death represented yet another statistic for the wrestling world. In fact, a CNN report revealed the industry's issue of wrestlers dying well before they turned 50. In fact, less than nine months before Umaga died, Canadian pro wrestler Andrew Martin, better known as Test, died of a drug overdose.
Kevin Eck, an assistant sports editor of the Baltimore Sun and operator of a professional-wrestling blog, said, "It's happening a lot more frequently in the sport than it ever did, and it's a huge problem. If this was Major League Baseball and you had guys dropping dead under 40, it would be a much bigger deal — but because it's wrestling, it flies under the radar."
Both Guerrero and Benoit died in tragic fashion well before their wrestling careers were over. The WWE stars had suffered from many physical ailments of their own. Guerrero battled substance-abuse issues, including an addiction to painkillers.
Benoit died by suicide after murdering his wife and son. Researchers discovered that his brain showed such severe damage that it resembled that of an 85-year-old Alzheimer's patient.
Ultimately, Umaga couldn't overcome some of his own issues. But he certainly left an indelible mark on the world before he died.
"He had his demons, but he found a lot of strength in his family," said family friend and former WWE personality Dawn Marie Psaltis. "He comes from a long line of professional wrestlers and did his family proud."