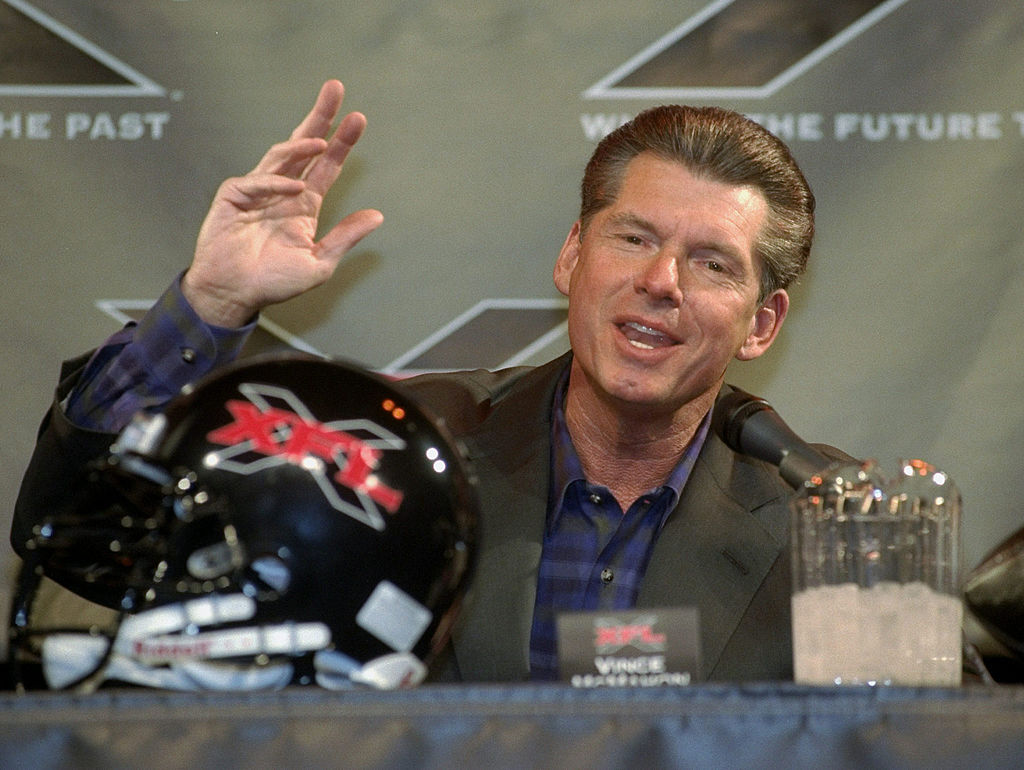 Vince McMahon's $1.6 Billion Net Worth Could Tumble From XFL Lawsuit
Vince McMahon could lose millions after former XFL CEO Oliver Luck filed a wrongful termination lawsuit against the famous WWE chairman.
Before the sports world stopped in its tracks, the XFL looked like a viable alternative to the NFL. Of course, the league wouldn't have been possible without the financial backing of Vince McMahon. The incredibly wealthy, brash WWE CEO smartly hired Oliver Luck, Andrew Luck's father, to run the second iteration of the XFL. And before the coronavirus pandemic stopped the sports world dead in its tracks, the league looked like a major success with exciting players making a difference on and off the field.
Yet, as quickly as it became an overnight success, the XFL disappeared. Naturally, that led to many hard-working employees losing their jobs. However, Oliver Luck has a serious legal issue with Vince McMahon. And if the courts rule in Luck's favor, it could cost the infamous WWE chairman millions.
Vince McMahon hired Oliver Luck to be XFL commissioner
The original version of the XFL generated plenty of buzz, but from a football perspective, it fell flat. Though it produced memorable characters like Rod "He Hate Me" Smart, it relied too much on gimmicks to be taken seriously. So when Vince McMahon pursued former NFL quarterback and NCAA executive Oliver Luck, it represented a clear shift to a more legitimate version of the XFL.
According to Michael Smith of Sports Business Journal, Luck himself had reservations about leaving his NCAA job for a fledgling football league. Ultimately, McMahon convinced Andrew Luck's father to take the leap of faith.
"I love college sports, but this is a special opportunity," said Luck, who was widely considered the NCAA's No. 2 to President Mark Emmert and potentially the heir apparent for the top job. "I have a real passion for football, and the opportunity to collaborate with Vince is awesome. He's a tremendous entrepreneur with a track record of success."

Of course, getting a guaranteed $20 million over multiple years didn't hurt, either. With Oliver Luck heading up the latest version of the XFL, the league seemed to be in good hands.
XFL provided exciting NFL alternative before it folded
While it took two years for the XFL to get its infrastructure in place, it quickly proved to be an overnight success. The league implemented a number of new rules, including a unique kickoff concept that didn't involve a wild mess of bodies flying around the field. Unique sideline interviews in the middle of game action also added a colorful and entertaining element to the newest edition of the XFL.
The on-field product also dramatically improved from Vince McMahon's first XFL attempt. While it wasn't perfect, a number of talented players quickly emerged as stars. Houston Roughnecks quarterback P.J. Walker became the face of the XFL after throwing for 1,338 yards in just five games. He played so well that new Carolina Panthers coach Matt Rhule—who coached Walker at Temple—signed the signal-caller to an NFL contract. Walker's favorite target, Cam Phillips, posted 455 receiving yards and nine touchdowns and could earn another shot at the NFL.
Andrew Luck's father filed wrongful termination lawsuit against McMahon
For all the positives that the XFL brought, the league sadly folded within its first season of operation. However, in typical Vince McMahon fashion, drama followed. According to ESPN's Kevin Seifert, Oliver Luck filed a wrongful termination lawsuit against his former boss. Luck got fired one day before McMahon laid off nearly all of the XFL's staff. Just a few days later, the XFL filed for Chapter 11 bankruptcy. Seifert's report provided some key context to Luck's potentially lucrative lawsuit:
Much of the lawsuit is redacted, citing confidentiality clauses in Luck's contract. He was hired in May 2018 for a deal reportedly worth approximately $20 million over its lifespan. Luck was not listed among creditors in the XFL's bankruptcy filings, but the lawsuit alleges breach of contract. The lawsuit seeks unspecified damages, attorney's fees and interest and a declaratory judgment on fulfilling the terms of the contract.
While the financial details weren't clear, considering Oliver Luck signed a $20 million deal, one has to assume there could be millions of dollars on the line. At the end of the day, that's chump change to Vince McMahon. The WWE CEO has an estimated net worth of $1.6 billion. When you have that kind of capital to fall back on, maybe watching the XFL go under for the second time doesn't sting so bad.