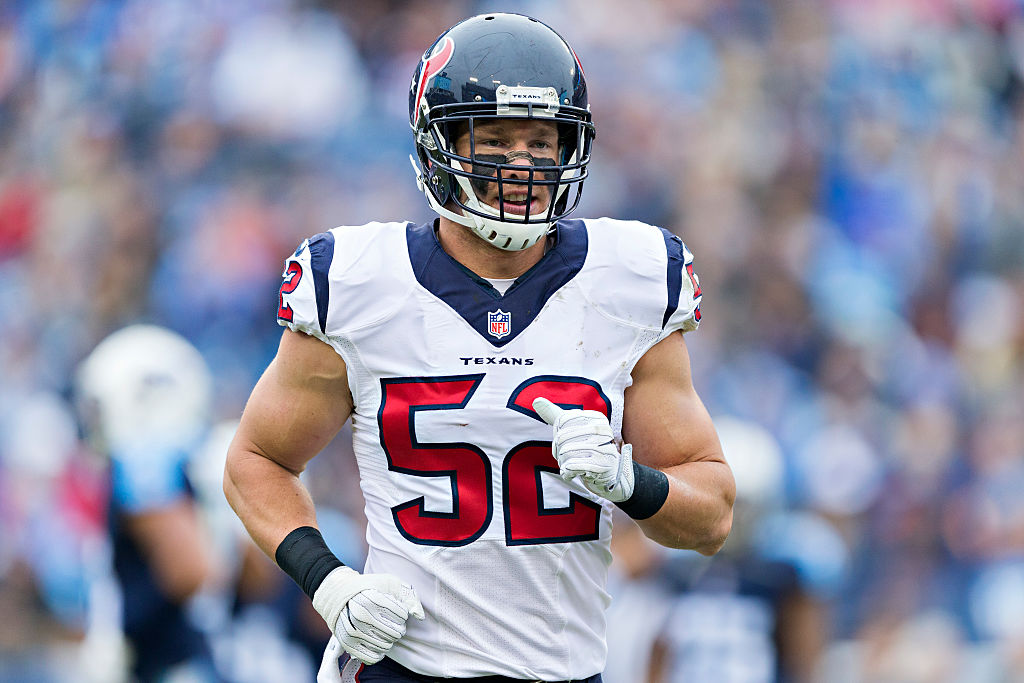 XFL Player Follows in Chris Long's Footsteps With Unbelievable Donation
Former NFL linebacker Brian Peters only recently joined the XFL, but that didn't stop him from donating half of his salary to help an incredible cause.
One XFL player is following in the footsteps of former NFL star Chris Long. And it has nothing to do with rushing the passer or tackling a running back. Brian Peters just signed with the XFL's Houston Roughnecks earlier this month. However, with the XFL season canceled due to the coronavirus pandemic, the former Houston Texans linebacker recently pledged to donate half of his XFL salary to charity. And while he may not know it, he's following the path that Long set several years ago.
Chris Long donated his entire 2017 NFL salary
Chris Long spent 11 years in the NFL harassing quarterbacks. The former No. 3 overall pick from the 2008 NFL draft accumulated 70 sacks and won two Super Bowl rings at the end of his career. However, for all of Long's impressive NFL accomplishments, his work off the field has had a far greater impact.
After winning his first title with the New England Patriots in 2016, Long signed a two-year contract with the Philadelphia Eagles. The contract included a $500,000 signing bonus, a $1 million base salary and an additional $1.5 million roster bonus. Amazingly, Long decided to donate his entire 2017 base salary to several charitable causes.
According to CNBC, Long donated his first six paychecks to fund scholarships in his hometown of Charlottesville, Virginia. The famous football family member then donated his remaining 10 game checks to various organizations that promote educational equality in the three cities he played for (Boston, St. Louis and Philadelphia). He accomplished all of this through the Chris Long Foundation, which famously includes the Waterboys initiative that works to provide sustainable clean water wells in East Africa.
XFL linebacker Brian Peters spent four years with the Houston Texans
Unlike Long, Brian Peters didn't enter the NFL as a well-known commodity. A 34-game starter at Northwestern University, Peters didn't generate a ton of buzz despite a productive college career. Ultimately, he did not get drafted and signed with the Iowa Barnstormers of the Arena Football League. After spending a few years with the Saskatchewan Roughriders of the Canadian Football League, Peters finally got his big break in 2015 when he signed with the Minnesota Vikings.
The Houston Texans came calling and signed Peters to their active roster early in the 2015 season. The speedy linebacker immediately stood out on special teams and recorded 17 tackles in his debut NFL season. The 6-foot-4, 240-pounder became an integral member of the organization and was named a team captain in 2018. Unfortunately, Peters landed on injured reserve at the end of the 2018 season and did not play in the NFL in 2019.
Peters pledged half of his XFL salary to help coronavirus efforts
Sadly, just two days after Peters signed his XFL contract with the Roughnecks, the league canceled the remainder of the season. Luckily, the XFL did confirm that it would pay its players the remainder of their base salaries. Of course, the XFL base salary comes in much lower than NFL contracts.
Despite his XFL season ending before it really began, Peters announced he'll be donating half of his XFL paycheck each week to support coronavirus relief efforts. That incredible generosity certainly sparks memories of Long's season-long donation. And while Peters doesn't have the financial resources of his more accomplished NFL peer, it still shows gives a glimpse of the leadership qualities that helped him earn a captaincy role in Houston.
Ultimately, no matter the dollar amount, any professional athlete who's willing to sacrifice for the greater good deserves praise. Chris Long set the standard and Brian Peters followed suit. Job well done, gentlemen.