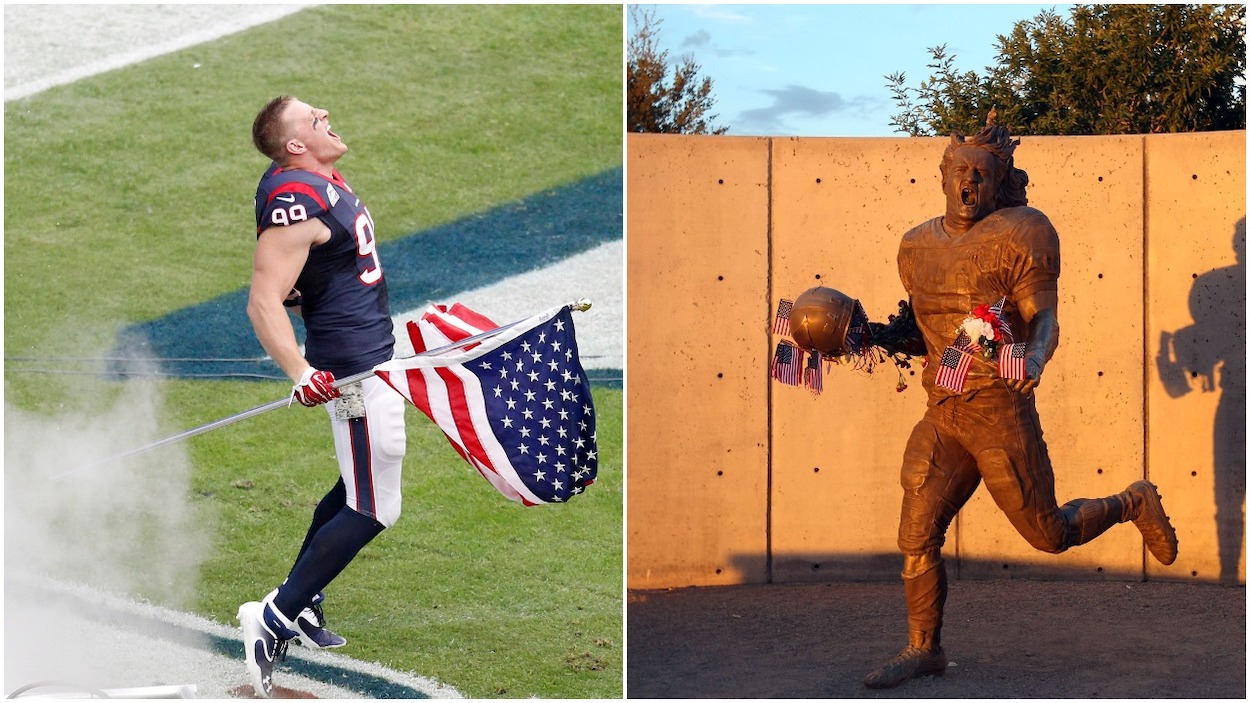 J.J. Watt Unveils Plan to Honor Arizona Cardinals Legend and American Hero Pat Tillman
New Arizona Cardinals defensive end J.J. Watt released a signature shoe in conjunction with Reebok and Pat Tillman's widow, Marie Tillman, honoring former Cardinal safety and Army Ranger who was killed in Afghanistan in 2004. Proceeds from the shoe will be donated to the Pat Tillman Foundation.
J.J. Watt was a fan favorite in his time with the Houston Texans. Fans loved his high motor, his passion for winning, and his dedication to the city of Houston.
As a new member of the Arizona Cardinals, Watt wasted no time endearing himself to his new fan base. In one of his first moves with his new team, the defensive end announced his plans to honor team legend and American hero Pat Tillman with a new signature shoe.
Pat Tillman died serving his country in 2004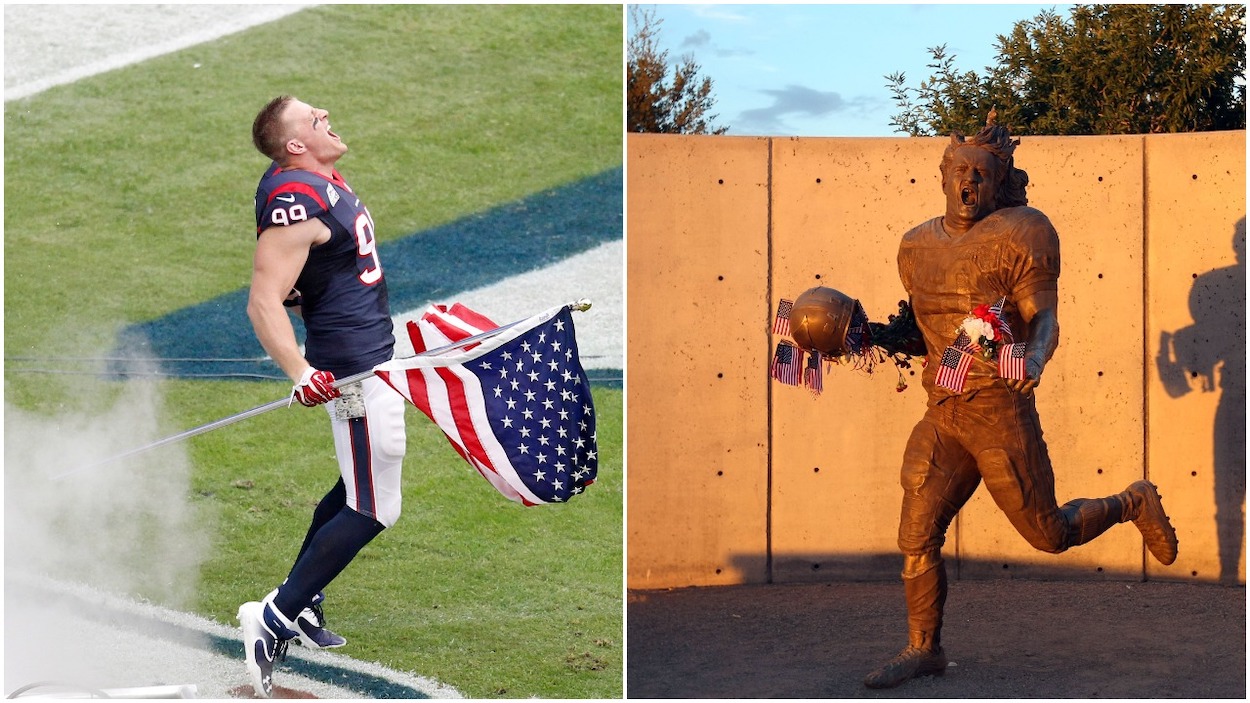 One of the most inspirational stories in NFL and maybe American history is the Pat Tillman story.
The Arizona Cardinals drafted the defensive back out of Arizona State with the No. 226 pick in the 1998 NFL draft. In his four years with the Cardinals, Tillman started 39 out of 60 games, picked up three interceptions, and made 374 tackles.
Tillman was on his way to becoming a long-term starter in the NFL when everything changed on September 11, 2001.
After completing the 2001 season, Tillman felt called to serve his country. He walked away from the NFL and a $3.6 million contract offer. The events of 9/11 had affected the player so profoundly that he, and his brother Kevin, joined the U.S. Army Rangers.
Tillman, then 27, was shot and killed while deployed in Afghanistan in 2004. According to Reuters, the Army initially classified the incident as an enemy ambush, but an investigation later found it was actually a "friendly fire" situation.
J.J. Watt's JJ IV Valor Shoes will honor Pat Tillman
Watt has long been a vocal supporter of the U.S. military and, in May 2021, the new Cardinal announced on Twitter that he teamed up with Reebok and Pat Tillman's widow, Marie Tillman, to design a new signature shoe.
The JJ IV Valor shoes dropped May 27 at midnight and, according to ESPN, all of Watt's personal proceeds will go to the Pat Tillman Foundation. Reebok will also donate $10 per pair sold up to $10,000 to the former Cardinals safety's memorial foundation.
Since joining the Cardinals, Watt has talked about what a fan he is of Tillman. In his introductory press conference, he told reporters:
What [Tillman] stood for, who he was, and everything about his legacy is unbelievable to me. So, to be here, to be walking the same halls that he walked and to see his locker today was special for me.
The training sneakers are grey and red, a nod to the Cardinals uniform, and have Pat Tillman's initials and jersey number, PT40, on the shoe. A special tag also comes with the footwear that says "TILLMAN" on one side and "LEADERSHIP THROUGH ACTION" on the other.
Watt will try to get the Cardinals to the playoffs in 2021
On the field, Watt will have a big job in 2021. The future Hall of Famer is coming off a disappointing and frustrating 4-12 season with the Texans. He played in all 16 games in 2020 but only recorded five sacks, his lowest total in any season not cut short by injury.
He joins his former teammate DeAndre Hopkins on the up-and-coming Cardinals, who finished the season 8-8. The team just missing out on the final NFC Wildcard spot to the Chicago Bears. Arizona finished near the top of the NFL in team offense but in the middle of the pack in team defense.
Watt will bring experience and leadership to a team with a young quarterback in Kyler Murray and a young head coach in Kliff Kingsbury. If the former Wisconsin Badger can stay healthy, he will add to an already impressive pass-rushing group that was fourth in the NFL in sacks with 48 in 2020.
No matter how Watt performs on the field in 2021, though, his move to honor Pat Tillman will surely endear him to Arizona supporters and make him a fan favorite.
All stats courtesy of Pro Football Reference