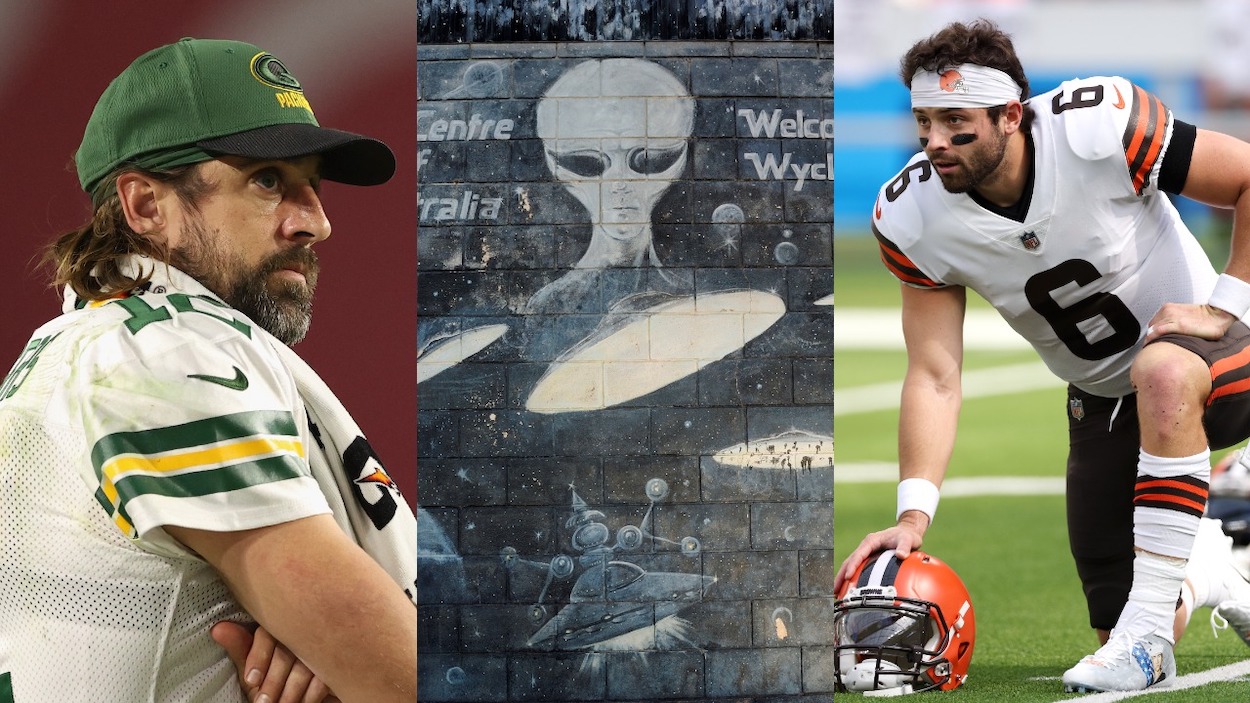 Aaron Rodgers is Just 1 of the NFL Players Who've Shockingly Claimed to Have Seen a UFO. Seriously.
Star quarterbacks Aaron Rodgers and Baker Mayfield are just two of the NFL players that claim to have had a close encounter with a UFO.
What better day than a Halloween NFL Sunday to discuss the surprising number of NFL players who claim to have encountered UFOs? Players like Green Bay Packers quarterback Aaron Rodgers, Cleveland Browns QB Baker Mayfield, and Indianapolis Colts running back Jonathan Taylor all claim to have had close encounters of the third kind in their lives. These are their stories.
Aaron Rodgers knew he saw a UFO because he heard fighter jets chasing it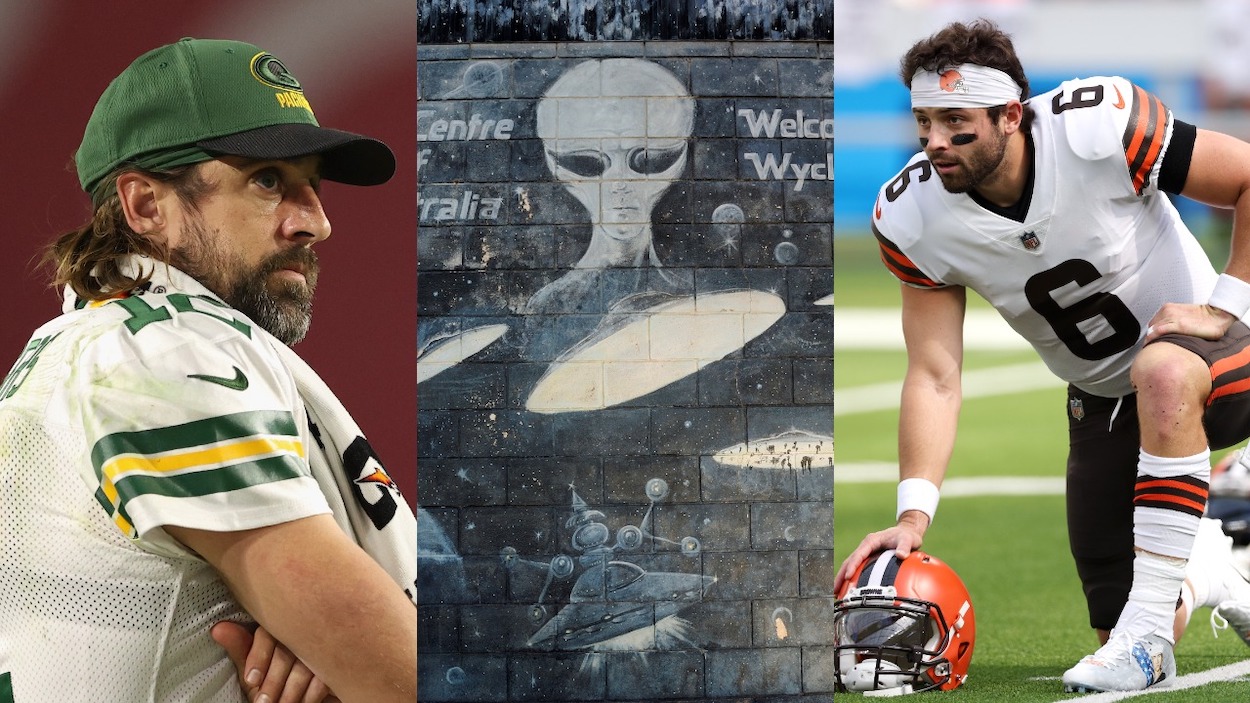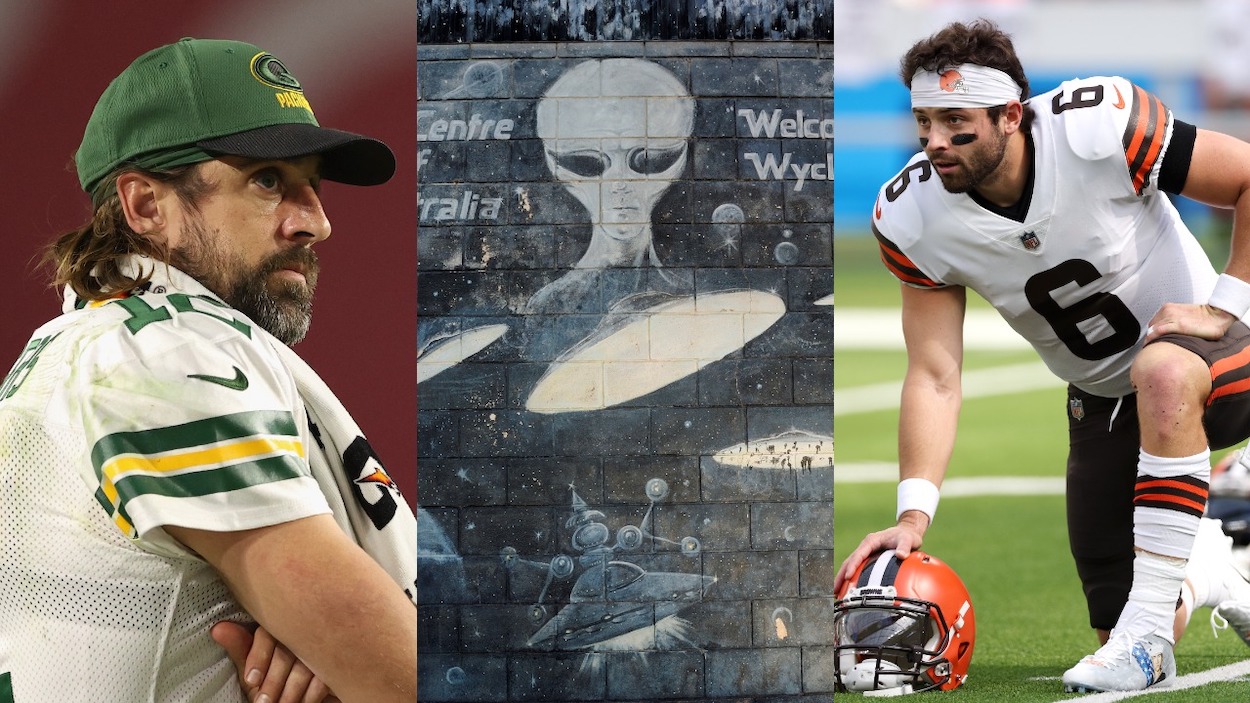 Aaron Rodgers isn't just the reigning MVP of the NFL. He is the MVP of UFO sighting as well. The fee-spirited quarterback has discussed his close encounter on several occasions in interviews with different outlets.
The first time he delved into his extraterrestrial experience was on a March 2016 episode of the You Made It Weird with Pete Holmes podcast.
Rodgers told Holmes that the out-of-this-world event happened on a beach in New Jersey in 2005. The former Cal-Berkley QB described the object he and a former college teammate saw in the sky that night as "a large orange, left-to-right-moving object."
There was significant cloud cover that night, so the signal-caller and his friend couldn't be sure exactly what they saw. However, the QB says the sound of fighter jets they heard just seconds later confirmed their suspicions:  
If you know anything about UFO sightings or if you've done research, you know that a lot of times, two things are connected to UFO sightings: One is the presence of fighter jets to chase them down. Two is there's a lot of sightings around nuclear power plants. The alarm we heard was from 30 miles out. There was a nuclear power plant that had an alarm that went off.

Aaron Rodgers in his UFO sighting
While Rodgers seemingly doesn't like to delve into the details of the event anymore — he passed on telling the full story again on a recent episode of the Pat McAfee Show — he does still believe he saw a UFO that fateful night in the Garden State.
Baker Mayfield saw a UFO on his way home from dinner with his wife
Aaron Rodgers isn't the only star quarterback who's claimed to have seen a UFO. Baker Mayfield also added his name to that list.
On Mar. 3, 2021, Mayfield tweeted that, on their way home from dinner, he and his wife were "Almost 100%" sure they saw a UFO in the Texas sky. Like Rodgers, he would also go on to describe the encounter in interviews. He told Kevin Clark of The Ringer's Slow News Day video series:
Driving home from dinner with my wife, nighttime, the music going, it's dark outside and just a perfect white/gold circle — like ball — dropping straight down and going very quickly. And I've seen comets, I've seen shooting stars, and it wasn't that. It's way bigger. There was nothing trailing it. It was just the circle itself coming down. … I truly believe it was a UFO.

Baker Mayfield on his UFO sighting
Whether Mayfield saw an unidentified flying object or not, he took some flak for his assertion in the media and on Twitter. Possibly the funniest take on the situation was sports talk show host Colin Cowherd.
The outspoken FS1 personality said of Mayfield — an NFL player he often crushes — and his UFO experience, "Joe Montana, Troy Aikman, Terry Bradshaw, and Tom Brady have never seen aliens. I would prefer my guys don't talk about it."
Jonathan Taylor saw what 'had to be' a UFO near Area 51
Quarterbacks haven't completely cornered the market on UFO encounters. Running back Jonathan Taylor recently told his own tale of flashes of light flying through the sky.
During an appearance on the Pat McAfee Show, Taylor told the former punter that, in his off time, one of his favorite things to do is "watch space documentaries or YouTube videos." The mention of outer space set off a lightbulb for the host, who was just a few days removed from his Aaron Rodgers/UFO conversation.
McAfee asked Taylor, "OK. So, have you seen an alien or no? UFO? Have you seen a UFO?"
"I have," Taylor responded.
This set the host off, and he asked Taylor to explain the encounter, to which Taylor recalled:
I actually, the first time — I don't know if it was actually or not. I'm not sure. Maybe it was just because I watched something a little bit beforehand, and, you know, when your mind starts playing tricks on you just a little bit. But, for the most part, it had to be. This was, and it's crazy because it was actually out in Arizona, which kind of makes sense. … I don't tell too many people that because, like I said, at the same time I'm not even sure but, man, some things you just haven't seen before and you're like, 'man, that's something.'

Jonathan Taylor on his UFO sighting
Rodgers played on Thursday Night Football this week, so he won't be out there on Halloween. However, it looks like Mayfield will play even with his injured shoulder against eth Pittsburgh Steelers, and we'll definitely see a lot of Taylor against the Tennessee Titans.
It may be worth watching these two to see if they get any extra help from their extraterrestrial buddies this Halloween.
Like Sportscasting on Facebook. Follow us on Twitter @sportscasting19