Colin Cowherd Compares the Cleveland Browns to Coachella, and It's Not a Compliment
Sports radio host Colin Cowherd is a master of metaphor. Comparing an NBA backcourt to a marketing department or an offensive line to a Chevy Suburban is the type of thing that makes Cowherd so entertaining to listen to. Cleveland Browns fans may not enjoy his most recent comparison, though. He recently likened the 2021 squad to the Coachella music festival.
While some music lovers might think comparing the Browns to the star-studded festival would be a compliment. For Cowherd, it definitely was not. The host has a long list of gripes with both the event and the NFC North favorites and he shared them all.
The NFL named the 2021 Cleveland Browns the most complete team in the NFL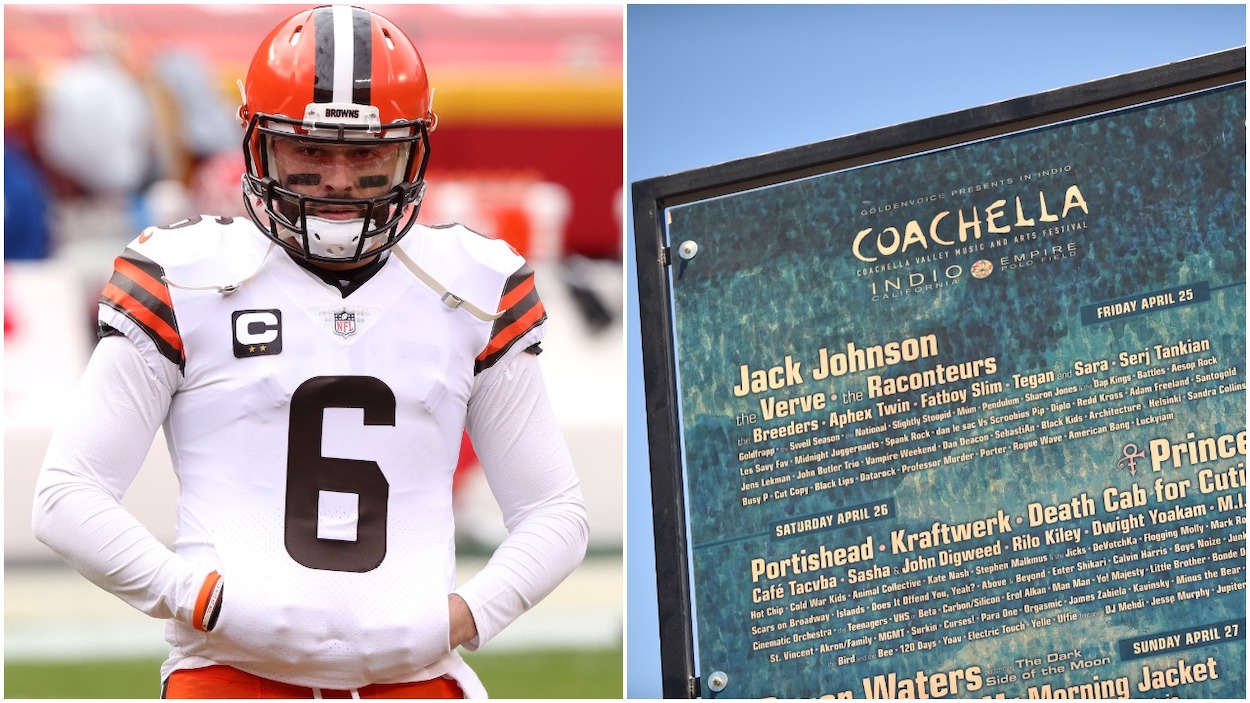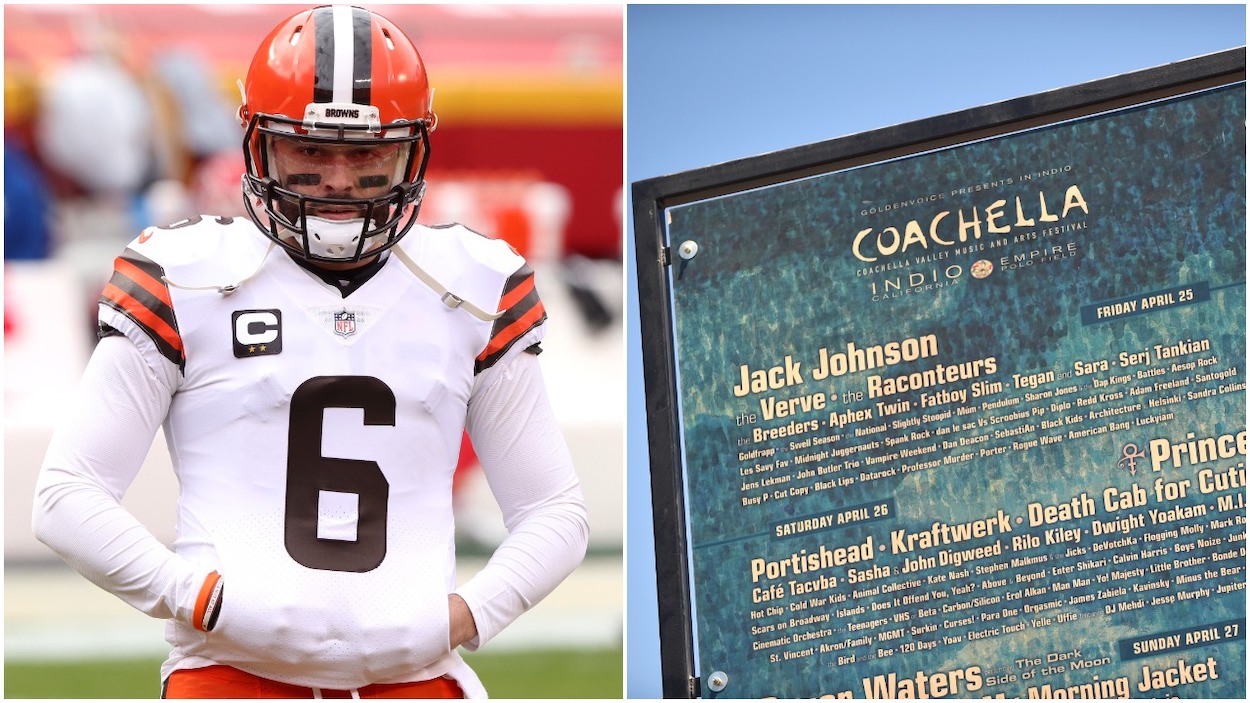 The NFL Network's Marc Ross released a ranked list of the most complete NFL teams heading into 2021. The Tampa Bay Buccaneers, Kansas City Chiefs, Los Angeles Chargers, and Buffalo Bills appeared on the five-team list.
In the very top spot, though, was the Cleveland Browns. Ross writes that the Browns "aren't just good — they're loaded with Pro Bowl talent from top to bottom."
On offense, the author sites QB Baker Mayfield's season three development leap in 2020, the best running back tandem in the NFL in Nick Chubb and Kareem Hunt and a talented pass-catching group led by superstar Odell Beckham Jr.
The other side of the ball features two No. 1 overall draft picks on the defensive line in Myles Garrett and Jadeveon Clowney. The article also cites Cleveland's talent at linebacker with Jeremiah Owusu-Koramoah and in the secondary with safety John Johnson and corners Troy Hill and Greg Williams.
Colin Cowherd disagrees and compared the Browns to Coachella
The Browns' spot on this list left Cowherd unimpressed. He started by stating that "Cleveland does not do well with expectations." After that, the radio host launched into his comparison. He said that, while "Cleveland's got a lot of big names: OBJ, Baker, Kareem Hunt, Jadeveon Clowney," they've all had injury or performance issues in the past.
That's when he broke out a patented Cowherd comparison:
You know what Cleveland's a little bit like? … [Los Angeles has] a music festival in the desert called Coachella. Coachella sounds great. A lot of big names, you take your cool, attractive friends, you take 'em out to the desert, your gonna 'paaaarty in the desert, owww!'… And then like three days in, it's like, wow, its 108 [degrees], there's 150 thousand people, you can't get close, the bathroom situation is regrettable, I'm sorry, but I don't want to live in a tent, and the cool people aren't nearly as cool as you thought when they're six rum drinks in.
The way Cowherd connected the Browns to that rant is by saying, "the Cleveland Browns have a little bit of a feel like there's a lot of cool stuff there. A lot of cool people. But, if Myles Garret got hurt, who on the defense do you rely on?"
He even threw a metaphor inside of a metaphor by saying Clowney is a "movie poster that's better than the move."
The Washington native summed up by saying Cleveland and Coachella both, "Sounds big. Sounds like the time of your life. After a couple of years and a few rum drinks and five days in a tent, you're like, 'It's time to go home now and take a shower.'"
Cowherd has a reputation as a Cleveland hater
It may not come as a surprise, especially to Browns fans, that Cowherd called out the Ohio squad for not being as complete as some experts think. The host of The Herd even started his Coachella rant by saying, "I'm seen as anti-Cleveland Browns."
This rep comes from his history of criticizing the city's teams and the municipality itself. On his show, Cowherd refers to Cleveland as a city with "low sports self-esteem." He also doesn't believe Mayfield has earned a spot in the top tier of NFL QBs yet.
The radio host and the 2018 draft pick even got into a Twitter beef, according to Complex, after Cowherd criticized Mayfield's beer-drinking antics at a Cleveland Indians game. He also once suggested the NBA drop the Cleveland Cavaliers franchise entirely because nobody wants to play in the city.
This type of funny yet consistent criticism of the Forest City means you have to take what Cowherd says with a grain of salt. That said, it is now up to Mayfield and the Browns to prove the NFL Network right and the radio host wrong in 2021. If not, the "Coachella of the NFL" moniker could stick around in Cleveland.
Like Sportscasting on Facebook. Follow us on Twitter @sportscasting19
RELATED: There Are 4 NFL Futures Bets You Can Make for Teams to Go 0-17 in 2021