Bettors Are Putting More Money on Baker Mayfield to Win NFL MVP Than Josh Allen, Patrick Mahomes, or Tom Brady
Futures bets aren't necessarily about picking the team or player you think will win a trophy or an award. Instead, it is about getting the most value for your bet. This is why Cleveland Browns' quarterback Baker Mayfield MVP bets are coming in more heavily than for any other player in the NFL.
Bettors like Mayfield's longer odds but, at 20/1, his odds still fall within the range of possible winners. However, Mayfield is part of an unusually large group of NFL players who could conceivably with the 2021 MVP award.
There are 12 QBs with relatively short odds to win 2021 NFL MVP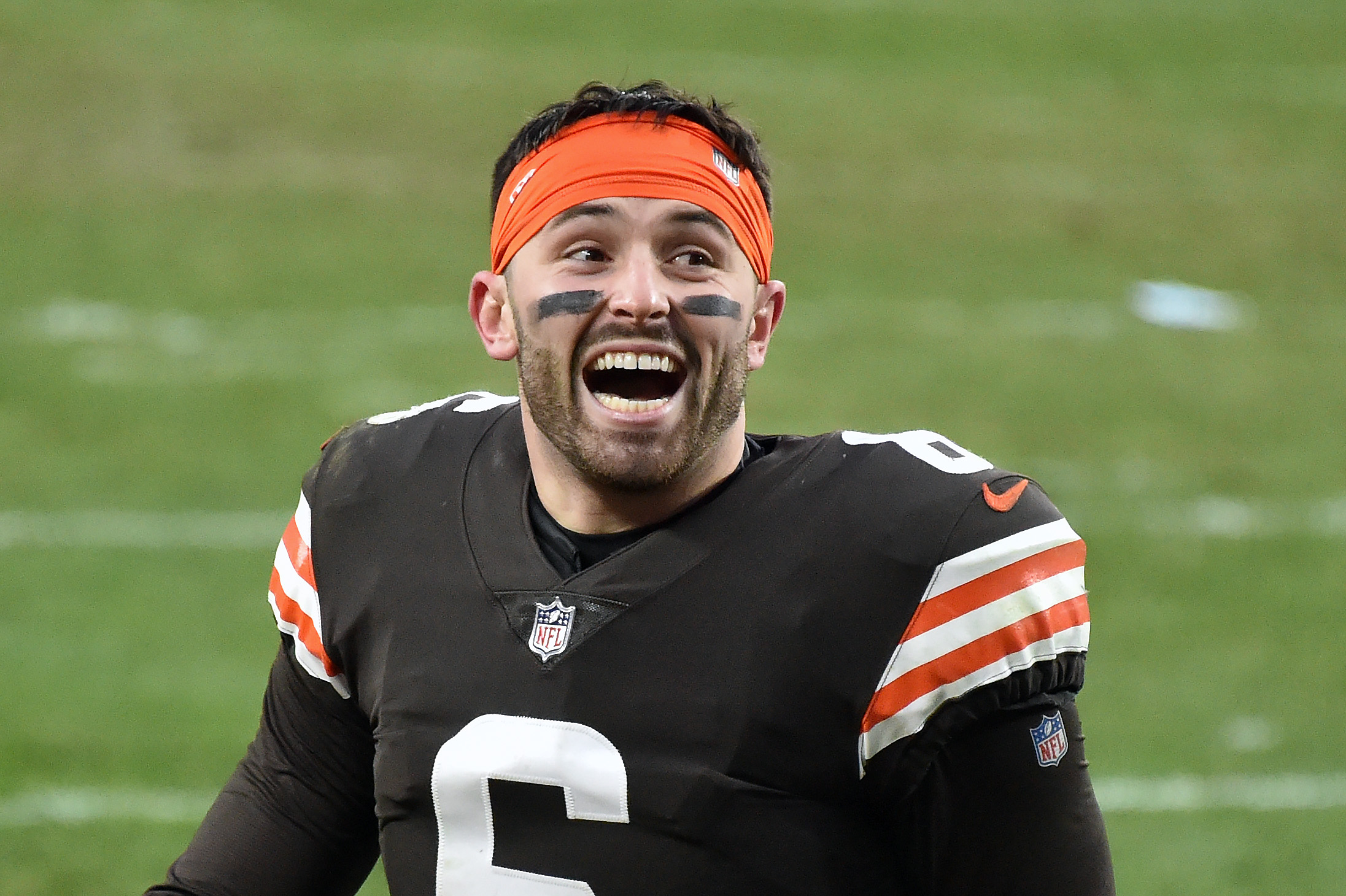 According to William Hill Sportsbook, there were seven players in 2020, all quarterbacks, whose odds of winning the NFL MVP Award prior to the season were 20/1 or less. These QBs were Patrick Mahomes (9/2), Lamar Jackson (7/1), Russell Wilson (10/1), Dak Prescott (15/1), Tom Brady (18/1), Kyler Murray (20/1), and Deshaun Watson (20/1).
This year, the MVP race is even more wide open in the eyes of Las Vegas.
There are currently a dozen QBs that have odds of 20/1 or better to win the MVP. These players are Mahomes (9/2), Rodgers (7/1), Josh Allen, Brady, Wilson (10/1), Jackson, Murray (15/1), Mayfield, Prescott, Watson, Matthew Stafford, and Justin Herbert (20/1).
Additionally, when you consider that the top two finishers in the 2020 MVP voting (Rodgers and Allen) came from outside the 20/1 odds in 2020, the field is incredibly wide open for the coming season.
The most futures bets in 2021 are Baker Mayfield MVP bets
Mayfield may be near the tail end of that top 12 in 2021, but bettors love the value the former Texas Tech and Oklahoma QB presents.
Mayfield opened as a 40/1 longshot to win the award for the best regular-season player, but he was quickly bet down to the 20/1 odds he's at now. Even with the lower potential payout, 12% of all MVP futures bets are coming in on the Browns QB.
Allen, Brady, Mahomes, Stafford, and Herbert all place in a distant second to Mayfield with 7% of the money each.
Even though gamblers aren't betting as big on the Bills or Rams quarterbacks as they are on Mayfield, more bettors have bet on Allen and Stafford for 2021 MVP than anyone else. These two have the most bets on them to win the award with 9% each. Herbert is slightly behind with 8%, and Prescott and Mayfield are next with 7% and 6%, respectively.
Mayfield had a breakout season in 2020
The longer but still realistic odds, coupled with Mayfield's 2020 performance, are the reasons why bettors are so high on the Cleveland signal-caller to take home the MVP.
The quarterback, drafted in 2018 along with Allen and Jackson, is coming off a fantastic year and his first trip to the postseason. Moreover, while his total yards (3,563) and yards per completion (11.7) were the lowest of his career in 2020, so was his number of interceptions (8).
Taking care of the ball and making smart, high-percentage passes led Mayfield to become a winning QB in 2020, not just a talented one.
In 2021, the Browns offense is returning Nick Chubb and Kareem Hunts, who, together, made up the most dynamic RB duo in football in 2020. Mayfield also should get his former All-Pro WR, Odell Beckham Jr., back healthy this season which could help his numbers in a big way.
According to CBS Sports, Cleveland has the most difficult schedule in the NFL heading into the new season too. If Mayfield can slay the dragons the Browns face this year, it will go a long way toward putting him in the MVP discussion.
Even if you see someone else (Josh Allen!) winning the NFL's highest individual honor in 2021, at 20/1 with an incredibly strong supporting cast, it isn't a bad idea to drop a few bucks on the Baker Mayfield MVP odds just in case.
All stats courtesy of Pro Football Reference
RELATED: Buffalo Bills' Cole Beasley Is Becoming the Face of the NFL Anti Vaxxer as He Attacks the League: 'It's a Joke'