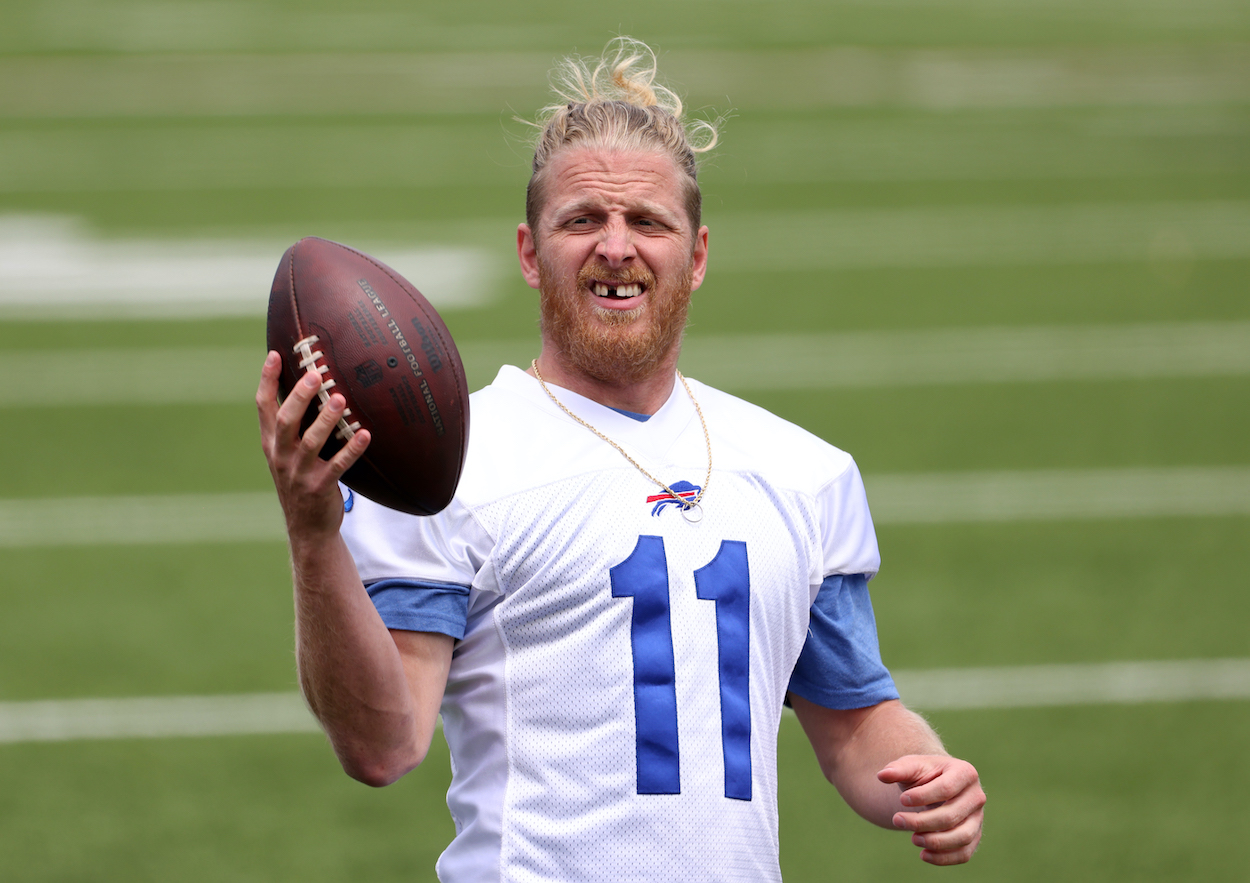 Buffalo Bills' Cole Beasley Is Becoming the Face of the NFL Anti Vaxxer as He Attacks the League: 'It's a Joke'
Buffalo Bills wide receiver Cole Beasley blasted the NFL and NFLPA for new COVID-19 protocols that keep tough restrictions in place for unvaccinated players and get rid of them for vaccinated players. This is not the first time the player has spoken out against vaccines or the NFL's handling of them.
More than a few NFL players are cautious, hesitant, or downright reluctant to take one of the approved COVID-19 vaccines. One of the players most outspoken about not being vaccinated is Buffalo Bills wide receiver Cole Beasley.
When the NFL and NFLPA released new guidelines for 2021 NFL training camps that relax COVID-19 restrictions on vaccinated players but not unvaccinated ones, Beasley blasted the league and the union.
Cole Beasley is one of several players to express hesitancy about the COVID-19 vaccines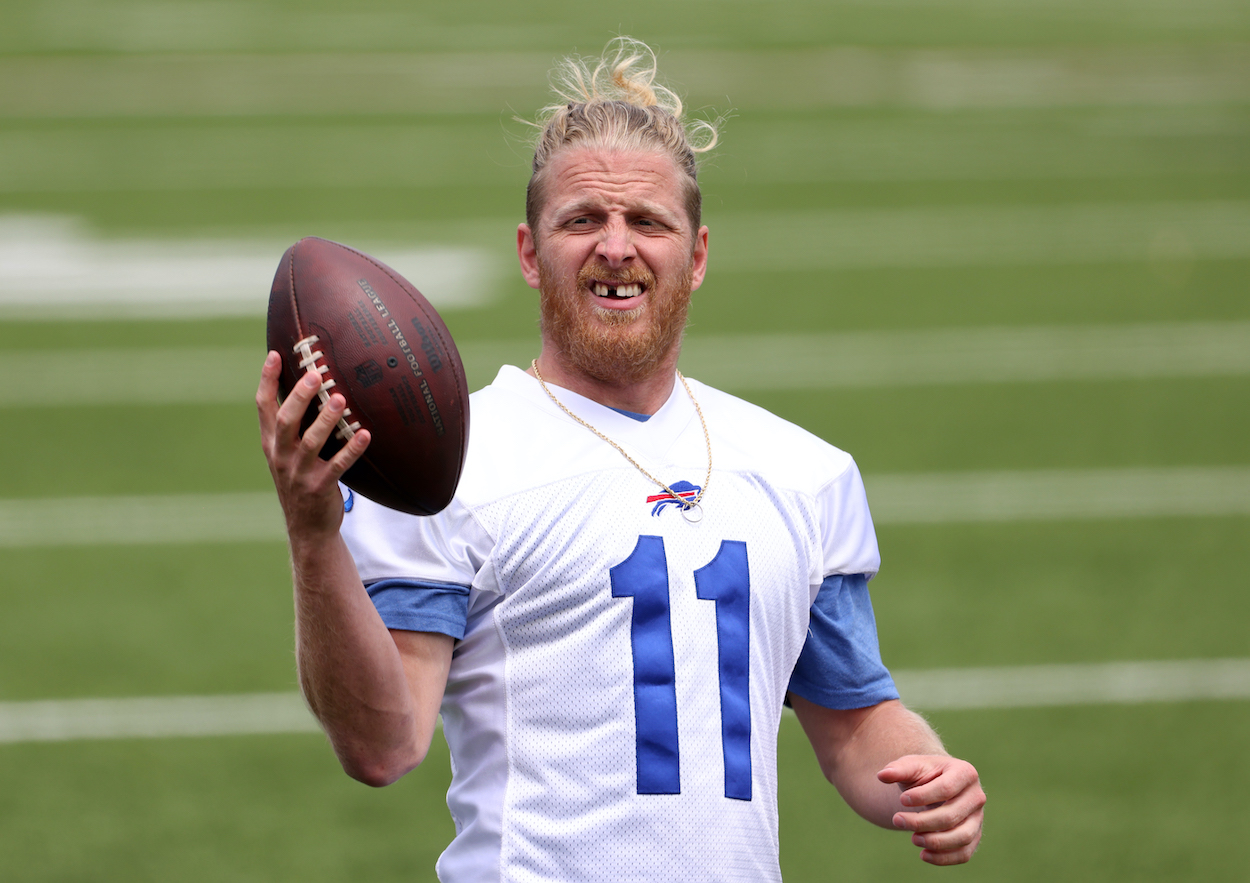 NFL players are bigger, stronger, faster, and much more highly-paid than your average American. Even as such, the league is a mix of people from all different backgrounds from all around the country and, as such, is a microcosm of America.
Some players, like the New York Jets' C.J. Mosley, have proudly announced they are vaccinated, sharing pictures on social media and encouraging others to get the shot too. Others, like Mosely's new teammate Zach Wilson, have refused to answer any personal questions about the vaccines.
Bills quarterback Josh Allen and Carolina Panthers' new signal-caller Sam Darnold expressed hesitancy to receive the jab until they had more information about the long-term effects.
The Washington Football Team's Montez Sweat is one of the players who's come out most strongly against the vaccines telling reporters, "I haven't caught COVID yet so I don't see me treating COVID until I actually get COVID."
Beasley previously waded into the vaccine debate as well on social media. Beasley responded to Dr. Anthony Fauci saying vaccinated individuals can stop wearing masks outside on Twitter with, "I do that without being vaccinated. Is this illegal now?"
After facing backlash from his followers, Beasley tweeted, "If you get vaccinated you are good? So if I don't I shouldn't pass it on to you regardless, right? … That's a serious question. I don't really know how these things work I'm not a doctor."
Beasley blasted the NFL and NFLPA's COVID-19 protocols for 2021 training camps
On June 16, the NFL and NFLPA released their new COVID-19 restrictions for the upcoming season. Beasley is not at all happy with the new rules or either entity that agreed-upon them and took to Twitter to vent his frustrations.
Quote tweeting a list of the new rules, Beasley wrote:
This is crazy. Did we vote on this? I stay in the hotel. We still have meetings. We will all be together. Vaccinated players can go out the hotel and bring covid back in to where I am. So what does it matter if I stay in the hotel now? 100 percent immune with vaccination? No.
In a series of three more tweets, Beasley called the NFLPA "a joke" and accused the NFL of pushing player vaccinations to "make the most money as possible again."
He finished by saying that the new restrictions "need to be changed," and that this is the reason that he is speaking up against the rules, so that, "Hopefully the right people will see it and at least think about how all this NFLPA stuff works."
Life will be very different for vaccinated and unvaccinated NFL players next season
The Beasley tweets were all in response to a memo leaked by NFL Network reporter Tom Pelissero outlining the new regulations.
According to the new guidelines, unvaccinated players will still be tested every day, wear masks in team facilities, social distance in cafeterias and weight rooms, and are not allowed to leave the team hotel to eat in restaurants or interact with anyone outside the organization when traveling. Vaccinated players will have no such restrictions.
One of the most interesting points of the memo, and why Beasley likely concluded that at least some of this is about money, is that there are "No social/media/marketing/sponsorship activities permitted" for unvaccinated players. Vaccinated players have "no restrictions" on these types of activities.
These new guidelines show that the NFL and NFLPA are drawing a hard line on player vaccinations leading into the 2021 season. Right or wrong, these new protocols will be in place when training camp starts at eth end of July, and players like Cole Beasley need to get on board or face a long season of lonely lunches ahead.
Like Sportscasting on Facebook. Follow us on Twitter @sportscasting19