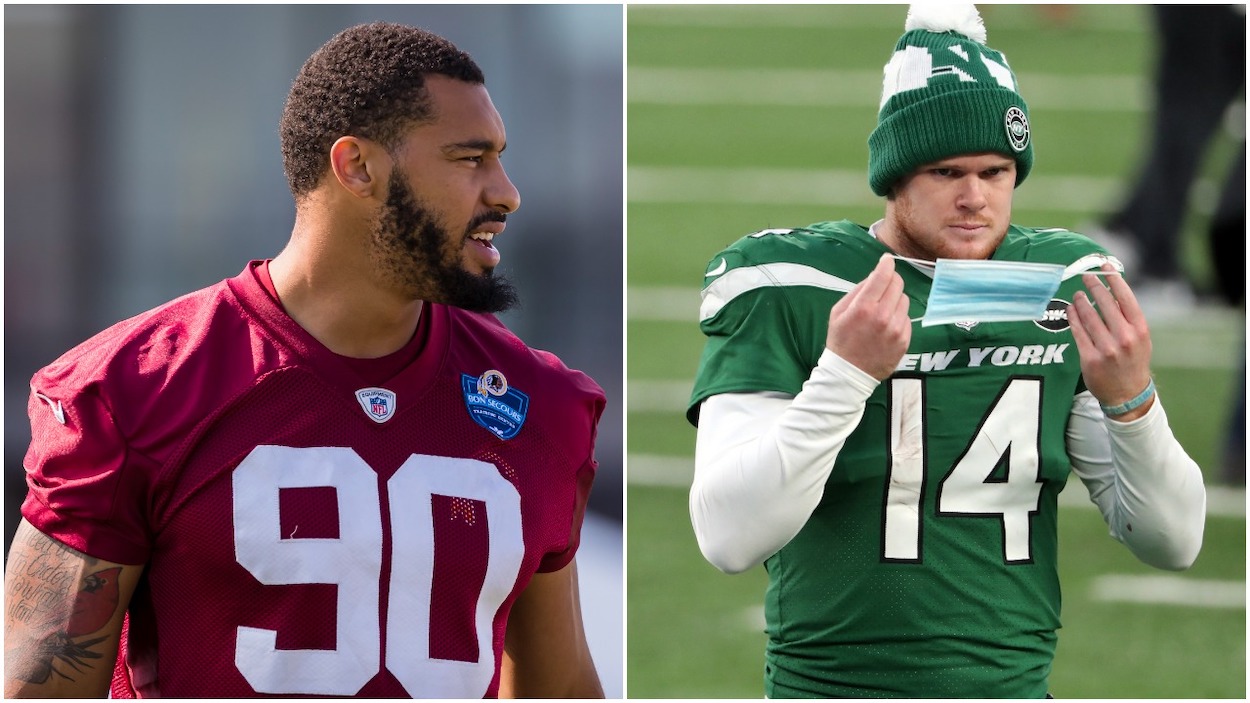 ESPN's Pablo Torre Points out the Hypocrisy of NFL Players Not Getting Vaccinated
NFL players not getting vaccinated is a hot topic right now. Recently, players like Josh Allen, Cole Beasley, Montez Sweat and Sam Darnold all made comments about not getting the shot. ESPN's Pablo Torre laid out a convincing argument on his 'ESPN Daily' for why players should.
NFL players not getting vaccinated is a hot topic right now. Most players seem to keep it close to the vest whether they've taken a COVID-19 vaccine shot. Some, though, have been more outspoken about their hesitancy to be vaccinated.
ESPN pundit Pablo Torre recently took to the microphone on his podcast to point out the hypocrisy of NFL players not getting vaccinated, even though they are known to go to extreme lengths to get back on the field in other cases.
Several NFL players recently expressed hesitancy about COVID-19 vaccinations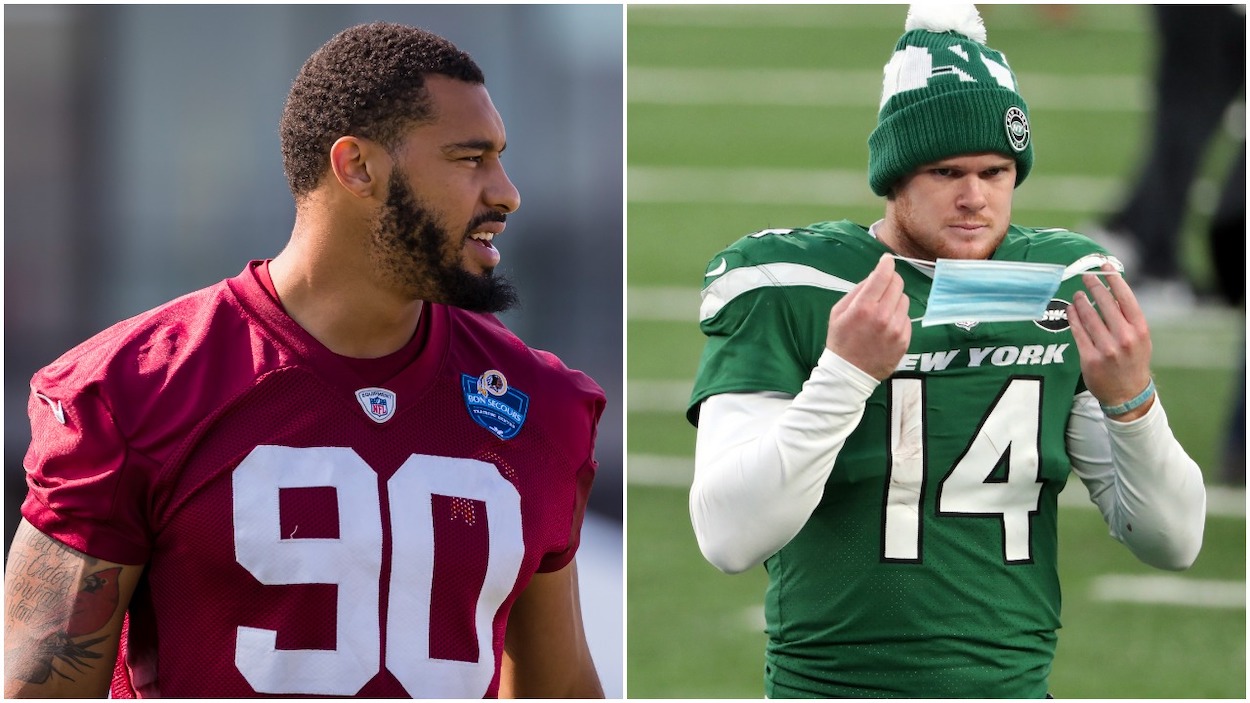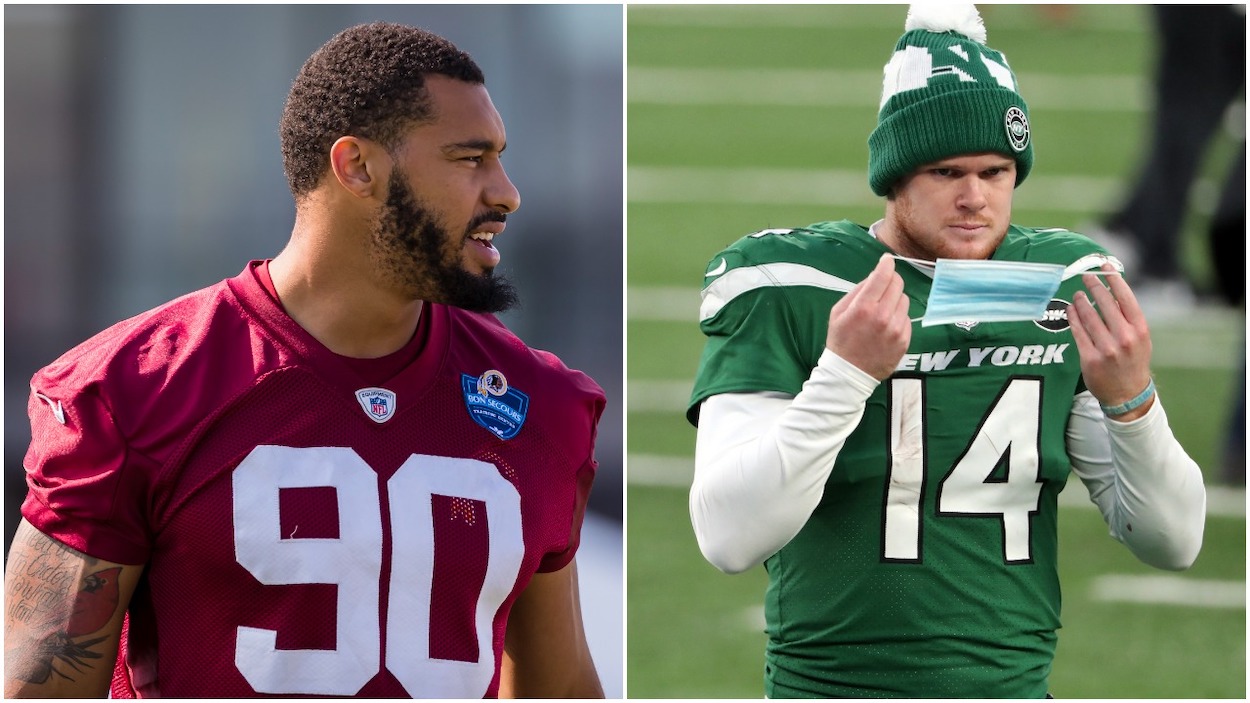 Some high-profile NFL players have recently talked about their hesitancy about the vaccinates. Buffalo Bills quarterback Josh Allen and wide receiver Cole Beasley both comments about vaccinations that caused a stir.
Allen said he's "a big statistics and logic guy," so he wants to wait for more information before he gets vaccinated, according to SI.com. He undermined his argument, though shortly after admitting, "I haven't been paying attention to it as much as maybe I should have."
Beasley shared his thoughts about the vaccine on social media and took a lot of criticism. At one point, according to The Athletic, he tweeted, "If you get vaccinated you are good? So if I don't I shouldn't pass it on to you regardless, right? … That's a serious question. I don't really know how these things work I'm not a doctor."
It's not just the Bills speaking out, either. New Carolina Panthers QB Sam Darnold and Washington Football Team D-lineman Montez Sweat both waded into the vaccination discussion in recent days.
"I haven't been vaccinated yet," Darnold told reporters, per USA Today. "Still gotta think about all those certain things that go into it. Again, it's everyone's choice, whether they wanna get vaccinated or not. So, that's really all I got on it. I don't wanna go too into detail."
Sweat came out in even more certain terms telling reporters after coach Ron Rivera brought in an immunologist to speak to the team that he's "not a fan" of vaccinations, per ESPN.
He followed that up by saying, "I haven't caught COVID yet so I don't see me treating COVID until I actually get COVID."
Pablo Torre asks NFL players, 'do you think playing games is important?'
On his ESPN Daily podcast, Torre responded to the players making these proclamations about vaccinations, specifically Darnold and Sweat. The Harvard-educated sports show host posed the question to unvaccinated athletes, "do you want to play in the actual games?"
He couched his rant in the beginning by saying, "I want to be one million percent clear. … It is your body. It is your right to think differently, to think independently, to think skeptically."
Torre then launched into his argument, bringing up how vaccinations help make pro sports workplaces better by eliminating the need for masks. Unvaccinated people also run the risk of catching COVID-19 and either affecting others or suffering long-term effects like the NBA's Jayson Tatum.
He talked about how golfer Jon Rahm recently was pulled off the course after testing positive and that this could happen to unvaccinated NFL players as well.
Torres summed up by saying:
If you're willing to take pain killers to suit up, if you're willing to risk your body on every single down, if you're willing to rip a tendon out of your leg and plant it in your arm in order to throw a ball, it stands to reason that you'd also want to destroy the odds that you would ever test positive for COVID.
It was a strong and impassioned plea for NFL players to get vaccinated.  
NFL teams can relax restrictions when players and staff are vaccinated
Beyond staying on the field, vaccines bring other benefits to NFL players, coaches, and staff. Individuals who are fully vaccinated can do things like freely move around the complex without masks. NFL.com reports:
Fully vaccinated players will no longer have to be tested daily, will not have to wear masks at team facilities, will not be subject to quarantine after exposure to a COVID-positive individual, will have no travel restrictions, may eat in the team cafeteria, and use the sauna and steam room. They also will not be subject to capacity limits in the weight room and will be allowed to interact with vaccinated family and friends during travel.
This is a huge advantage for teams with more vaccinated players. The organization can operate much more normally with more people in the building vaccinated.
Vaccinations for the coaching staff is going better than it is with the players. NFL Commissioner Roger Goodell recently announced that 30 of 32 teams have over 90% percent of their coaches and staff vaccinated. The two teams that haven't reached this level are over 85%.
The league does allow team personnel to have exemptions for medical or religious reasons.
Like Sportscasting on Facebook. Follow us on Twitter @sportscasting19