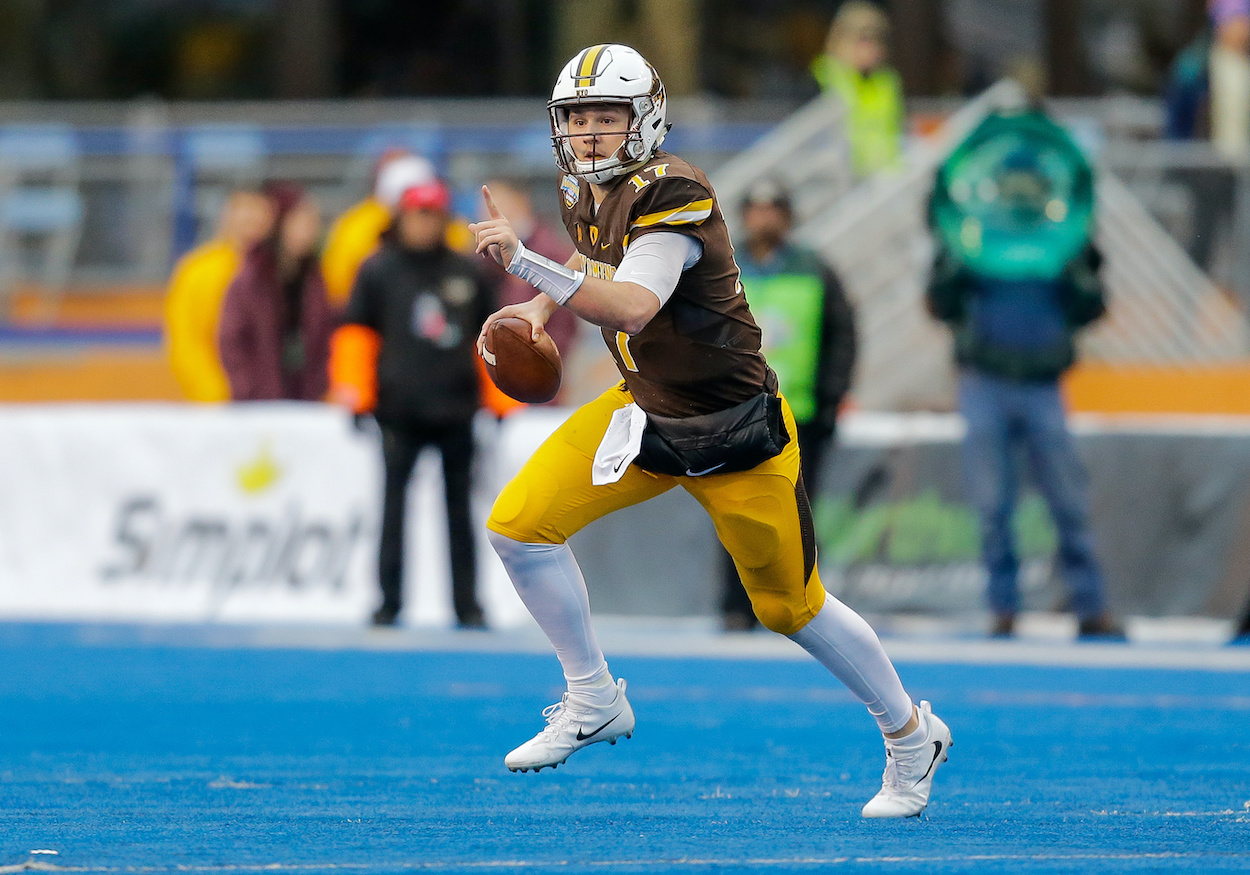 Josh Allen Reunites With Two Wyoming Cowboys Teammates for 2021 Season
Josh Allen became an NFL star out of Wyoming. Now the Buffalo Bills are tapping into that program again, signing two of his college teammates, tight end Jacob Hollister and wide receiver Tanner Gentry. These three players are part of a surprisingly long and successful list of former Cowboys player who've played in the NFL.
Buffalo Bills quarterback Josh Allen joined the Bills Mafia from the University of Wyoming in 2018. Allen became a known commodity during the 2018 NFL draft process but was relatively unknown plying his trade in the Mountain West Conference.
Allen has developed into one of the best quarterbacks in the NFL in his three years in Buffalo. Now, the Bills are looking to uncover more gems from the state that's home to Yellowstone National Park.
Josh Allen went from little-known Wyoming QB to NFL MVP candidate
Allen grew up as a Bay Area sports fan in Firebaugh, California, just outside Fresno, according to BuffaloBills.com. At 6-foot-2, 180 pounds as a high school senior, Allen didn't receive a single Division I scholarship offer as a zero-star recruit.
He attended his local community college, Reedley College, where he threw for 2,055 yards and 26 touchdowns. He also grew to 6-foot-5, 215 pounds. The gaudy stats and growth spurt led to Allen choosing an offer from Wyoming over Eastern Michigan.   
In his three years at Wyoming (two as a starter), Allen threw for 5,066 yards and 44 touchdowns and rushed for 767 yards and scoring 12 times on the ground. Following this type of production, the Bills selected him No. 7 overall in 2018.
After two years as the Bills QB of the future, Allen had a breakout 2020 season, becoming the best signal-callers in the division as well as one of the best in the entire league.
He threw for 4,544 yards and 37 touchdowns with just 10 picks in 2020. He also bettered his completion percentage (69.2%) by more than 10 points from the previous season (58.8%). These numbers helped lead the Bills to their first AFC title game since 1993 and saw Allen finish second in the NFL MVP race.
The Buffalo Bills signed former Wyoming players Jacob Hollister and Tanner Gentry in the 2021 NFL offseason
Leading into the 2021 season, Buffalo's front office is adding two offensive weapons who Allen played with in Wyoming in hopes of finding more magic from the Equality State.
Tight end Jacob Hollister and wide receiver Tanner Gentry both came into the league out of Wyoming in 2017. Gentry played that year with the Chicago Bears and was on the team's practice squad on and off in 2018 and 2019. In 2020, he played for the XFL's New York Guardians.
Hollister has become an NFL fixture since leaving Wyoming. After a pair of seasons with little opportunity in New England, the 6-foot-4 tight end put up solid numbers in two years with the Seattle Seahawks. He caught 66 balls for 558 yards and six touchdowns in his time in the Pacific Northwest.
Allen seems to be thrilled to be reunited with his old/new teammates. He told Wyoming's RocketMiner.com:
College is a time where you kind of become yourself, and I had a great group of friends that I still talk to, to this day, and Jake and Tanner (are) part of that group … I couldn't ask for a better situation.
While three Wyoming players on one team may seem like a lot from such a relatively unknown football school, there actually have been quite a few former Cowboys who've played in the NFL over the years.
The Wyoming Cowboys football program has produced a surprising amount of NFL players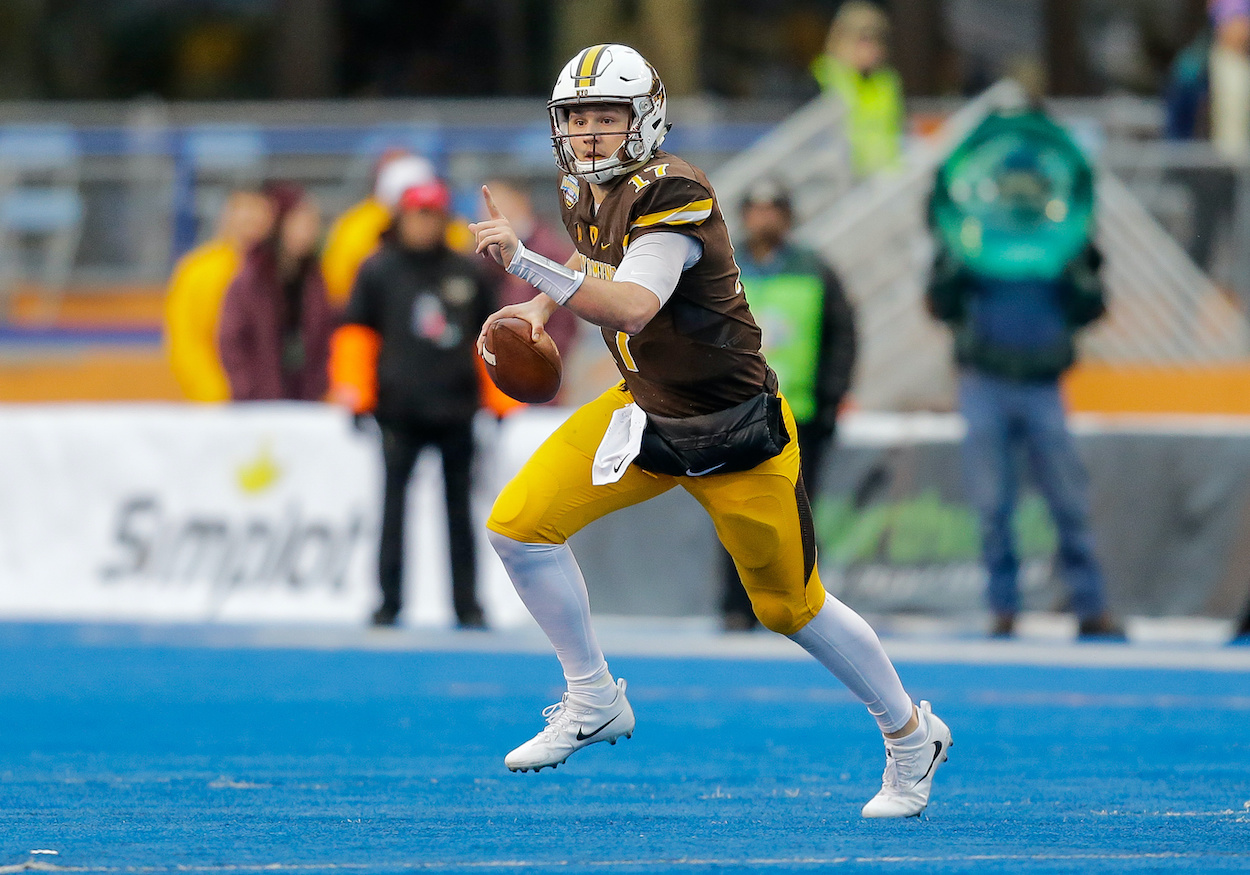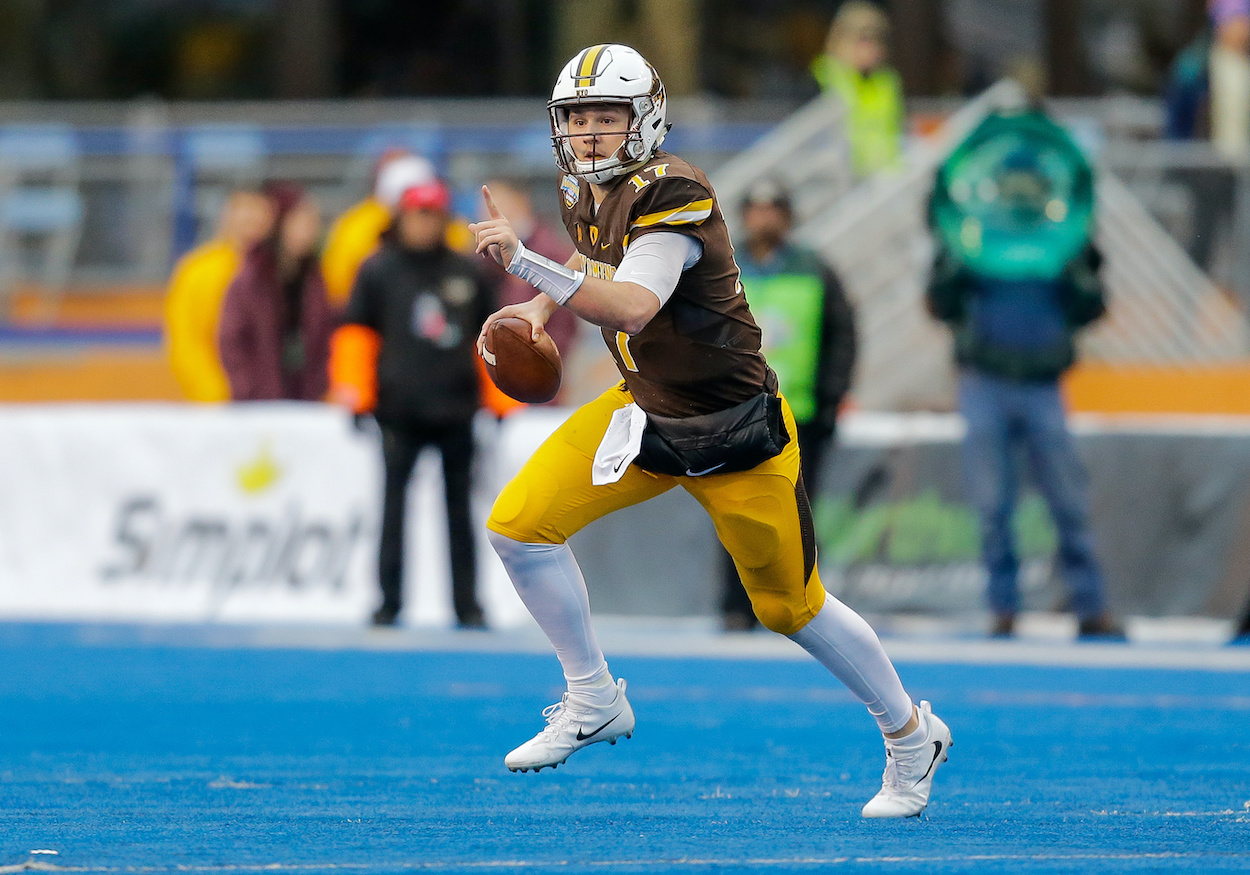 The University of Wyoming Cowboys football program isn't exactly Alabama, Ohio State, or the University of Miami when it comes to producing NFL talent. However, there are likely more NFL players who come from this program than you'd think.
Starting in 1925 with wingback Bob Fitzke playing for the NFL's Frankford (PA) Yellow Jackets, Wyoming has sent 86 players to the NFL.
Allen may currently be the most famous ex-Cowboy, but he's not yet the most successful. That honor goes to former Dallas Cowboys tight end Jay Novacek. The then-St. Louis Cardinals drafted him in the sixth round of the 1985 NFL draft. Novacek played for 11 seasons, made five Pro Bowls and one All-Pro team, and won three Super Bowls in Dallas.
Joining Allen and Novacek on the list of Wyoming products to make at least one Pro Bowls are running backs Jim Kiick (1968-77) and Vic Washington (1971-1976), offensive guard Conrad Dobler (1972-1981), and defensive back Tashaun Gipson (2012-present).
The Bills QB is well on his way to surpassing all these names after just three NFL seasons. Now we'll see if reuniting with their college signal-caller can help Hollister and Gentry add their names to the best NFL players in Wyoming football history list.
All stats courtesy of Pro Football Reference