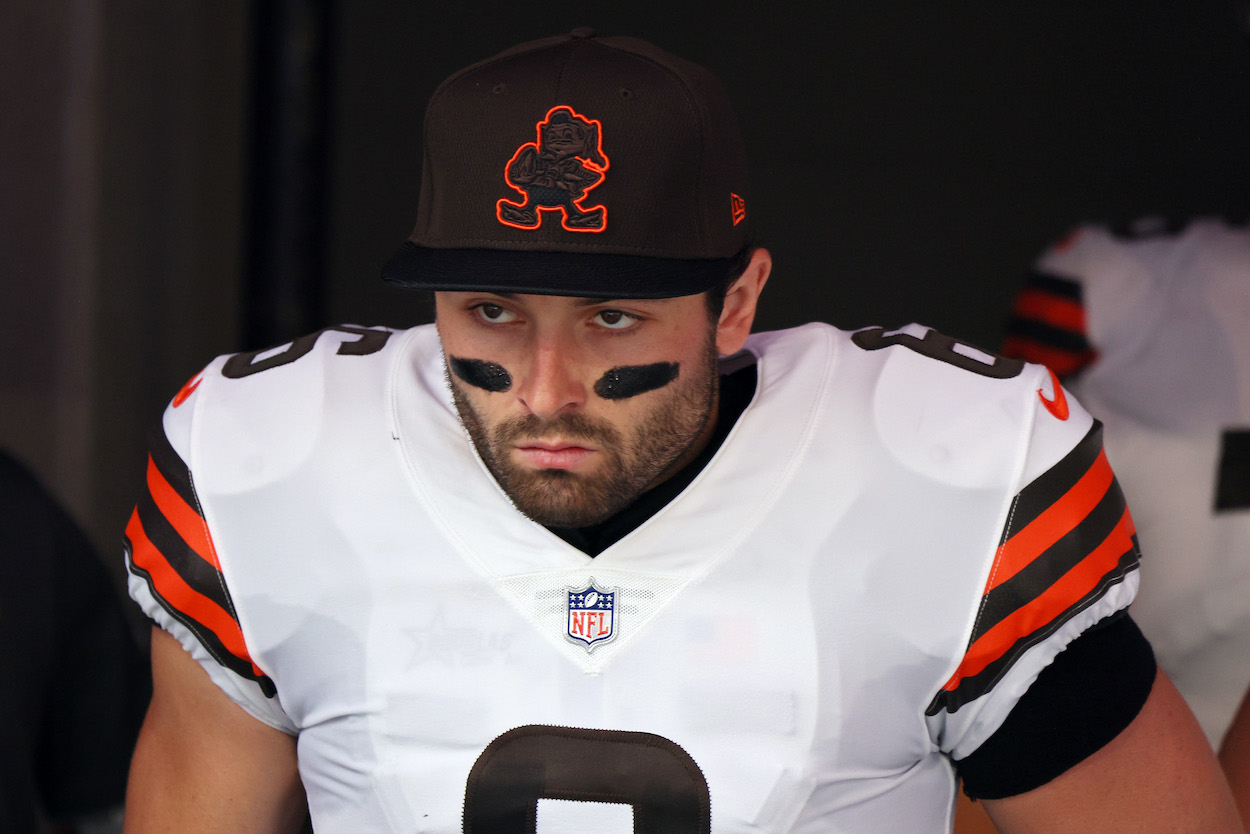 Baker Mayfield Lashes Out in Cryptic Instagram Post After Injury News: 'People Seem to Forget How I Got Here… Nothing Was Given'
Baker Mayfield went off on social media on 'people' who don't believe in him following the new that he's been playin with a serious injury.
Cleveland Browns quarterback Baker Mayfield is hurt and mad. He's hurt because he has a partially torn labrum in his left (non-throwing) shoulder. He's mad because… well, we don't really know why he's mad.
However, he definitely took to Instagram on Thursday to lash out at "people" who apparently forgot how he got "here." And, who don't appreciate that God gave him the ability to get through "trials that nobody else could handle."
Baker Mayfield, ladies and gentlemen.
Baker Mayfield has been playing hurt
News broke on Thursday that Cleveland Browns QB Baker Mayfield suffered a partially torn labrum in his left shoulder trying to make a tackle after an interception against the Houston Texans in Week 2, per ESPN.
Mayfield and the Browns won that game and the two ensuing ones against the Chicago Bears and Minnesota Vikings. Mayfield has taken every meaningful offensive snap in each of those games.
His numbers aren't great so far, though.
In the first four games, Mayfield has 935 total passing yards. He's only thrown for 300-plus yards once (321 in Week 1 vs. the Kansas City Chiefs). And, he's thrown just two touchdowns and two interceptions. These numbers aren't exactly lighting the world on fire.  
In fact, the only team in the league with fewer passing touchdowns is the aforementioned Bears.
Mayfield is wearing a harness to help the shoulder injury. Former NFL QB Dan Orlovsky theorized on NFL Live that the injury might be forcing him to throw faster because he doesn't want to get hit. He also explained that an injury like that could be seriously hurting the passer's accuracy.
Mayfield took to social media to throw a cryptic tantrum
Baker Mayfield and the Cleveland Browns came into the 2021 season with expectations after making a playoff run in 2020. The team coughed up a lead in Week 1 to the Chiefs, but there is little shame in that. Since then, the Browns are 3-0, albeit against teams with a combined 4-8 record.
Mayfield is also in line for a massive contract extension after the Browns picked him No. 1 overall in 2018. However, he's not quite thought of in the same class as the No. 7 overall pick Josh Allen who already got his monstrous deal, or MVP-winner Lamar Jackson, who went No. 32 that year.
The reason to bring all this up is that Mayfield took to Instagram on Thursday to lash out at unknown entities for an unknown slight.
The post started with:
People seem to forget how I got here… nothing was given. Everything earned. Ups and downs. Came out stronger & better every time. God blessed me with the mental and physical strength to not only make it through adversity, but to also grow through those trials that nobody else could handle.

via @bakermayfield on Instagram
He continued by stating that winning is his top priority and that he "was brought to Cleveland to change [the losing] narrative and impact others along the way."
OK, then.  
Mayfield offered no additional explanation of who he was addressing or why he felt this needed to be said. However, it was, and now, as he writes at the end of his message, "On to the next challenge."
The next challenge is against the Los Angeles Chargers in Week 5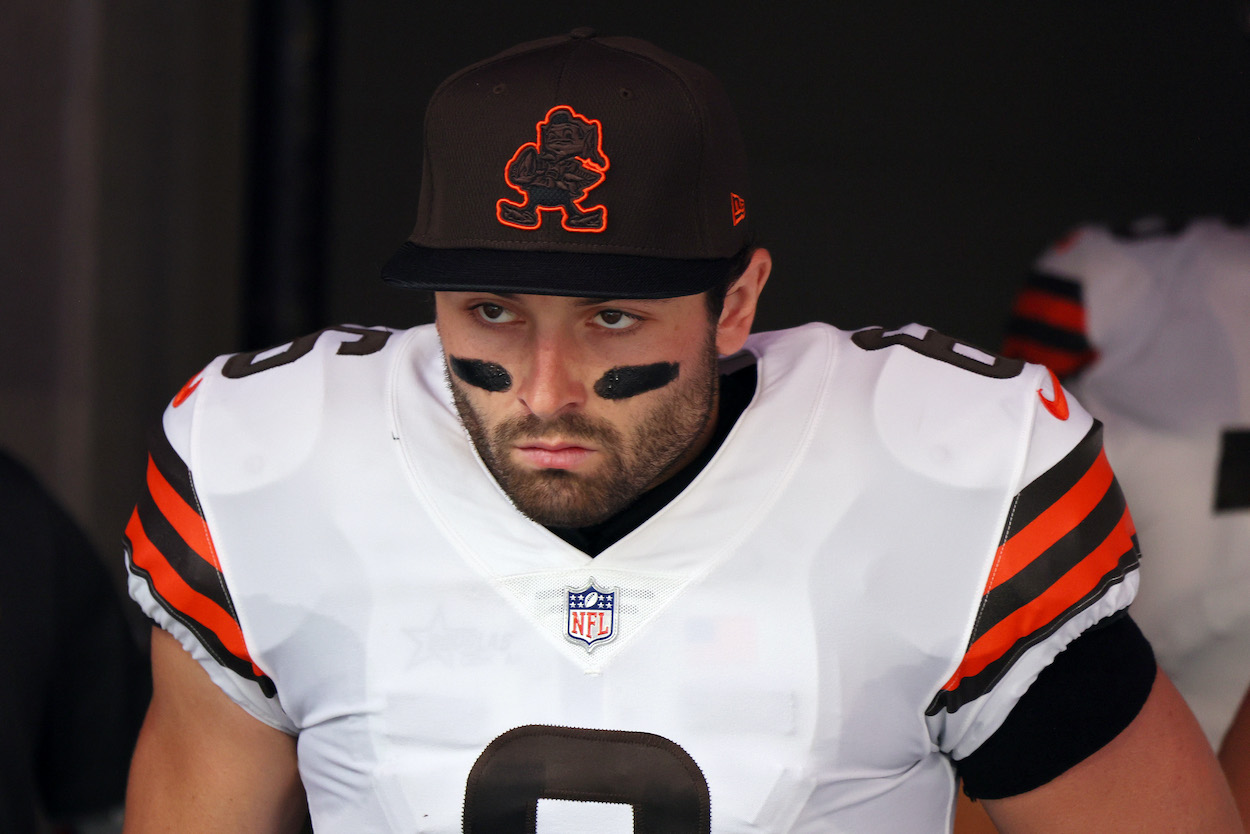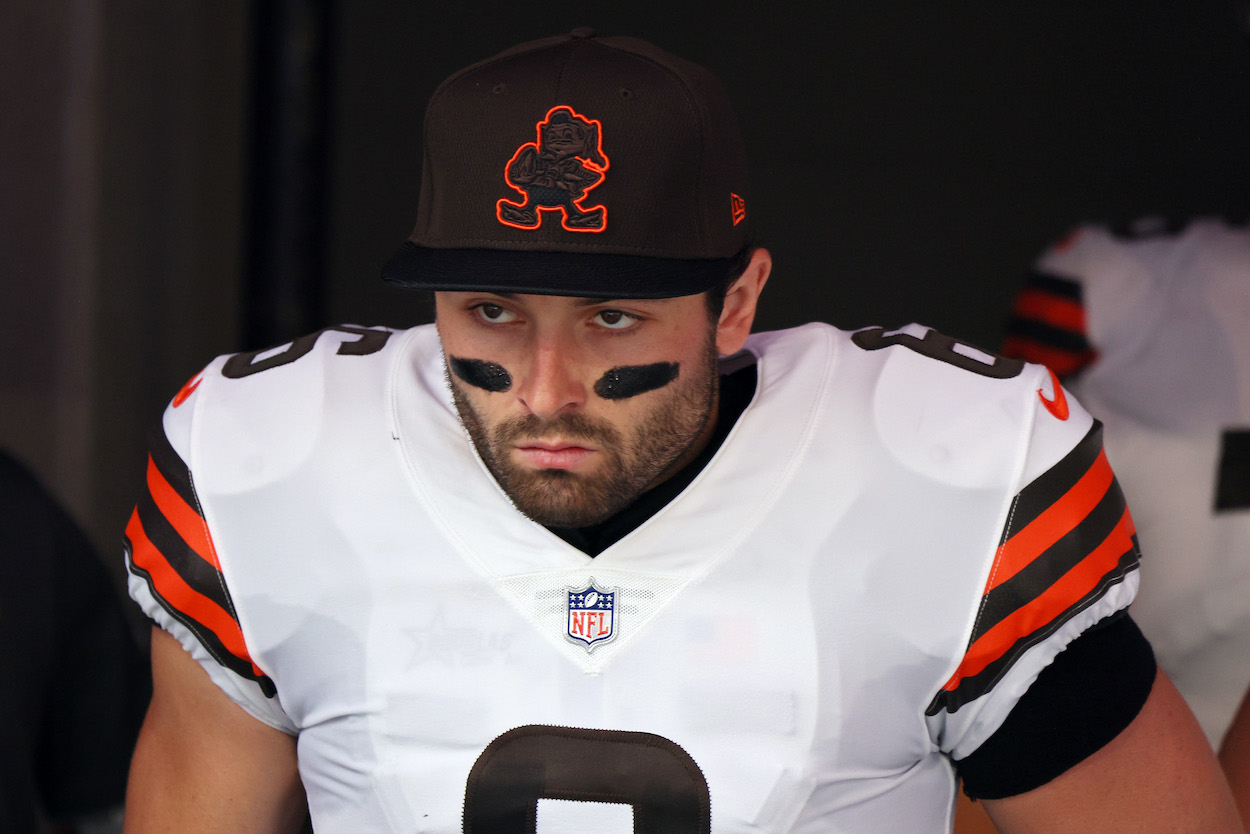 After beating up on a couple of NFL cupcakes, the schedule gets real for Angry Baker and the Browns in Week 5. That's when they fly to the West Coast and face the surging Los Angeles Chargers.
LA is coming off a decisive win against the Las Vegas Raiders. This win involved Joey Bosa and the defensive line beating up on Raiders signal-caller Derek Carr.
This should make Mayfield nervous.
A bum shoulder and Bosa staring across the line at him might be just the type of trial that Mayfield was talking about in his Instagram post. It will be an incredible challenge to stay upright and healthy while leading his team to a win vs. the Chargers' aggressive defense.
It doesn't get any easier from there for the Browns either. Mayfield's squad faces teams with winning records (Arizona Cardinals, Denver Broncos, Cincinnati Bengals) in three of the following four games. The fourth team is the always-tough division rival, the Pittsburgh Steelers.
If this gauntlet creates a losing streak for Mayfield, which it absolutely has the potential to, keep a close eye on @bakermayfield on the 'Gram.
All stats courtesy of Pro Football Reference