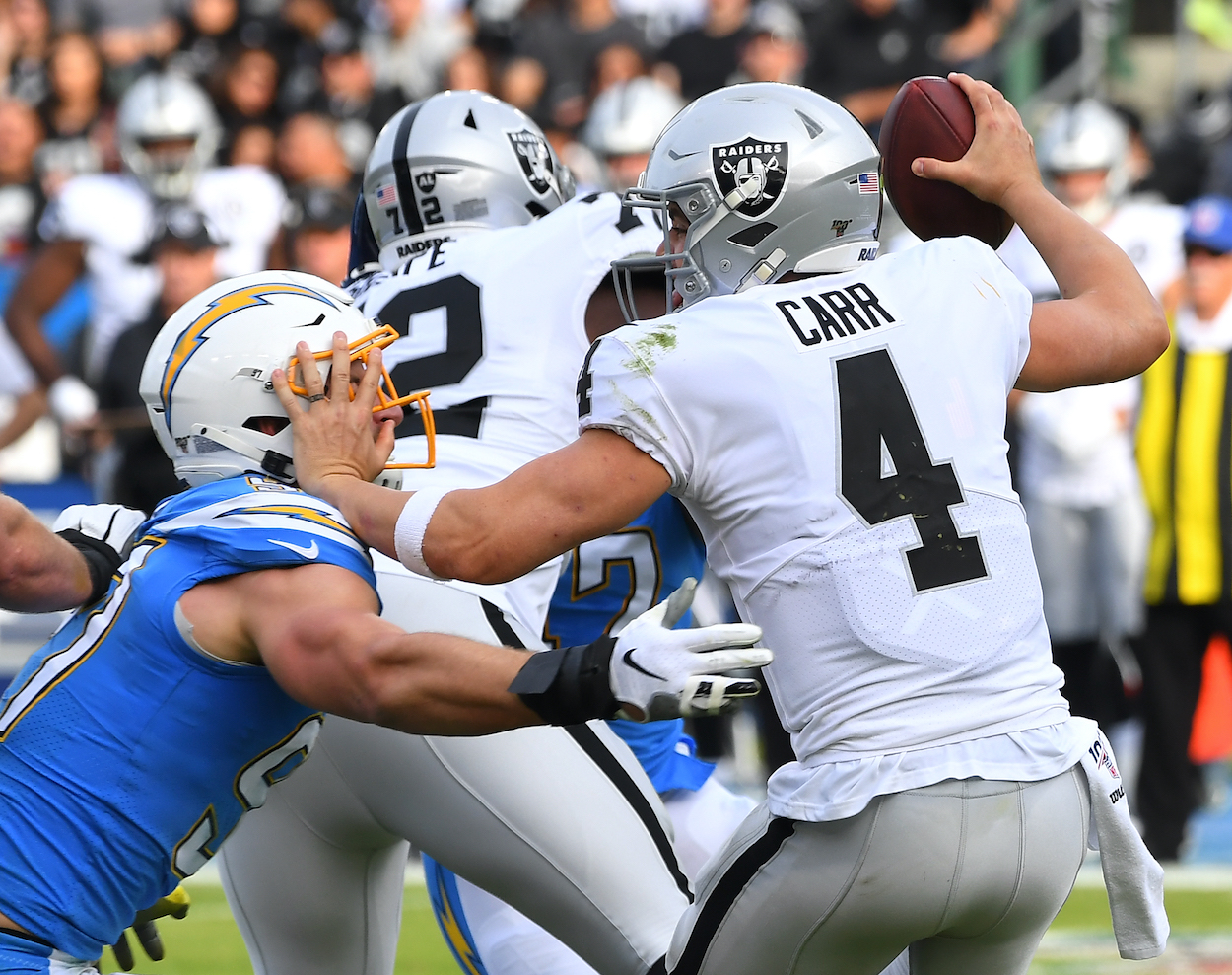 Raiders QB Derek Carr Fires Back at Joey Bosa After Chargers DE's Disparaging Comments: 'He Was Probably Mad Because I Was Talking a Lot of Crap to Him During the Game'
Raiders QB Derek Carr escalated the war of words between himself and Chargers DE Joey Bosa, which should make for a wild Week 18 rematch.
The Los Angeles Chargers and Las Vegas Raiders played a fascinating but ultimately anticlimactic Monday Night Football game to cap Week 4 of the 2021 NFL season. After the Chargers won 28-14, LA's superstar pass-rusher Joey Bosa called out Las Vegas quarterback Derek Carr.
Now, Carr has fired back, escalating the war of words. As they're longtime division rivals, this should make the all-important rematch between the two teams all the more fascinating.
Los Angeles Chargers DE Joey Bosa took shots at Las Vegas Raiders QB Derek Carr after the former's 'Monday Night Football' victory
The Los Angeles Chargers and the then-Oakland Raiders both started in the American Football League (AFL) during the 1960 season. The Chargers moved south to San Diego the next year, and when the AFL and NFL merged ahead of the 1970 season, both teams made the leap and became rivals in the NFL's westernmost AFC division.  
As fierce rivals for over six decades, the Raiders and Chargers have faced off 123 times, with the Raiders owning the slight series advantage with a 65-56-2 record, per Raiders.com.
With this kind of familiarity, it's no surprise that the teams and players have a contentious relationship.
The latest chapter in the Chargers/Raiders rivalry played out in Week 4's Monday Night Football game that the Chargers won 28-14.
There is still no love lost between the two franchises. To prove this, LA's star pass-rusher Joey Bosa made some stinging comments about Raiders QB Derek Carr after the game, per ESPN:
We knew once we hit him a few times, he really gets shook. And you saw on [Christian Covington's] sack he was pretty much curling into a ball before we even got back there. So, great dude, great player. He's been having a great year, but we knew once we get pressure on him, he kind of shuts down, and he's not as effective with a crowded pocket, so that was the key to it.

Joey Bosa on Derek Carr
Even though Bosa couched his comments by calling Carr a "great dude, great player," those words still had to sting. And after Carr's response, it seems like they definitely hit home.
Carr fired back at Bosa after his comments 
Derek Carr is an eight-year NFL veteran. During his time in the league, he's usually been reserved with his public comments. However, this offseason was a little different.
At one point, he said that he wanted to be a Raider for life, and if the team ever traded him, he would retire. Then, after teammate Carl Nassib came out as the NFL's first openly gay active player, Carr sent a warning to the rest of the league that he and the team wouldn't tolerate any on-field slander.
Now, after hearing Bosa's comments, he again responded frankly:
I love Joey. He knows that. We've gone back and forth. He was probably mad because I was talking a lot of crap to him during the game. … He's entitled to that opinion and saying those things. But it's almost like he watched the game in reverse. … I just thought it was unfortunate that he'd even think to say it. Maybe he was just trying to get under my skin. Which, he did piss me off. So, good job for that. But that's not a bad thing, either.

Derek Carr on Joey Bosa
In addition to Carr, plenty of other NFL people thought that Bosa crossed a line by blasting the QB after the Chargers victory like he did. The NFL Network's Jim Trotter is an excellent example of this.
"You were way out of line with your comments on Derek Carr last night," the longtime NFL reporter said, addressing Bosa on TV. "If he was as bad or as cowardly as you intimated, why was he 9-of-10 for 76 yards and two touchdown passes in the third quarter, behind a line that couldn't protect him?"
Trotter finished with a flourish, saying, "You're better than that, Joey."
The Raiders vs. Chargers rematch happens in the first-ever Week 18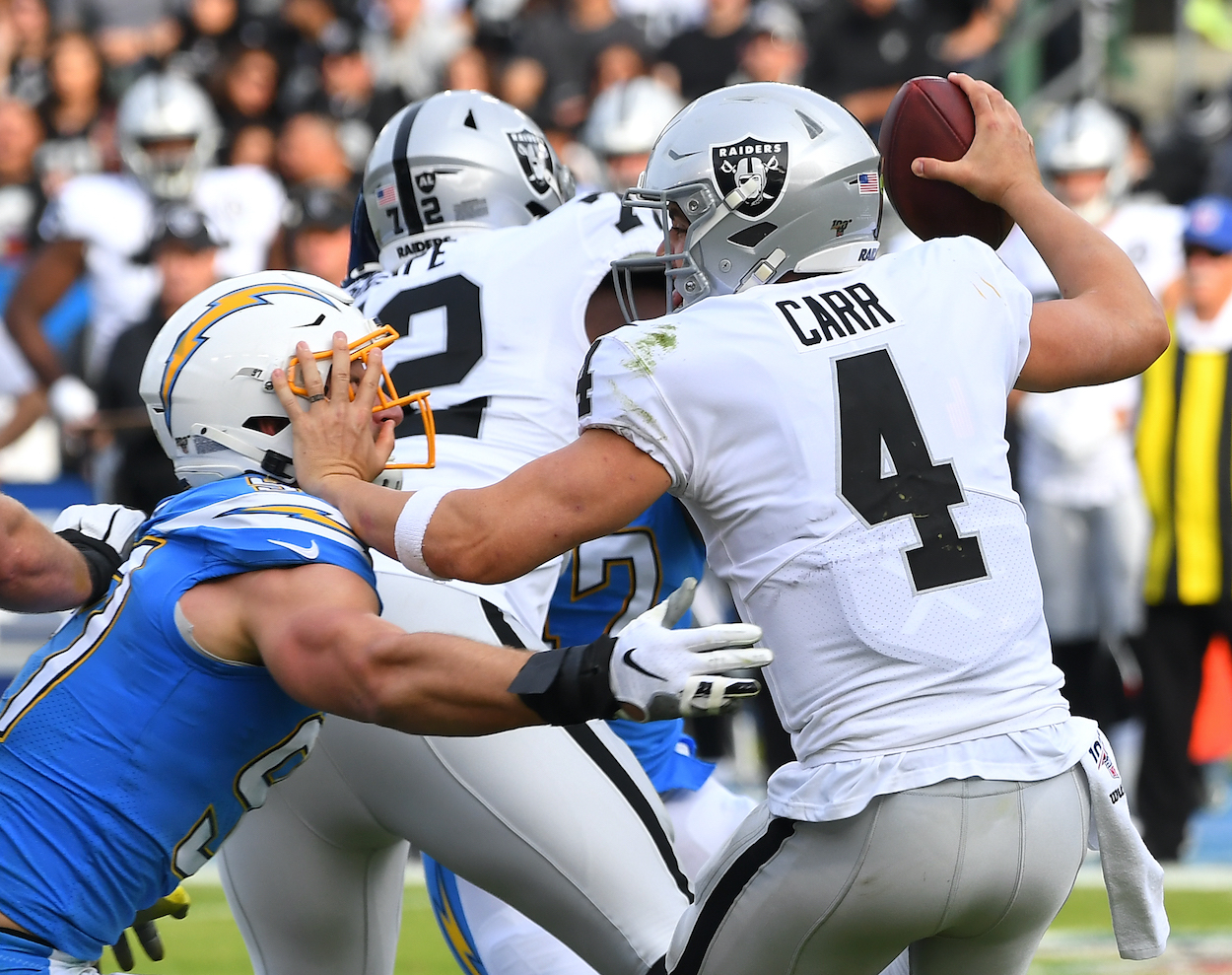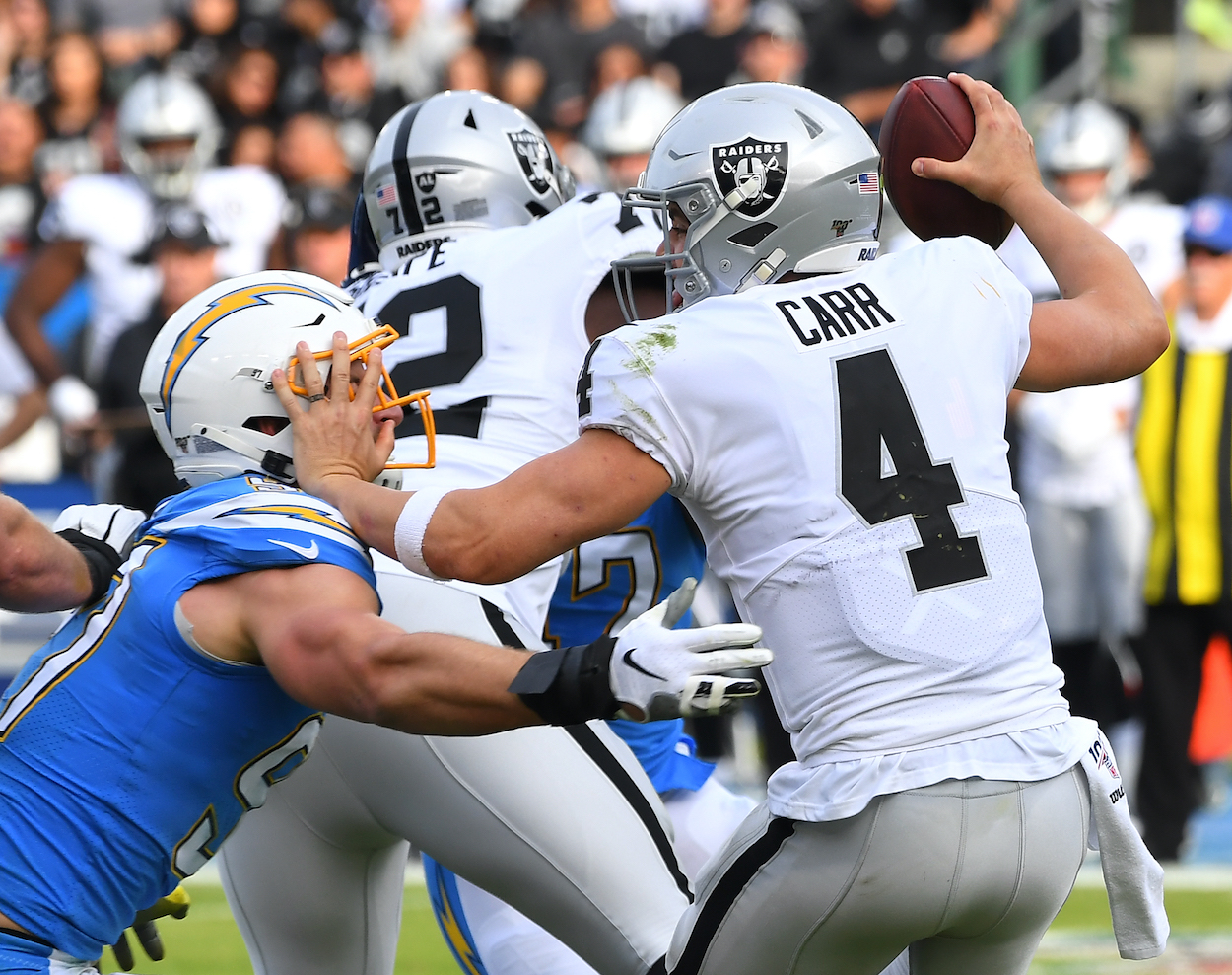 During Carr's response to Bosa, he also said, "We'll see 'em again." And see them again they will, in what could be a critical game with massive playoff implications.
The Las Vegas Raiders will host the Los Angeles Chargers in the newly minted Week 18 on Jan. 9, 2022. Given the way these teams started the season, this game could determine whether one or both of these squads make the playoffs — or even which team wins the AFC West.
In order to beat the Chargers, the Raiders will have to avoid falling into a 21-0 halftime hole like they did Monday night. The Raiders came back from 14 points down in two of their first three games. However, a three-touchdown deficit against LA was simply too much.
As Trotter noted, Carr and company's third quarter was excellent, but it takes a complete four-quarter effort to beat the Chargers.
On Bosa's side, his message isn't wrong. It was more about how he delivered it. Getting pressure on Carr is key for the Chargers to go 2-0 against the Raiders this season. Under pressure, the QB doesn't have time to let Hunter Renfrow or Darren Waller beat their defenders or Henry Ruggs III and Bryan Edwards get deep.
If playoffs and the AFC West possibly being on the line in Week 18 wasn't enough, now we have the Bosa/Carr feud to look forward to in the final game of the regular season as well.
All stats courtesy of Pro Football Reference