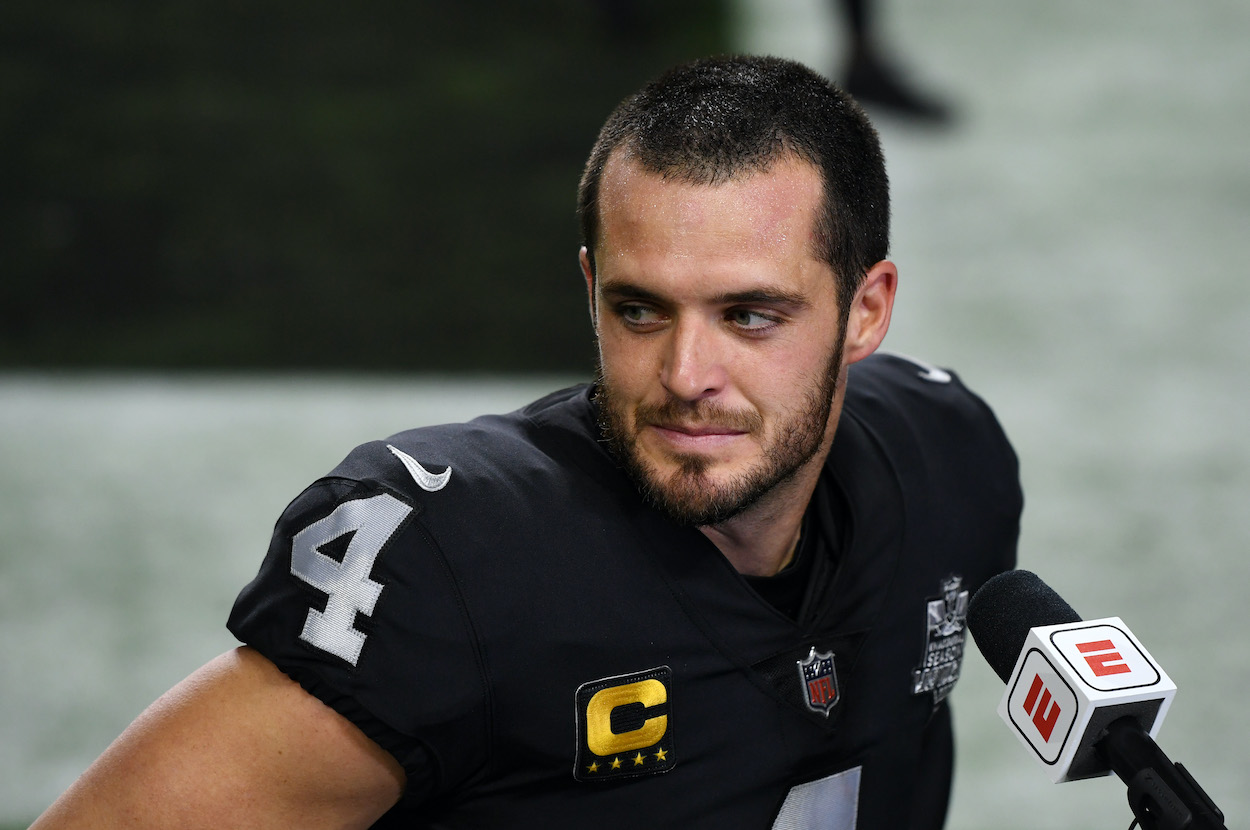 Las Vegas Raiders QB Derek Carr Sends a Menacing Message to NFL Teams About Messing With Carl Nassib
Las Vegas Raiders QB Derek Carr says the locker room has Carl Nassib's back after he became the first openly gay active NFL player in league history, and if you mess with Nassib, you mess with all the Raiders. The team will need this unity to make the playoffs for the first time since 2016.
Derek Carr is a Raider through and through. He grew up an Oakland Raiders fan in Fresno, California, and even said he'd rather retire than not play for the Las Vegas Raiders. Now, in true Raiders fashion, he is sending a warning to the entire league about messing with his teammate.
Carr joined Chris Collinsworth on his podcast and talked about a wide range of topics, including his teammate, Carl Nassib, becoming the first openly gay active NFL player. Carr shared his thoughts on the subject and sent a strong message about how Nassib's teammates will back him up this season.
Carl Nassib is the first openly gay active NFL player in history
What's up, people, I'm Carl Nassib," the Las Vegas Raiders defensive end posted on his Instagram account on June 21. "I'm at my house here in West Chester, Pennsylvania. I just wanted to take a quick moment to say that I'm gay."
With that simple and direct statement, Nassib became the first openly gay active player in NFL history.
Nassib made a point in his video that he hoped these types of announcements would no longer be newsworthy at some point in the future. Still, for now, he believes "that representation and visibility are so important," which is why he chose to come out.
Shortly after the announcement, he got a message and a call from the Raiders captain, Carr.
Derek Carr says the Raiders won't tolerate messing with Nassib
When Carr video chatted with the host of The Chris Collinsworth Podcast Featuring Richard Sherman, Collinsworth asked him about his and his team's reaction to Nassib's announcement.
As the Raiders' quarterback and "because of my faith," people contacted Carr right away for his thoughts. He said his first reaction, though, was to call and text Nassib directly.
The QB told Collinsworth when he reached Nassib, "I said, 'Carl, I love you, bro,' and I said, 'you know that I love you, and I've got your back no matter what. You're my brother, and all I want to do is win a Super Bowl with you.'"
Carr also said the locker room is fully behind Nassib. They are even ready to stand up for him if anyone tries to put him down:
Our team has been all for having his back. … They all say, without a doubt, we have his back, and he's our brother, so if you want to mess with him, you have to go through us.
Carr did couch this answer by saying that "not everyone agrees with the lifestyle" and that there are players who have "raised a question or two." However, he says the Raiders are like a close-knit family, and everyone loves and supports Nassib.  
The Raiders are looking to make the playoffs for the first time under Jon Gruden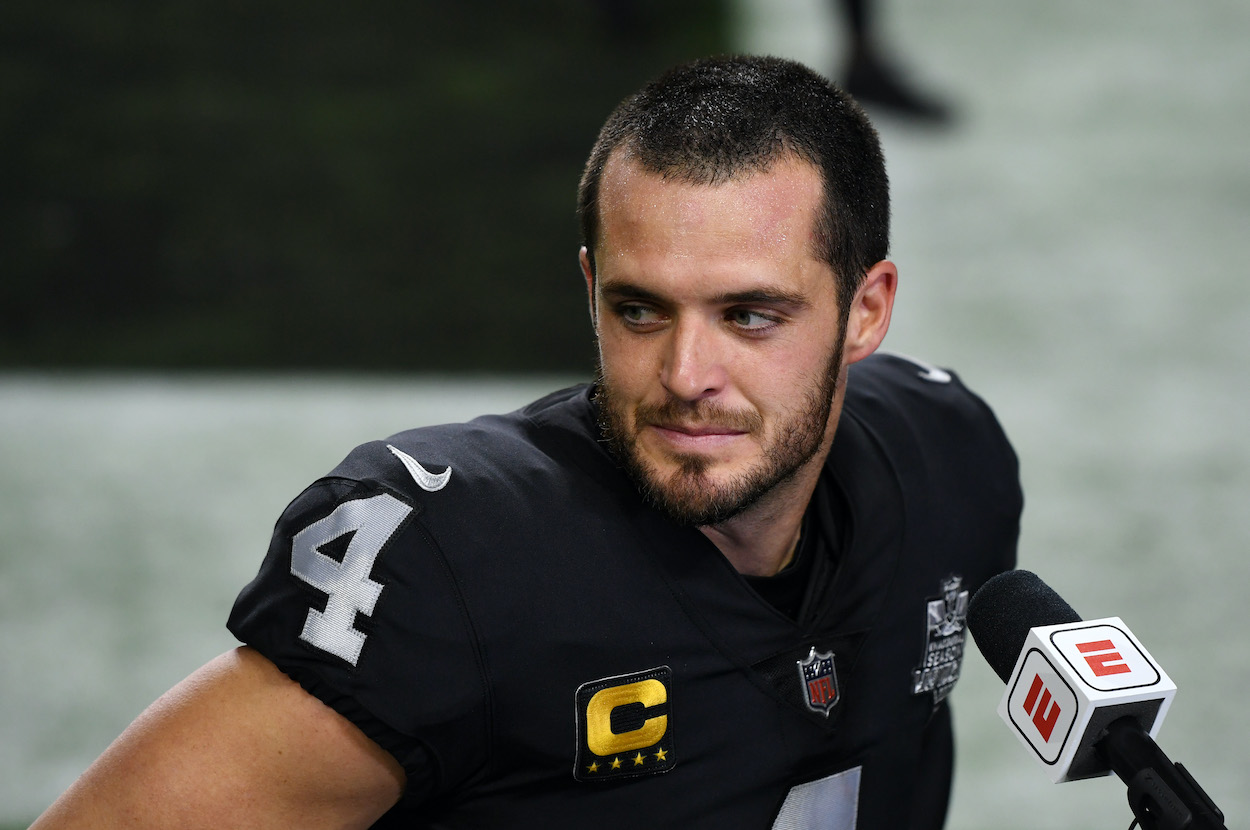 The 2021 NFL season will mark the fourth year of Las Vegas Raiders head coach Jon Gruden's 10-year, $100 million contract. The Raiders have a less-than-stellar 19-29 record in the first three years of this deal.
However, the team has improved every season, going from 4-12 to 7-9 to 8-8 in 2020. Now, if Gruden can continue this trajectory and crest Mount .500, the Raiders could make the playoffs for the first time since 2016.
In the offseason, the Raiders addressed their offensive line by signing veteran hardman Richie Incognito and drafting Alex Leatherwood No. 17 overall in the draft. They added wide receiver John Brown to a young and talented yet underperforming receiver corps that includes 2020 first-rounder Henry Ruggs III.
The big thing Gruden and the Raiders (finally) did differently, though, is to address the defense. Outside of the team's first and last picks of the 2021 draft, they selected defensive players with every other pick. They also signed free agents Yannick Ngakoue, Quinton Jefferson, and Solomon Thomas on the defensive line.
If the Raiders' defense can match the output Gruden has coaxed out of the offense in his first seasons, the Raiders have a legitimate shot at challenging the Kansas City Chiefs for the AFC West or making the playoffs as a Wild Card team.
All stats courtesy of Pro Football Reference